I love my mother, I do. However many are perplexed by our…unusual relationship. How was such an uptight, irritable perfectionist born from such a free-flowing, spiritual hippy? You see, while I cynically cling to the self-limiting philosophy of realism, my mother embraces all that is spiritual, and, as a teenager, it was somewhat embarrassing. I recall as a pubescent teen bringing my awkward Adidas-clad school friends home only to find that since breakfast the house had been transformed into an Aladdin's cave of Buddhism, incense burning and ethnic fabrics hanging under the watchful eye of the eery wooden masks and Buddha statues. That was the last I saw of them. It was a mixture of relief and irritatation when that phase ended…just a week later. Although fear not, the decor remained (dare say I think the furnishings were actually the main draw, not the Bodhisattvas or Dharma).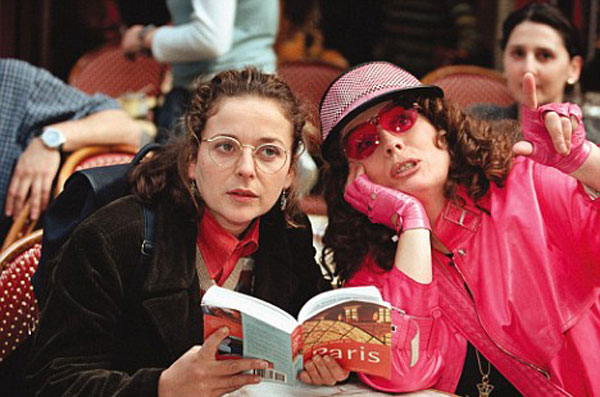 However, despite the continuous embarrassments my mother provides, it cannot be denied she is certainly more interesting than your average mum. But as I prepared for our Mother's Day of indulgence, I couldn't help but be a little apprehensive about what lay ahead. With a schedule of Michelin-starred restaurants, fancy brunches and a twee afternoon tea in store, this was a day reserved for best behaviour…
We had just awoken from a blissful sleep at the infamously luxurious country retreat, The Four Seasons in Hampshire. Having left our lavish suite for a stroll around the immaculate 500 acre estate (well one of the acres maybe), we retreated to the spa and emerged ourselves in the bubbling jacuzzi. No sooner had we done so did two charming therapists whisk us away for an hour of utter indulgence. My lomi lomi massage looked a little scary at first as I clapped eyes on the Hawaiian massage stick which looked more like a torture device, but I soon relaxed into it as it melted away my lumps and bumps. I emerged to find a mother with her head in the clouds, floating around the spa in a state of euphoria, having just been awoken from her "amazing" Balinese massage. My massage must have been pretty special too as it wasn't until we reached The Covent Garden Hotel for our Champagne breakfast that my sedated brain clocked her dress; a ridiculously dramatic tartan concoction which looked like something from a stage show. Hey ho, this was Theatreland after all, and a glass of Champagne soon made it seem far less relevant as we smiled and clinked glasses.
Brasserie Max's charming dining room was light and airy exuding a London take on country charm with wooden floors and floral highlights.  We had a lovely table by the window overlooking the buzz of Seven Dials. As mother began to reiterate all of her usual concerns for me from how not being able to ski would seriously limit the calibre of man I could end up with to how she was beginning to think I was just too picky. "Jessica if you were not happy with the last one then frankly I am not sure that 'the one' is out there, he was loooooovely."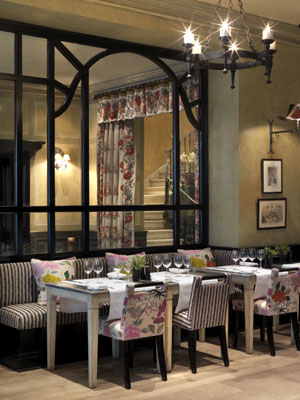 Luckily we both soon became far too distracted by the generous plate of smoked salmon and scrambled eggs and creamy flat whites that had arrived to debate my uncertain future any further. As I sat back in my chair with a contented glug of chilled Champagne I overheard the man at the table next to us: "Thank god we chose that school for Eddy" – "Why, is he doing well?" – "No idea but it has a fantaaaaaastic golf course just minutes away." Laughing, we sauntered past the fresh fruit buffet to the foyer where the bell boys were waiting eagerly with our coats.
As we walked out, Mother looked at me in a defeated manner. "You don't like my my dress, do you?" She asked. "Ummmm, I don't not like it," I replied, on my best Mother's Day behaviour. "You hate it! Well, I like it" she said adamantly."Good, Mum, that's what counts," I said, hoping that was the end of the conversation before I shot off to meet a friend for a quick coffee.
An hour later as I entered bohemian Neal's Yard, I saw Mum sitting in a new dress waiting proudly for approval. I smiled and shook my head. "Mum, your buttons are all undone". She looked shocked as she looked down at her bright red bra which was on the display to the rapidly gathering tourists. "I give up!" she screeched, as I grabbed her arm and hurriedly pulled her towards The Langham.
The iconic Langham is a true London institution and the ultimate place to enjoy the great British tradition of afternoon tea. At the hotel's centre is Palm Court, the room where the tradition is said to have begun over 140 years ago. Despite its rich history and passion for tradition the hotel prides itself on moving with the times and its afternoon teas are regularly inspired by modern day artists and creatives. On our visit it was jewellery designer to the stars Stephen Webster's 'Bijoux tea' that grabbed our attention. The luxurious selection of treats was compiled to reflect Webster's love of all things bling, and featured sandwiches stuffed with the likes of  foie gras and lobster. However it was the sweet plate that was the real star, with glittery Guinness and blackcurrant macaroons and cakes sprinkled with faux diamonds all washed down with a glass of Champagne, and of course a pot of tea. As the pianist elegantly tinkled away on the grand piano, I attempted to explain the concept of 'inspired afternoon teas' to Mother. "You know mum, so for example if they did a Lucian Freud one it would have sandwiches oozing raw fat, a Georgia O'Keeffe one would be X-rated and blimey, forget Tracey Emin's, it would just be a messy plate of other people's leftovers and the odd condom thrown in for good measure." She began to laugh and with that the dress burst open once more revealing a jiggling cleavage. Time to leave!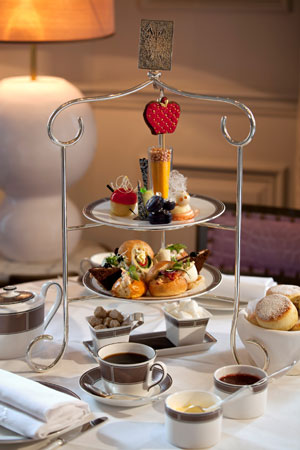 With a three-course Michelin-starred dinner awaiting us at Tom Aikens just a few hours away we decided to hot-foot it down to Chelsea to burn off a few calories on Kings Road, but not before suitably preening ourselves for the evening's events. There was only one place for it, The Hand and Foot Spa. Located dangerously close to the luxury boutiques of Chelsea and Knightsbridge, the spa was teaming with glamorous west London ladies mid-pamper. The spa itself combines a reassuringly clinical style with a touch of Chelsea glam. After perusing the never-ending selection of nail polishes we settled on some femme fatale style reds and settled down with our heated neck rests. Just as I began drifting off, I was awoken with "Jessica… I have been deciding what to do with the house when I die". Standard Mother's Day chat for the Baldwin brigade. "Well it is best to be organised you know," she added as the therapists avoided eye contact and continued to beautify each nail with military precision. Having agreed we could leave such concerns for another day we surveyed our hands: perfect!
As we trotted through dimly lit Chelsea Green towards Tom Aikens' recently reopened Michelin-starred restaurant I looked at Mother in shock as her bra once again made a break for freedom. "Oh, Jessica I give up, do you want me to change again?" "No, I just want you to keep your boobs in your dress, is that too much to ask!?" and with that we both burst in to hysterics. Luckily this time round Tom has bravely banished the formality of white tablecloths, bone china and waiting staff dressed to the nines, in favour of a less pretentious atmosphere, but I think flashing is still frowned upon. We were immediately greeted by an army of gorgeous waiters each modelling their own take on gentrified country clobber. All arm patches and tweed, they looked like they had just jumped out of a Barbour centrefold, a lovely start to the evening for two Norfolk lasses. We had arrived early and, once seated, a piercingly blue-eyed David Gandy lookalike marched over to take our food order. After staring at him in awe for a few minutes we eventually ordered.
When a George Clooney lookalike delivered our starters we suddenly regretted not ordering the eight-course tasting menu, then we could have met them all! My moist lobster arrived accompanied by pickled cucumber and yoghurt mousse with a dill emulsion – light, refreshing and deliciously tender. The delicate foie gras arrived in a dramatic cloud of dry ice and was surrounded by crispy, almost candied smoked onions: a triumph. As yet another model cleared away our starters David Gandy returned with our mains. My favourite dish was the braised beef short rib which came with an impressive serving of bone marrow, melting tendons and herb puree. The slow-cooked beef fell off the bone and had an addictively rich, almost sticky quality.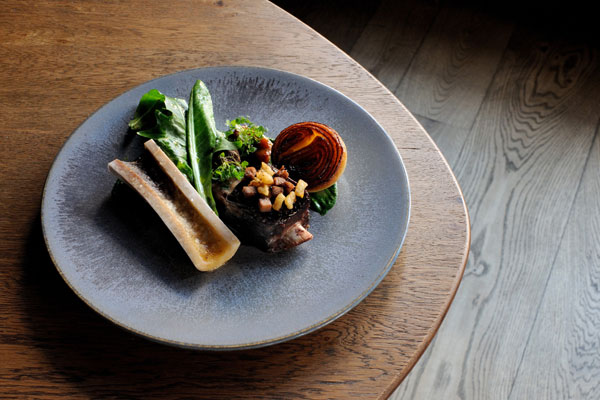 Dessert was just as inventive, with 'candied beetroot' and 'confit butternut' competing alongside classic chocolate and coffee concoctions. Sorry, did I say classic? As if. My 'white chocolate creme' was actually an explosion of different textures: a creamy white chocolate and pepper mousse joined on a slate by a rich chocolate ganache and white chocolate brulee finished off with peppered caramel. It was no good, we could bicker no more, we had eaten ourselves into submission. As Brad Pitt held out our jackets we linked arms and floated dreamily through Chelsea Green and back to reality. I find one of my Mum hard enough to handle but if every Mother's Day was like this, I'd take two.
Jess and Mother spa'd and stayed at the Four Seasons Hotel Hampshire, Dogmersfield Park, Chalky Lane, Dogmersfield, Hampshire RG27 8TD Tel: +44 (1252) 853 000. Website. They had brunch at the Covent Garden Hotel, 10 Monmouth Street London WC2H 9HB. Tel. 020 7806 1000. Website. They had afternoon tea at The Langham, 1C Portland Pl, Westminster, London W1B. Tel: 020 7636 1000. Website. Luxury manicures were administered at The Hand and Foot Spa, 153 Fulham Road, Chelsea, SW3 6SN. Tel. 020 7589 1070. Website. Mother and Daughter Baldwin finished their day with dinner at Tom Aikens, 43 Elystan Street London SW3 3NT. 020 7584 2003. Website.