45 Park Lane, the Dorchester Collection's illuminated Mayfair property, was once the home of The Playboy Club. Resembling an Art Deco ocean cruise liner, this five-star-with-bells-on hotel, which opened in 2011 and is the younger sister and neighbour to The Dorchester, succeeds in being a world away in terms of look and feel whilst encompassing all we love about the group including impeccable, personalised service tailored to each guest.
Aimed at the luxury traveller looking for ultimate exclusivity, 45 Park Lane's 45 rooms and suites versus The Dorchester's 250, along with one bar and restaurant instead of several, lend an upmarket boutique hotel or member's club vibe, as does the 1920s-meets-contemporary lacquered interior adorned with modern artworks such as Damien Hirst's Diamond Dust Psalms series, bringing the hotel's equally striking architecture to life. Regular art installations are well worth a special visit and a good excuse to enjoy a cocktail in the swanky Bar 45.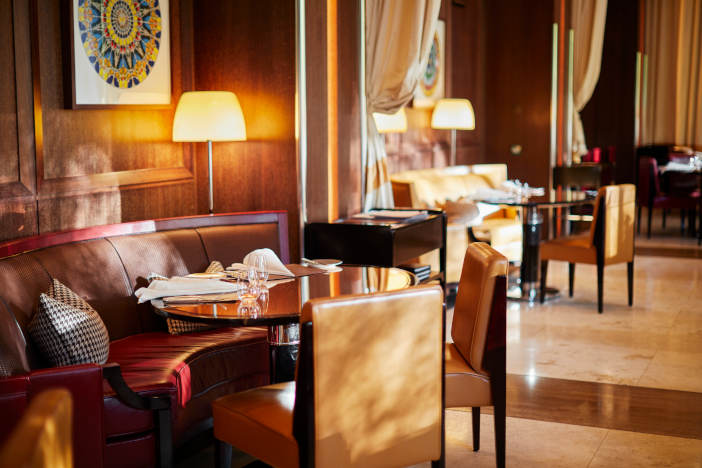 Our Park View Studio, designed to feel more like a private residence than a hotel, sexily decked out with leather upholstery and more lacquered wood, not only boasted an impressive panorama of Hyde Park but a 'host' who doubles as a butler and concierge and can be reached at the touch of a button – no request too small or great. Charming room details include 45 Park Lane rubber ducks in the bathrooms and logo embossed hot water bottles you can expect to find warming your bed after turn-down. Guests also have access to The Dorchester Spa, while you'll find a yoga mat in the wardrobe if you can't be persuaded to leave your comfortable abode.
Arriving in time for lunch at CUT at 45 Park Lane, famed as one of the finest American steak restaurants in London under Executive Chef David McIntyre, with an unrivalled selection of Wagyu to match, we settled down to discuss the important issues of the day; cut (obviously), aging, origin, weight, sauces and sides, with a roll call to satisfy every steak lover's juiciest fantasy, including epic tempura onion rings. With a wine list offering the largest selection of fine and rare American wines in the UK, you're sure to find a suitable accompaniment. Perhaps the Napa Valley 'Screaming Eagle' Cabernet Sauvignon? A mere snip at £6500.00.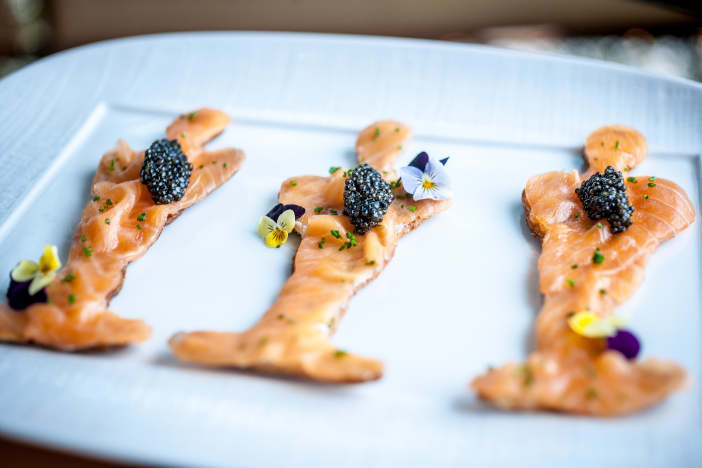 To bookend a memorable USDA fillet mignon with Armagnac and green peppercorn sauce and creamed spinach cooked with an organic fried egg and finished table-side, was the Chirashi Sushi Box appetiser, featuring expertly prepared bigeye tuna, scallop, hamachi, caviar, soy gel and yuzu kosho – a vibrant opener when accompanied by a fine saki. The repast finished on a high note thanks to CUT's signature salted caramel and chocolate Rocher dessert, inspired by the Ambassador's favourite and served with a Marcona almond ice cream and flourishes of gold leaf which pretty much sums up the opulence of 45 Park Lane. If that wasn't enough, the desert is finished with a "10 year" chocolate sauce, so called due to the length of time it took to perfect it. I have it on good authority that the secret ingredient is Tia Maria.
CUT at 45 Park Lane are currently celebrating the glamour of awards season with a specially designed Oscar's Night menu by the legendary chef Wolfgang Puck with dishes he has proudly served to Hollywood royalty over the past twenty-five years such as black truffle chicken pot pie, asparagus salad with shiro miso and smoked salmon Oscar-shaped pizza with crème fraiche and caviar.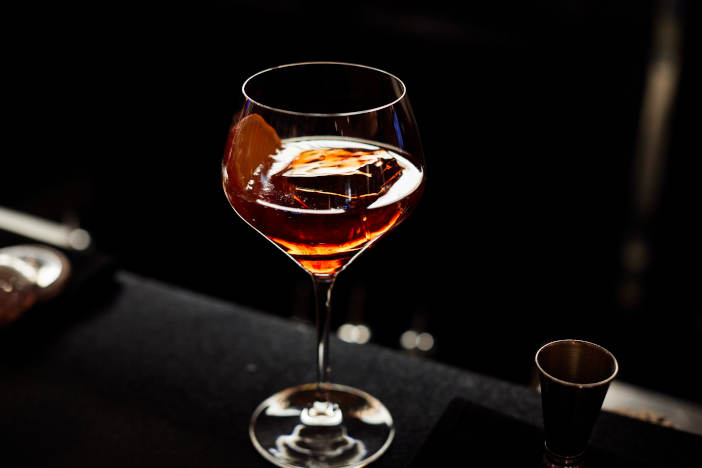 In the slick mezzanine Bar 45 manager Francesco Orefici is meanwhile serving the 'Shallow Negroni' inspired by A Star is Born and taking its name from the Oscar-nominated song featured in the film. Influenced by my all-time favourite Negroni Sbagliato, the bitter-sweet Campari is topped with Champagne for decadence befitting any A-lister.
If you prefer to share the Oscars experience with friends, take advantage of the Oscars Party Package which includes a feast from the Oscars Night menu, a private screening of the ceremony in the Media Room with its Bang & Olufsen 108″ 3D screen, overnight accommodation for ten guests and a Californian breakfast the next day after your very own 'American dream'. With friends who would spoil you like this, who needs Hollywood schmoozing?
45 Park Lane, London W1K 1PN. The Oscars Night Menu is available until 24th February 2019. For more information and reservations please visit the website.