Being a lover of punctuation, The Ampersand Hotel had me at the name. The squiggly 'and' sign makes for an aesthetic logo, printed sporadically throughout the public areas, in rooms, on fluffy towels and artworks, as if the interior designer's cat had accidentally sat on his computer keyboard during the planning process. If I were to get particularly artsy on you, I'd say it perfectly juxtaposed with the flowing maze-like layout of the hotel. But I'll leave that level of observational expertise to House & Homes.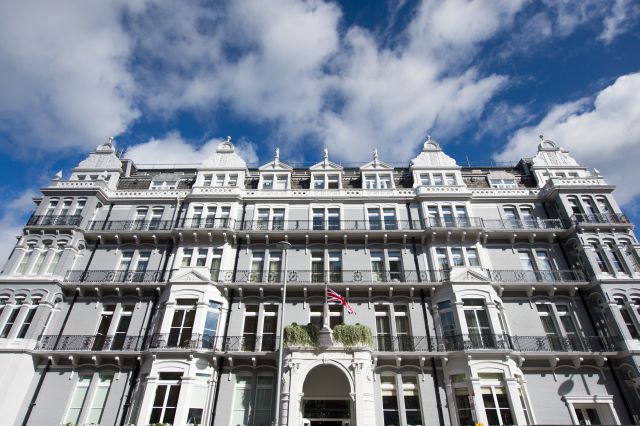 Through the 19th century façade and a grand entranceway adorned with vases of snow white orchards, lies a winding staircase that beckons you upwards with the promise of comfort and down to spaces offering fun, fitness and food, respectively. Whether you arrive, slightly frazzled from navigating the busy weekend traffic of one of London's busiest tourist districts to get there, as we did, or take the much more sensible three-minute stroll from South Kensington tube station, it's a welcome sight indeed.
A swirling light fixture follows you up the stairs, floor by floor, a quirky, and rather magical creation by German designer Ingo Maurer, consisting of 10 watt halogen bulbs with white goose feather wings attached; 'birds, birds, birds' printed on each one, for only the eagle-eyed, detail-obsessed to see. Sketches of microscopes and plants, supported by dictionary entries for science-y words like 'experiment', adorn the walls; jars of daintier orchards and other delicious colourful flowers dot the window sills.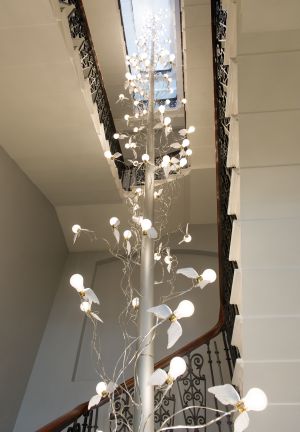 It immediately becomes clear that our second floor Deluxe Room is ornithology-themed, with various odes to birds through the art and fixtures, in a calming, rather than creepy Hitchcock, way. A book, The Poetry of Birds, sits beside the bed, educating me on the previously unknown fact that there's such a thing as bird poetry. Perhaps I'll recite some to you next time we meet…Warm shades of plumped velvet curtains that make setting a morning alarm a necessity, or risk sleeping through breakfast, and a sleek, black and white brick tiled bathroom, all add up to a lovely place to lay one's head.
Depending on which of the other 111 rooms they might have placed us in, we could have been surrounded by objects of astrology, botany, music or geometry, for the Ampersand's design inspiration comes from the iconic London museums and cultural offerings on its doorstep: Natural History, Victoria & Albert, Science, and the Royal Albert Hall. A well executed, inventive revamp on Ampersand's roots as one of the city's original boutique hotels from 1888.
It was enough to have us downing a small glass bottle of Coca-Cola for energy from that rare thing as a complimentary minibar and heading around the corner to the Natural History Museum for a couple of hours of dinosaur skeletons and life-sized mammal models. Appetite-building stuff that had us popping by one of the many patisseries that line Exhibition Road en-route back to Ampersand for a sweet macaroon-shaped fix. Aside from cafes, the Lamborghini showroom is just across the way, for the automobile art enthusiast, and a 10 minute stroll will take you to luxury restaurants and shopping (Dinner by Heston and Harrods, respectively, to name but two examples).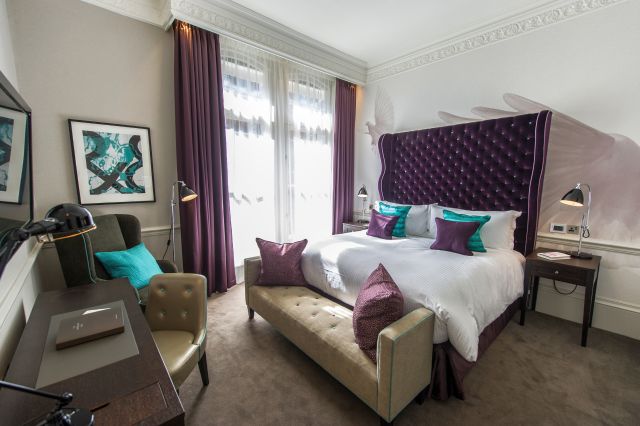 Saving retail therapy for the morning of our departure, we headed to basement level for the Games Room. A Science Museum-worthy exhibit in itself, filled with a collection of vintage games and a ping pong table. Next door, the Library with an impressive collection of books you might actually want to take up to your room and read – which guests are welcome to do – takes you along to Apero, the hotel's bar and restaurant and our final destination that day.
Enter it from within the hotel and it greets you like a welcoming cave. From the street entrance, a steep staircase leads to a brightly lit, hefty pharmaceutical cabinet of various intriguing looking jars, bottles and collectables. Either way, the first impressions are good as the intimate space unfolds with vaulted ceilings, fisherman's lamps hanging from copper pipes, white tiles and bare brick walls, leather banquets and solid wooden tables. Periodically, the gentle rumble of a passing tube train shakes the floor underfoot, adding to the feeling that you've stumbled upon somewhere quite special and unknown to the masses.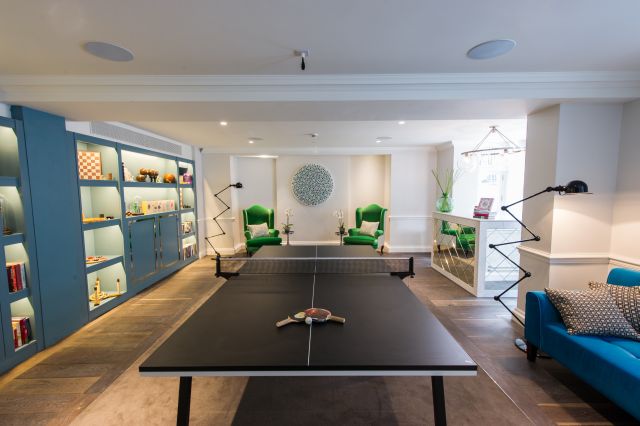 Aiming to recreate the popular 'aperitivo' hour so loved by the Meds, Apero's V&A-inspired cocktail list is far removed from the classics and as fresh and flavoursome as its well-priced menu of small and medium plates. But unlike the food, designed to be mixed and matched and shared among friends, the expertly mixed tipples are too good to pass around. With a little advice from our Italian waiter, we choose a selection of cold and hot dishes including courgette flowers stuffed with ricotta, wet polenta with garlic and mushrooms, chicory and apple ribboned salad, grilled sumac-marinated stone bass, lamb cutlets, grilled to perfection, and juicy Bulls Heart tomatoes, chopped up and mixed with olive oil, coriander and just the right amount of salt. They arrived ad hoc, until our table resembled a feast worthy of a last supper, bursting with colour and salivicious deliciousness. With our little carafe of spicy Sangiovese, it felt more like Sicily than South Kensington.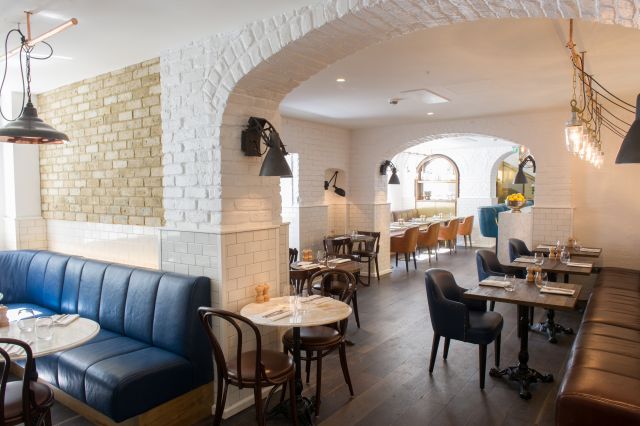 Happily, no more than 12 hours of fine-cottoned sleep later, we were sat under Apero's low-ceiled comfort once again, this time basked in a stream of early morning sunshine, tucking in to a breakfast of lime-squirted avocado and poached eggs on sourdough toast and freshly-brewed Earl Grey, perusing the Sunday supplements, and gearing up for a gentle attack on the nearby shops. After which, less than 24 hours since stepping through the Ampersand's front door for the first time, we emerged with wide smiles of rejuvenation only an overnight stay somewhere far removed from home can bring: a luxury hotel, bursting with comfort, character… & then some.
The Ampersand Hotel, 10 Harrington Road, South Kensington, London SW7 3ER. Tel: +44 (0)20 7589 5895. Website. 
[wzslider]