There is more to Budapest than meets the eye. Scratch the surface, look behind closed doors and you'll find more than grand neo-classical buildings, coffee houses, statues of cowering Ottomans and beef goulash. There is a burgeoning creative scene, top class food and wine and the kind of bars and clubs which would not be out of place in Paris or London.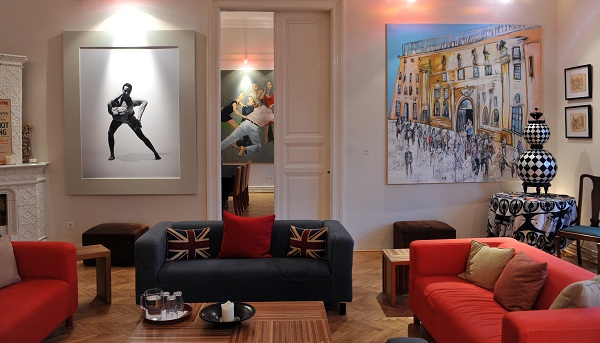 Symbolic of this is Brody House, a private members' club-cum-guest house owned by two English ex-pats, William Clothier and Peter Grundberg. Behind this closed door on Bródy Sándor utca, in Central Pest, you find a sweeping staircase, which, two floors up, transports you into a world of art, creativity, conversation and back copies of The Spectator (what more could a man want!).
Because Brody House is not a conventional hotel, there is no lobby, and nor are there top-hatted porters. Instead you find a communal space of inter-connecting club-rooms, each of which has been decorated with contemporary furniture, the odd salvaged piece (my favourite was a wooden sledge being used a coffee table), and canvases from the artists in residence. While the space itself might be large, the layout and furnishing means you never feel lost in it all. Indeed it is such an inviting place in which to sit, have a drink, read a book (there are plenty to choose from), chat with your fellow guests, or simply take time out to ponder, that you might be tempted never to leave.
However, that would mean missing out on your sleeping quarters. Brody House has eight bedrooms and a ground floor apartment, each of which has been named after and inspired by one of the club's artists in residence. So it is up to you whether you go for the baroque splendour of the Etienne de Fleurieu room; for Alex Tinei, the Moldovan who has a growing reputation on the international art scene; or for native Hungarian, Dora Agnes Denes.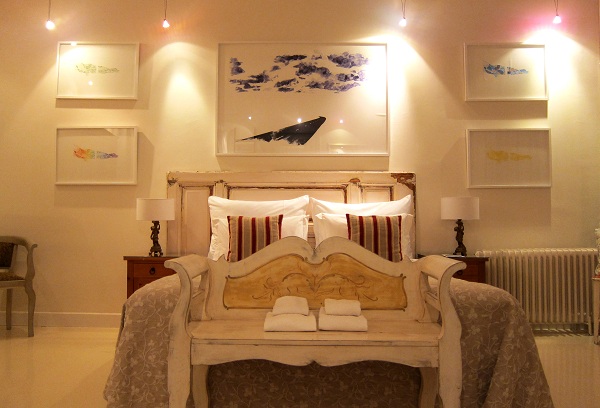 As something of a closet Francophile, I opted for M. de Fleurieu. Not only did this room house some particularly absorbing art and the bed of my dreams, it also featured the largest bath I have ever seen outside a rugby changing room. The type of bath you could do 20 lengths in to build up a pre-dinner appetite. One feature, common to most hotel rooms these days, and conspicuous by its absence here, was the flat screen TV. Brody House is not the kind of place where you would want to spend hours in front of BBC World, watching international weather forecasts and endless documentaries on the Arab Spring. Indeed, the rest of Brody House and Budapest is so inviting it would be a crime to do so.
Before venturing out onto the chilly streets of Budapest, you will require a pretty substantial breakfast. Fortunately this is what they have on offer, including the best value Eggs Benedict I've ever come across. They also offer an all-day food and drink menu, can cook you dinner if you so wish, and if you're lucky you might get an invite to dine with the local polo club one night.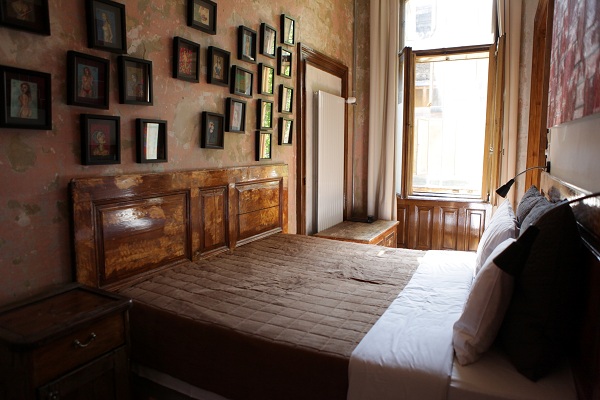 What of the rest of Budapest? Brody House provides guests with a 'bucket list', which is a good base from which to work, and this isn't the Rough Guide to Budapest, so I'm not going to bother you with a top 10 list of must-see attractions. However, there are a couple of choice cuts which are worthy of your attention.
First among these is a box seat at the Budapest Opera House for an opera or ballet. Not only are the tickets a fraction of what you would pay in London, Paris or New York, you are also treated to the 'Hungarian hand clap' during the curtain call. Instead of the kind of boisterous and spontaneous applause you might expect at the end of the evening, the audience broke into the type of slow and rhythmic clapping which in the UK usually signals displeasure. Judging by the accompanying shouts of 'bravo' (something I've never had the courage for), this wasn't the case here.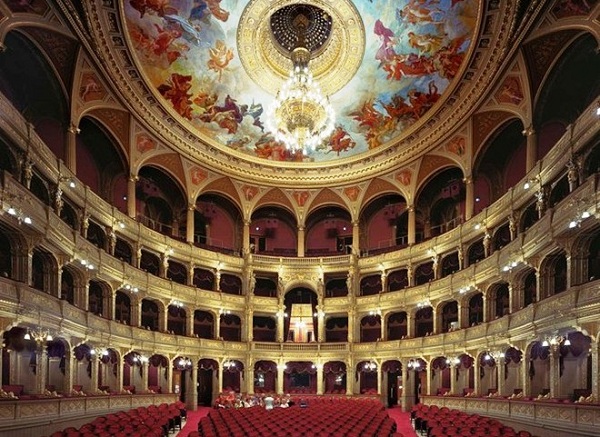 After the applause has died down, where should you head in order to continue your evening? I'd say dinner up the road at Menza, where they serve updated versions of Hungarian classics (think paprikash, goose, goulash and bone marrow), a couple of cocktails at Boutiq'Bar, Budapest's first speakeasy style bar, then finish off by mixing with the beautiful people at Otkert.
Returning to Brody, ever heard of that famous strap line "a home away from home"? Well Brody House is frankly nicer than my house and I was extremely loath to leave. When I return to Budapest I wouldn't even consider staying anywhere else. Peter and William have managed to create somewhere that is genuinely cool and a fantastic base from which to explore the city, but without the air of pretence and exclusivity that so many similar places foster. See you there!