'Is there Wi-Fi here?' my boyfriend asks, innocently enough, as we check into the hotel. The lady showing us our hotel room bristles. She smiles and, half-joking, wags her finger at him: 'Naughty boy!' She tuts and exchanges glances with me, as I roll my eyes at my boyfriend's seemingly offensive question. 'We don't tend to publicise it, but if asked, yes we do have Wi-Fi,' she says, reluctantly divulging the password.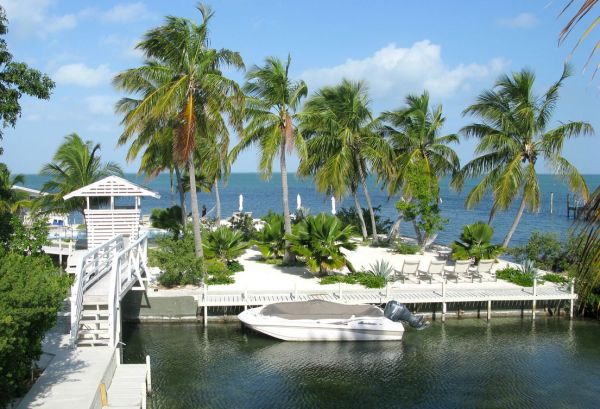 Welcome to Casa Morada, a boutique hotel tucked away in Islamorada in the Florida Keys, where relaxation, seclusion, privacy and a feeling of absolute 'get away from it all' reign supreme. On the drive down the overseas highway from Miami to Islamorada, as we had just done, numerous hotels and restaurants vie for your attention: cafes and diners proclaiming to have the 'best key lime pie', and hotels and lodges boasting luxury or sea-view rooms. But not Casa Morada. There are no signs on the highway revealing its location. Instead the hotel gives guests directions in terms of its proximity to another motel.
Hidden down a quiet side street, our first impression was that it is a charming, colonial-style hotel; perfectly pleasant. As we walked along the side of the reception building it became more impressive, as a lush, tropical garden unfolded and fragrant incense filled the air. Hammocks are spotted here and there, a few bikes for hire are propped up, palm trees creak in the gentle breeze and away from the steady, beating traffic of the overseas highway, Casa Morada radiates a calm and tranquility felt as soon as you check-in.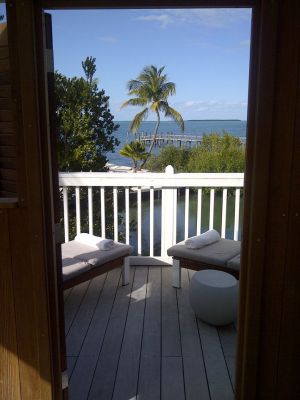 Fast-forward past the Wi-Fi/'naughty boy' moment and we have walked over a short white bridge to reach the hotel's beautiful beach bar, where we sip sake cocktails and watch the sun set. We are in fact on Casa Morada's tiny private island, referred to as the 'sandy playground', and no mobile phones are allowed. There is also a swimming pool, but the highlight is the bar, which juts out into the sea, overlooking the Everglades and Florida Bay. At sunset, this is the place to be.
There are 16 suites, each with private outdoor and indoor living spaces. We are in the Iguana Suite; the pool and bar are in close proximity, and if we sit outside and read, the gentle lapping waves of the Florida Bay are just a few feet from us. Inside, it is wonderful: a large sitting area comes complete with flat-screen TV and Jacuzzi bath; the bedroom is minimalist and beautifully appointed; wicker furniture, Mexican antiques and orchids add comfort and style. A personal welcome note on the coffee table tells us we have found a really special hotel. If you're not the sort of person to just relax and enjoy the view/pool, or to naughtily use the hotel's Wi-Fi, there are some active sorts of stuff to enjoy in Casa Morada and in the fishing town of Islamorada (which is actually a 20-mile strip of separate islands). A weekly yoga lesson, bikes and kayaks are among the complimentary offerings. Diving and snorkelling can also be arranged nearby.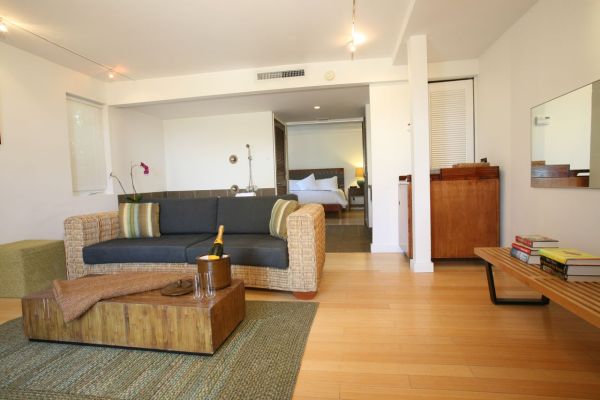 We stayed at Casa Morada for two nights, affording us just one full day in Islamorada. In the morning after a simple yet delicious breakfast of cereal, fresh fruit and cream cheese bagels, we explored, discovering Anne's Beach (named after local environmentalist Anne Eaton) and Robbie's Marina. At Robbie's, a fun-filled destination offering boat trips and any number of water sports as well as cute outdoor craft stalls, a display of spray-paint art and a seafront restaurant serving up big American burgers and Mexican fare like cheesy quesadillas, the highlight is the tarpon feeding. For $2.79 you get a bucket of herring to toss off the pier, coaxing monstrous leaping tarpon from the shallow waters. I had to compete with some elderly-looking pelicans to try and get the job done; one almost pushed me off the pier as it flapped about behind me trying to snatch the herring out of my hand. Robbie's shows off US customer service and hospitality at its best and gets the Keys locals and tourists mingling – not to be missed.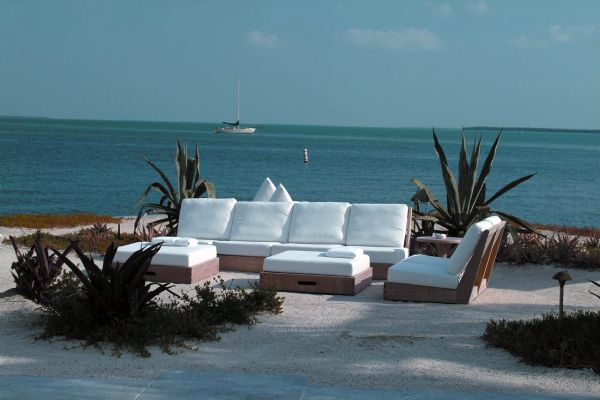 After the Pelican incident and a giant portioned lunch, we decided relaxation at Casa Morada was called for to while away our afternoon. We sampled the hammocks to see which was cosiest, had a quick dip in the pool, and when the sun slid behind a cloud and the breeze picked up, retired to our suite where we watched The Help (borrowed from the hotel's large DVD collection) while snuggled under a throw on our sofa.
Did we use the Wi-Fi? Well, yes we did. But I don't think Casa Morada would be too angry at us. My boyfriend used it to play some music in our suite and to look up some local restaurant reviews. There was no work, or email, or anything that conflicts with the words 'holiday' and 'relaxation', just a two blissful nights in a peaceful paradise with one of the best seafront bars I've ever been to.
Casa Morada, 136 Madeira Road, Islamorada, Florida, 33036, United States. Tel: +1 305 664 0044. Website.