It doesn't matter how hard we try to fight it, there are certain things in life that have the power to catapult us all back to our inner child; the crackle of a sparkler, the sight of the presents on Christmas morning or staying in a £1300 a night tree house. Oh what… is the last one just me? Stick with me on this…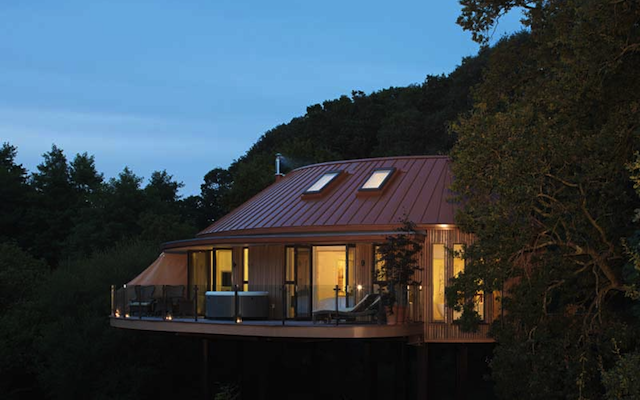 When I told friends I was off to review a tree house in mid December they couldn't hide their surprise…and concern. Surprise, that a gal normally jetting from private island hideaway to boutique bolthole and tweeting Michelin-starred dinner pictures at every opportunity would have agreed to do such a thing, and concern that with some of the UKs biggest storms in decades on their way I wouldn't make it through the night in that creaky, leaky hell-hole, let alone a whole weekend!
They needn't have worried; this was no normal tree house. With a roaring log fire, a glistening bathroom overflowing with REN toiletries, a complementary mini bar crammed with artisan chocolates and chilled champagne and a private outdoor hot tub overlooking the New Forest, this woody wonderland was like a tree house on steroids.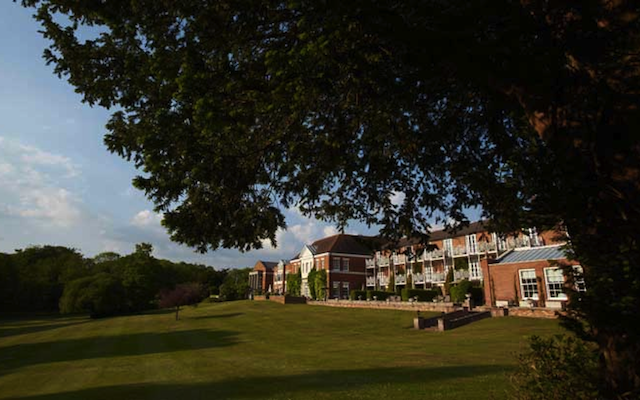 I felt Little Jessie, sorry… I mean my inner child, appearing the second we checked-in and were met by our very own sexed-up, almost limo-esque golf buggy ready to whisk us away from the main hotel and off to our secret lair. As I clambered in to the strange contraption I watched the five-star hotel melt away in to the distance as I took in just some of the 130 acre estate – with my face pressed firmly against the plastic tented windows in anticipation.
Just two minutes later I arrived at my Tree house Loft Suite. Having been welcomed by a bottle of chilled Taittinger and an array of delicious homemade cookies, the smart and friendly bellboy ushered us around the plush pad; from the enormous cosy lounge and its own private log store, through to the seriously stylish bedroom with floor to ceiling windows taking in views of the valley. No sooner had I clocked the balcony and hot tub before he swept me in to a pristine marble bathroom with the biggest bath I have ever seen, complete with its own flatscreen TV and fluffy robes waiting.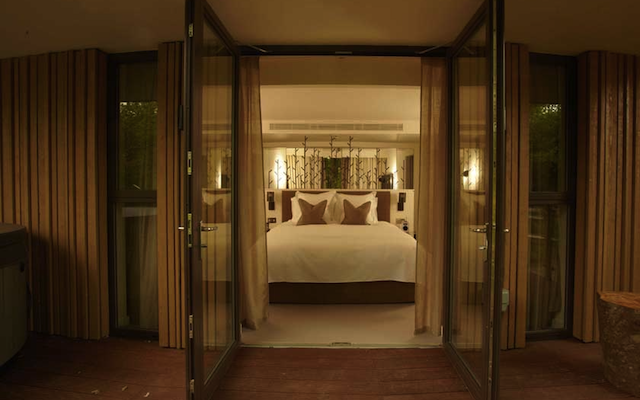 As I took it all in I felt my grown-up facade eroding, I was just about managing to stifle my delight with an appreciative nod of acceptance when he unveiled a quirky bookcase which doubled up as a secret stairway to a kid's loft room complete with beds, giant bean bags and velux windows for some pre-bedtime stargazing. The second he left our divine den I did what any acclimated travel writer would do – dived on the heavenly bed kicking my arms and legs in excitement before leaping in to the private hot tub in a torrential rain storm!
As my excitement subsided and reality hit, I hotfooted it inside to our roaring log fire, narrowly avoiding pneumonia, to dry off check out the award-winning spa, where I was booked in for a 90 minute 'manipura full body massage'. This 'award winning' tag may sound impressive, but Chewton Glen is a hotel that has won every award going; from its architecture and green credentials to bizarre accolades such as Best Dessert List and Best Cheeseboard. From the rooms and the gardens, to the restaurant and the spa, this country house hotel has perfected the whole package.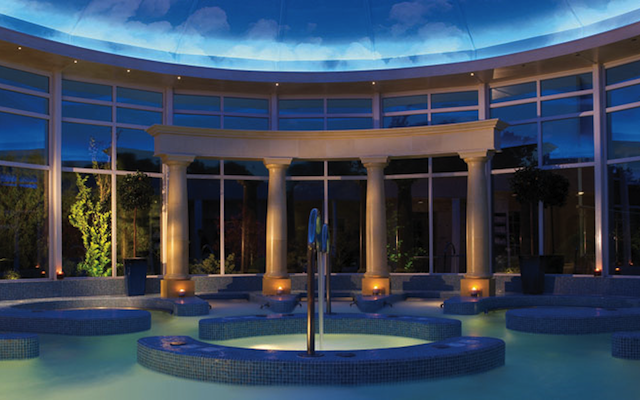 Having suitably stimulated my 'inner solar sun vitality' through a hypnotic cocktail of reflexology, marma massage, lymphatic drainage and the application of Himalayan herb poultices (a standard Sunday) the charming therapist retreated and after a great deal of determination I finally managed to wake up and dreamily went off in search of the boyfriend, who was well and truly stoned (hot stones that is). A quick circuit of the impressive hydrotherapy pool soon woke us up and after a quick phone call, our friendly butler was awaiting us with a brolly, ready to part the torrential downpour and chauffer us home… in the golf buggy (by now it the sodden buggy had somewhat lost its lure).
Anyway, moan over, once back in the room… I mean tree, we tore ourselves away from the delicious hot tub and pulled on our glad rags for dinner. As a couple Sam and I are infamous for our love of food and often find ourselves the first ones in the restaurant, eagerly panting at the menus in anticipation, but on this occasion it was hard to tear ourselves away from our room – these homely hideaways have everything you could want or need!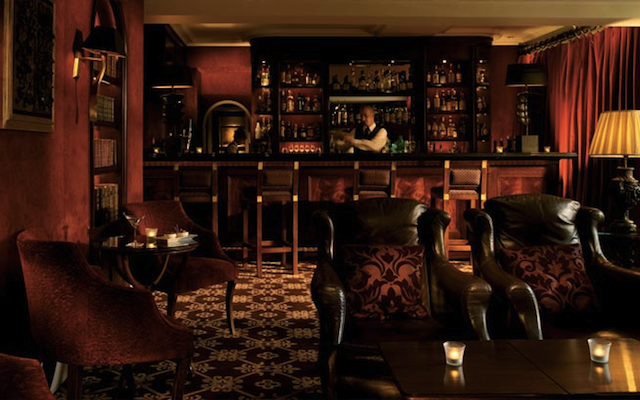 Having donned our best getup and jumped in yet another buggy we finally arrived at the main hotel and were promptly ushered through the charming entrance and in to Vetiver; a labyrinth of a restaurant boasting room upon room of light and airy dining areas. Elegantly laid out it takes full advantage of its picturesque surroundings with vast windows looking out across the ornate gardens. I loved the private dining area which pays homage to its impressive 700-strong wine offering, and is stylishly encased in four glass walls of fine wines. Having succumbed to the festive feasting we were craving a non-carnivorous creation and quickly agreed on the Dover sole. The perfectly cooked fish were then expertly de-boned at the table by our waiters in unison as the charming sommelier conjured up two well-matched glasses of white to suit each of our taste preferences. The food and the service were faultless and the fantastic value lunchtime set menu soon had us coming back for more.
As I contentedly swirled and gargled my vino I couldn't help but smile – I was pulling off this 'grown up lark' rather well considering the surroundings. As I snuggled up in bed that night I drifted off in to a pantomime of nostalgic dreams set in the estate; from a midnight dip in the pool and a Tarzan-esque trip around the forest to a hole-in-one on the golf course and mallet madness on the croquet lawns. Until… at 5am…my insomnia hit. This irritating and totally irrational condition has plagued me since my days of bunches and braces. My childhood was spent ramming rubber in my ears, counting sheep and rolling around in frustration. Well, insomnia is faaaar less stressful when you have a private balcony and hot tub. At the crack of dawn I slipped out of the divine bed and fought my way through the gales once more as the warm bubbles enveloped me in my leafy lather and the sun rose in the distance. Did I really have to leave?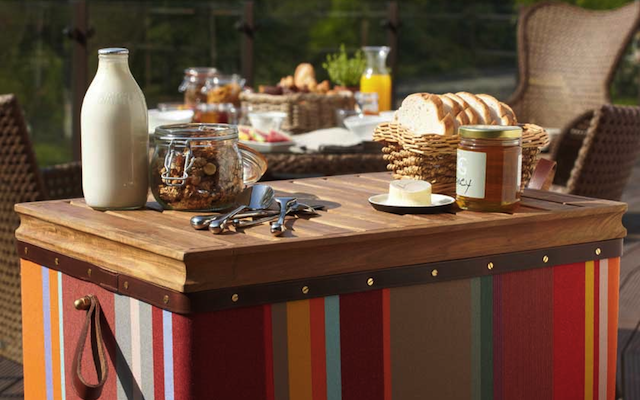 At 7.30am I heard a rustle inside the secret cabinet in the corner of the room, Santa had been! I mean, the breakfast bell boy. I opened it to reveal an enormous hamper, stuffed with breakfast muffins, fresh juice, croissants, smoked salmon and cream cheese and a colourful fruit salad. Instantly dismissing the fruit I dived straight in to the pain au chocolats.
Enter Sam – having awoken in a treetop mansion to the seductive aroma of fresh coffee he stumbled to find a wild-eyed woman, sat windswept and dripping wet amidst an explosion of pastries and salmon with a chocolate smeared grin and a serious lack of pain au chocolats. What? It wasn't me! It was Little Jessie.