Boutique hotels like Drakes, with their own individual character, have been instrumental in the rise of smaller independent establishments across the UK, altogether more reflective of their town or city than the 'one size fits all' approach offered by hotel groups. Drakes, with just 20 well appointed bedrooms, is located in two reconfigured Regency townhouses and boasts an award-winning basement restaurant, making it a destination coastal experience and the perfect base when visiting the fun-loving town of Brighton.
It would be easy to drive past and mistake the hotel for a typical seaside b&b, located on Marine Parade at the less obvious side of Palace Pier and on the edge of Kemp Town. Yet, on entering, the smart interior and efficient service immediately disarms one and banishes any preconceptions, as does being shown to room 101, a small but perfectly formed circular room with a contemporary ethos combining the distinctly glamorous 1930s age of Bertie Wooster. With clean lines and sexy curves, the design of this hotel proves how well modern interior design and elements of Art Deco marry.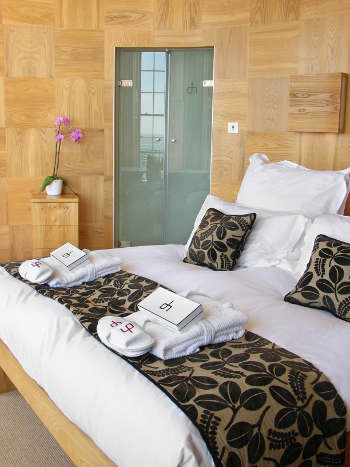 Aimed at those seeking a romantic getaway, the room's focal point is a large free-standing bath positioned in the centre of a bow window, allowing bathers a magnificent and panoramic sea view. All I needed now was Jeeves to run my bath, using the White Company products provided, and bring me a Singapore Sling as I watched the shepherd's delight sunset and the lights on the pier shining bright. Those brave enough to take the plunge with the shutters open (and closing them would be to defeat the object) should be aware that locals using buses are rumoured to enjoy a good view when seated on the top deck. I don't speak from personal experience, but on good authority from a member of staff. You could just wave as they go by.
For more privacy, avail yourself of the adjoining wet room behind frosted glass doors, which also doubles as the toilet. Be warned, though, the entire room will be drenched so best to leave your towel outside. From the tub to the bed, the layout of the room maximises on the incredible view and cleverly utilises the limited space. For example, there is no wardrobe, just basic wooden hangers on wall hooks, and you'll find the tea and coffee making facilities placed on various shelves (a pull down table is positioned nearby). The television is fixed onto a wall bracket in order to enable a cheeky midnight dose of Frasier from bed. The white sheets are luxuriously crisp and another room apparently boasts the largest bed in Brighton (although I'm not sure how they verify this).
I can't deny that Drakes is a hotel with personality and sparkle so it's no surprise that Kylie Minogue stays here when she's in town, which is probably as close to the Queen of Pop as you or I are ever likely to get. Having made full use of the sea-facing cocktail bar (which also doubles as the reception desk) and the expertise of the bartender pre & post dinner the night before, you'll be relieved to hear that you have the choice of enjoying breakfast in the restaurant or delivered to your room. Eggs Benedict in bed with strong coffee sounds good to me.
Drakes, 43-44 Marine Parade, Brighton, East Sussex BN2 1PE. Website.