To call the Swiss mountain town of Gstaad a ski resort is like saying a Rolex is just a watch, or lunch at the Fat Duck is just a meal. You might be correct, but that slightly misses the point. Yes, Gstaad is a place where people come to stay in hotels or chalets and spend time on the slopes, but there is a good deal more to it than that. Alongside towns like St Moritz, Courchevel, Cortina d'Ampezzo and Lech, Gstaad is one of the fabled alpine resorts to have found favour with the great and the good.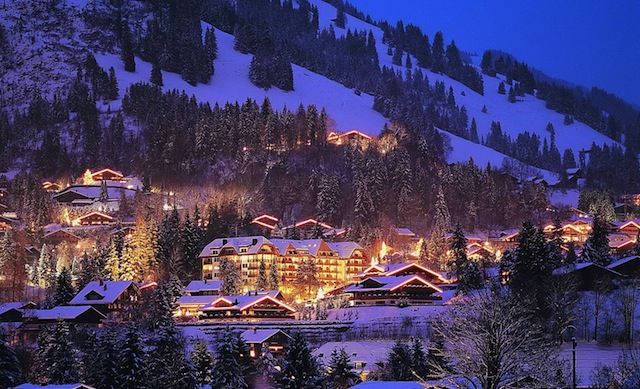 Liz Taylor and Richard Burton holidayed here; Ernesto Bertarelli, Julie Andrews, Bernie Ecclestone, and my favourite, The Spectator's High Life columnist, Taki, all have chalets in the area; and, at Wally's, an otherwise unremarkable hole-in-the-wall takeaway on the Promenade, you can order a wagyu beefburger for CHF45 (£30). Gstaad then, is not your average, one-week-a-year, après-ski jager shots, seasonaire-packed ski town.
However, in contrast to some of the flashier resorts like Courchevel, Gstaad's glamour is more understated. Yes, the high street is packed with the likes of Moncler, Ralph Lauren and Cartier, but the real action takes place at home in your six bedroom chalet or in one of the resort's famous five star hotels; of which there are four in a town of only 3,200 permanent residents. What better way then to discover what has drawn so many to Gstaad over the years by spending a couple of days at the recently refurbished Grand Hotel Bellevue, before moving up to the hill to the grande-dame of Gstaad, the Palace?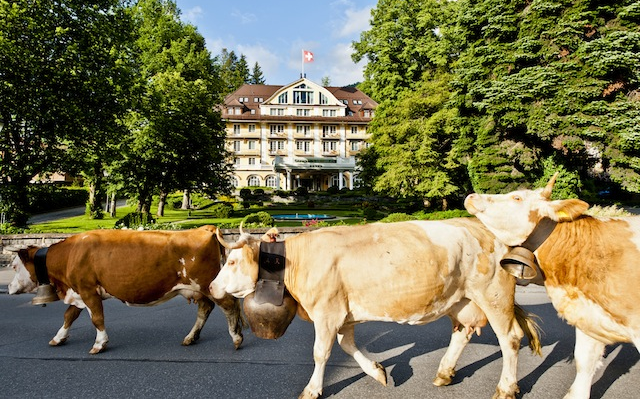 Our arrival at the Bellevue, Gstaad's most central five star hotel, was not the stuff dreams are made of. My driver, fellow skier and hanger-on, JM, decided to enter via the exit, which necessitated a tricky manoeuvre as he reversed onto the main road before we found the agreed path to the front door. Pulling up next to a vintage Bentley in a rented Peugeot packed to the gunnels with ski kit also does little for the ego, but Gstaad is not the place if you are uncomfortable in the presence of conspicuous wealth.
Once our credentials had been established and the concierge had ascertained that we weren't lost and looking for directions, the hotel's new owner Daniel Koetser emerged to meet, greet and ensure a smooth arrival. Together with his father-in-law, Daniel bought the Bellevue at the end of 2012 and has since undertaken a full refurbishment of the hotel.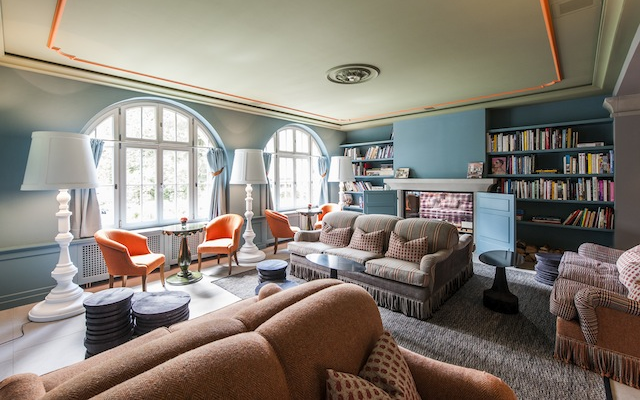 If you felt in a critical frame of mind, you might say Gstaad is rather staid, although 'traditional' might be a more accurate description. However, while the Bellevue lives up to the best traditions of Swiss hospitality, its revamp has injected it with a much more contemporary feel – there isn't a dark wood panel in sight. Instead, the light and airy rooms downstairs have been tastefully dressed and populated by a veritable army of soft furnishings – sofas, a 50 foot long leather banquette that spans the length of the hotel bar, chairs masquerading as bird cages that match the ornithological wallpaper, and a large stuffed camel in fetching tweed. Our room had a similarly contemporary feel, with a lovely balcony for views onto the surrounding mountains, and all trimmings you might expect – a Nespresso machine, Samsung smart TV, free-standing bath and rainforest shower.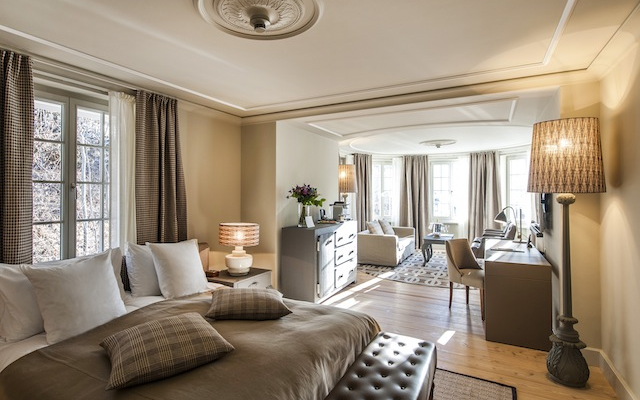 The skiing in Gstaad would not be seen as world class by most discerning skiers, including myself: it is too low to be snow sure, while the various ski areas aren't connected and require a car or bus trip to reach them from town. What does work in its favour is the fact that only 30% of the resort's visitors actually strap on a pair of skis during their stay. This means that if you are a competent off piste skier and are with a guide, you can find stashes of fresh snow for days and days after the last snowfall. In comparison, in some of the big French and Austrian resorts, you'd be lucky to find fresh tracks a couple of hours after a major snowfall.
There wasn't much snow while we there, but I was one of the intrepid 30% to get my skis on for some fun on the 220km of pisted runs in the area. It was a good thing I did, otherwise I wouldn't have been able to do justice to the hotel head-chef Urs's cooking. His Michelin star looks to be well deserved and everything that came from his kitchen was excellent – from the Rueben sandwich with juicy slices of homemade salt beef to a bowl of hot and sour tom kha gai, via scones and financiers for afternoon tea and plate of local sausage from the Valais with creamed leeks and foie gras.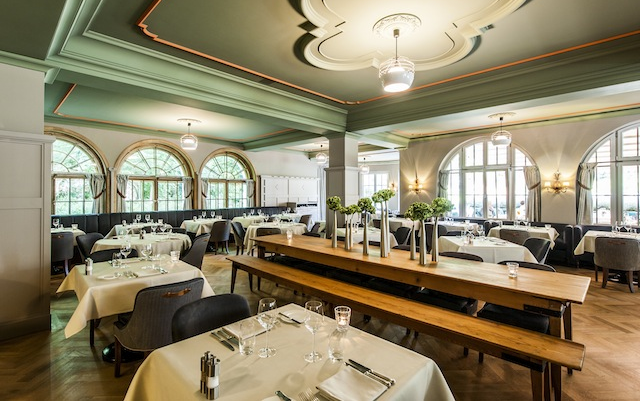 Yet despite the quality of Urs's efforts, they weren't the culinary highlight of my stay at the Bellevue. For that we move out of the hotel and take a short walk through the gardens to Le Petit Chalet, a small 18-seater restaurant masquerading as a mountain refuge in the hotel's grounds. Fondue has a bad reputation; however, context is everything and after a day's hard skiing, you can't beat a bowl of melted cheese. Especially if they grate an avalanche of black truffle onto the cheese first, which is how they serve the truffled fondue at Le Petit Chalet. In sight of this multitude of truffle I'm afraid to say I overindulged. Truffles come along so infrequently I find it necessary to fill my boots when they do, only to subsequently experience a lengthy period of remorse.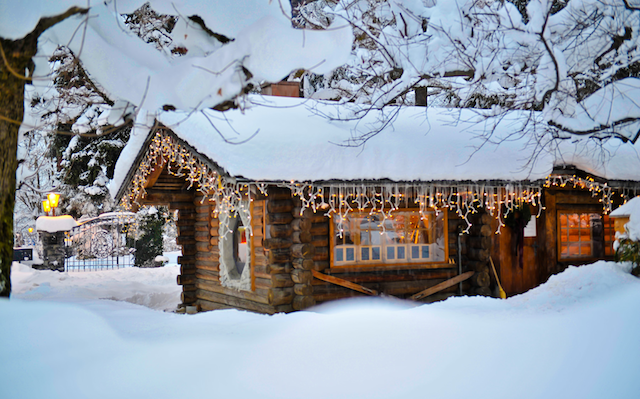 To remedy the damage done by litres of melted cheese, there are several courses of action open to the glutton: hours of hard physical work or a serious session in the sauna. The Bellevue has both a gym and a 2,500m2 spa area, so I could have opted for either. Unfortunately I didn't have my trainers, so it was to the spa I headed. Of the many different saunas, steam rooms and ice chambers, the most startling experience was to be had in the Himalayan salt room. Here, a large crystal periodically emitted a great belch of saline infused steam in a manner that almost sent me to an early and salty grave the first time around.
Leaving behind the warm embrace of the Himalayan salt room, and indeed the rest of the Bellevue, at the end of our two night stay had the potential to be a pretty dispiriting experience. For this hotel, on balance, is probably the best I've stayed in throughout my short time on Earth. For a critical Yorkshireman like me to have no complaints at all is something approaching a miracle: I liked the hotel's new contemporary décor; the stuffed camel; the scones for afternoon tea; negronis at the hotel bar; chef Urs's Reuben sandwich; and even the Himalayan salt chamber, which did my sinuses no end of good. The scrambled eggs at breakfast could have been better, but that was it. So I'll be back, if Daniel et al will have me.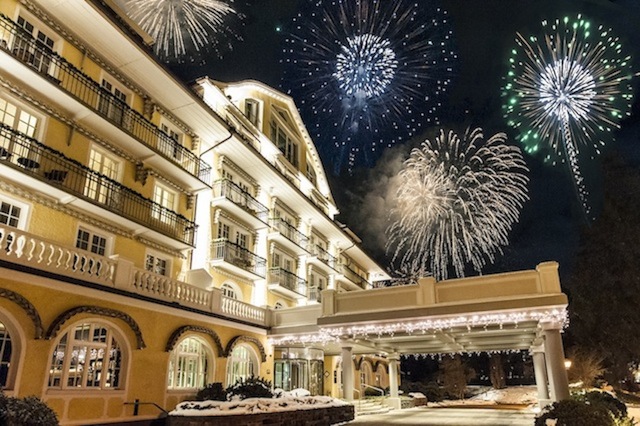 My one consolation on departure was that I was travelling just five minutes up the road to the Palace. A hotel so symbolic of Gstaad it appeared in icing on my souvenir Christmas lebkuchen!
View Hotel Info, Rates & Availability
For more information about Gstaad, its skiing facilities and amenities, including weather reports, visit the MySwitzerland website.