I've lived in Paris for over eight years, but here is a side to the French capital I'm less familiar with. This is film cliché Paris; upscale boutiques and elegant Haussmannian buildings line wide, tree-lined boulevards – a stomping ground for the impeccably turned out resident bourgeoisie. Just a short stroll from the self-styled "most beautiful avenue in the world" the Champs-Elysées, the Hotel du Collectionneur certainly has its place in this undeniably chic corner of Paris.
Inspired by the great designers of the Art Deco period and a stylish tribute to the glamorous Transatlantic liners of the era, this luxury address is an invitation to journey back in time, a chance to relive the sophistication of the 1930s. But it's no tiny, hidden gem – with 478 rooms and suites spread across 7 floors, the Hotel du Collectionneur is the largest five-star offering in France. The stunning lobby, filled with bell jars, candles and crystal chandeliers, is awash in beautiful Erté serigraph prints, exquisite furnishings by Ruhlmann, as well as one of a kind Art Deco metal work by Edgar Brandt.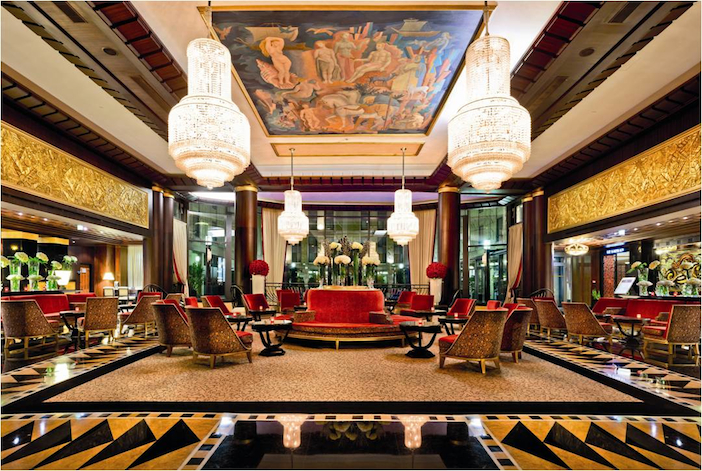 It's certainly an impressive introduction to my stay, it's just a shame that the check-in process is let down by the rather snooty service from one of the receptionists. Admittedly, an upgrade from a superior king to a deluxe suite goes some way to removing the sting. The scene-stealing style of the foyer doesn't follow through in the rooms, but a closer look reveals the finer details; Brazilian rosewood, Macassar ebony, shagreen patterned walls in skate and shark skin and lashings of Oriental Jade green granite throughout the bathroom. Specialist craftsmen worked with Emmanuel Bréon, curator at the Musée des Années 30 (Museum of the 1930s) to create bespoke furniture featuring inlays based on Art Deco icon Ruhlmann's original drawings.
Some 41 rooms and suites boast private terraces, of those, several offer glimpses of the "Iron Lady," otherwise known as the Eiffel Tower. My 50 square metre suite is composed of a bedroom and separate sitting room, with windows overlooking the hotel's central Andalusian Patio (designed by French landscaper Olivier Riols who worked on the gardens at the Palais Royal). Here, a fragrant melange of cypress hedges, palms, orange and lemon trees and rose bushes surrounds an infinity fountain, and provides a welcome respite from Paris's hustle and bustle.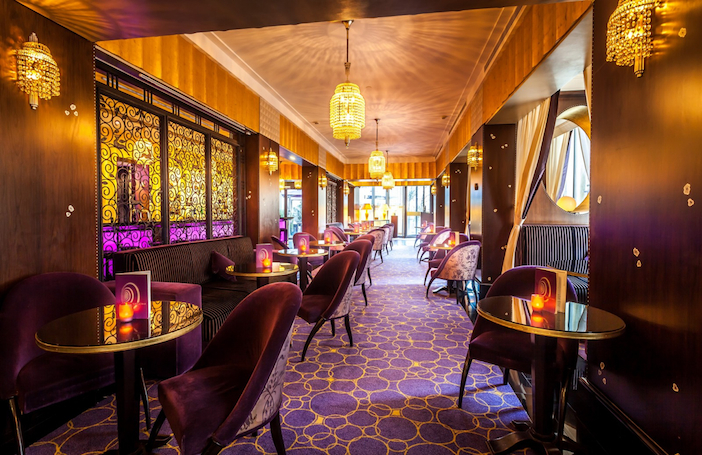 Pre-dinner cocktails tempt me into the opulent Purple Bar with its sexy, speakeasy vibe, and where hush-hush rendezvous take place in the cosy, street-side alcoves. I sidle up to the bar and order an "Elena"; an unapologetic girly concoction of strawberry, vanilla, Chambord and Taittinger, before heading next door for dinner at Le Safran. A pianist is entertaining a handful of diners enjoying an early supper. The restaurant, which promises modern French cuisine, perfectly nails the vintage cruise liner look and simultaneously manages an intimate atmosphere despite its large size.
An amuse bouche of lobster tail garnished with mayonnaise and beetroot gives way to the entrée; a delicious swordfish ceviche with rocket and sweet potato – so far we're on a roll. But the sélection du boucher (butcher's selection) – tonight a flank steak – is an overcooked letdown. Not even the juicy spinach and possibly the best pepper sauce I've ever tasted can redeem the dish. Nevertheless, a lovely, smooth Burgundy (Château de Chamirey Mercurey 2011) helps to wash it down. The saving grace is dessert; the shortbread biscuit topped with caramelised apples, a sprinkling of cinnamon and a dollop of ginger ice cream is crunchy, tangy and refreshing. After post-meal gourmandises (creamy truffles and mini financier gâteaux) and perhaps a few more sips of wine, I fear getting up from behind the table, unsure how I'll manage. Thankfully home for the night is but a quick elevator ride and a few wobbly steps away…