When I told friends I was reviewing Luton Hoo, I saw their faces drop and I immediately felt the need to emphasise that it was a very luxurious 5-star country estate, despite being in Luton. It seems the word Luton conjures up images of characterless Travelodge-esque hotel rooms and after a while even I was beginning to wonder if I was being a little naive. I needn't have…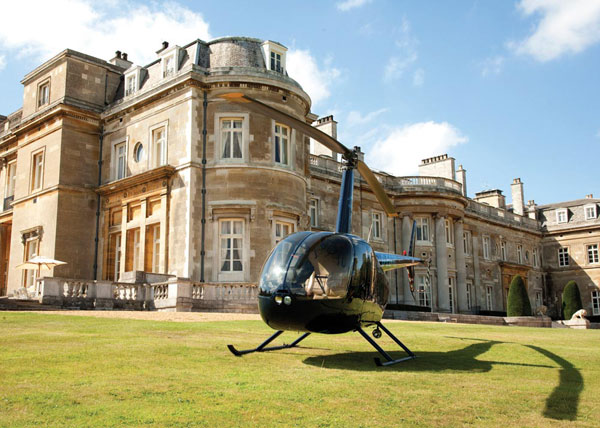 Hundreds of colourful characters have graced the tapestry-clad, marble enveloped rooms of Luton Hoo over the years. The Grade-I listed mansion was originally built for the Earl of Bute before being sold to the Wernher family, who made their riches in the diamond trade. Over the years its elaborate Edwardian Renaissance grandeur faded until it was a shadow of its former glory, until it was snapped up by the Elite hotel group, who according to its longstanding resident historian, Zena, "saved it from collapse".
Now the dramatically restored mansion house can be seen in every film from Four Weddings and a Funeral to Eyes Wide Shut and The World is Not Enough. Even Ali G has made an appearance at the Hoo.
Living up to its grand façade, the hotel is a popular destination to arrive at by helicopter, but unfortunately my flatmate must have borrowed mine as it was not in the driveway when I left. It is also conveniently just a few minutes transfer from Luton Airport, but again I seemed to have mislaid the keys to the private jet. Call in the back-up plan, 2003 Ford KA here I come.
As we peeled off the main road and through the enormous gates, acres of sweeping parkland lay ahead with jolly looking golfers sprinkled around. After camouflaging our inferior mode of transport in the furthest corner of the car park, we dragged our wares along the drive to the main house where we were leapt on by helpful bellboys and swept into The Great Hall where a roaring log fire awaited amidst the opulent surroundings.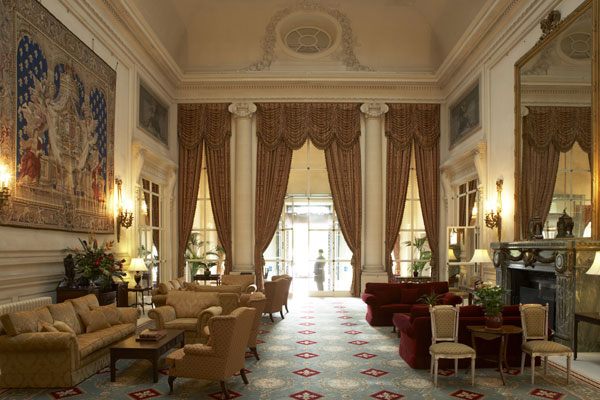 Unfortunately, former guests Johnny Depp and Steven Spielberg did not join us on our visit to the 1000 acre country estate. However, there were plenty of weird and wonderful characters to spy on during our time; including a scary looking phantom bride who floated around the hotel looking like she was having the worst day of her life and posing for sultry photos on the spiral staircase…without a groom in site.
Our bedroom was sandwiched between two of the main manor house's grandest suites, and what a sandwich it was. Centrally positioned above the ornate gardens, we had arguably the best view of the grounds, and despite being unsure of the borderline chintzy decor we were instantly taken by the walk-in wardrobe, Jacuzzi bath and Molton Brown toiletries. And, although it's not size that counts, I was pleased to find that there was plenty of room to swing from the chandelier should Mr Depp drop by.
Having dumped our bags we set off to explore the estate. With over 1000 acres of woodland, manicured gardens and lakes to discover, complimentary old fashioned London black cabs are on hand to whizz you around the estate should you wish; however, us country gals were determined to make the most of the sun creeping through and despite our inappropriate attire, we prepared for our hike. No sooner had we stepped out of the door did the Great British weather take hold and begin chucking it down. With our patriotic determination unwavering, we nabbed a hotel umbrella and set off through the garden, filled with ornate hedging and rapidly deepening water features. As I yanked Charlotte off the beaten track towards the rockery, we caught sight of a family of ducks. Camera at the ready, she leapt towards the lake, sending her perfectly polished Hoxton-loving brogues sliding down the steps with a bump. Drenched in mud and dripping wet, we finally surrendered our expedition in favour of the spa. No sooner had we sunk into the steamy Jacuzzi did it begin to snow, good old British spring. After a blissful hot stone massage we headed back to the room to prepare for dinner.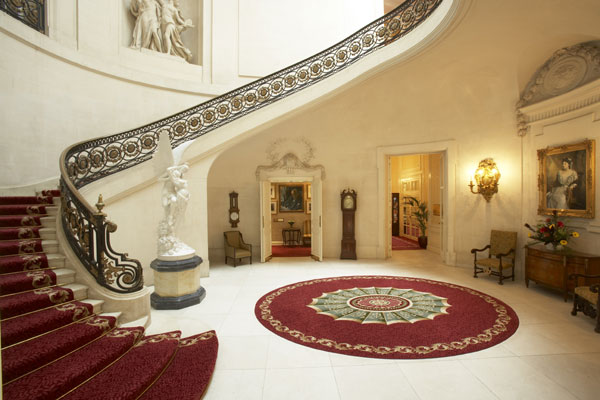 Surprisingly, Mr Depp had still not shown himself so we made do with each other for the evening. As I poured myself a glass of bubbly, something caught my eye; a volcano of bubbles erupting from the bath. Note to self, do not add bubble bath when the Jacuzzi jets are in full steam, not even if it's Molton Brown.
After adorning our LBDs we sauntered down the marble staircase to the divinely ostentatious Wernher restaurant. The extravagant room is encased in marble which I am reliably informed was more expensive than the entire estate was to purchase in the first place. The floor to ceiling windows are framed by elaborate heavy drapes and offer uninterrupted views across acres of gently sloping hills. However, playing centre stage are the three original French crystal chandeliers that hang from the ten metre high ceiling (at 5'3 it would be a stretch, Johnny, but I will meet you up there).
The polished maitre d' gave us a whirlwind tour of the menu. Compiled by head chef Kevin Clark, it features decadent British dishes with a twist. Charlotte and I both dived straight in at the calorific end and ordered the fillet steak which arrived crowned by a rich slab of buttery foie gras and an addictively fruity red chosen by the resident sommelier. As we tucked into our delicious desserts, we surveyed our fellow diners, a very mixed bunch. In the corner of the room, the Phantom Bride was shooting daggers at her groom as the nervous bridal party watched uneasily while she toyed with her steak knife. Scattered around the room were various families celebrating birthdays and reunions, and next to us a loved up couple celebrating their 50th wedding anniversary, bowled over by the feast before them; a gift from their daughter.
God knows what everyone thought of the two rosy-cheeked tipsy girls who were spying on them from the back of the room, constantly tweeting updates on each course whilst arguing over whether or not they could reach the chandelier.