When you approach thirty, various things happen. Junk food starts to manifest physically within hours of consumption. Babies don't seem so annoying and occasionally seem quite fun. You start to notice that people you work with were born in the 90s, for heaven's sake. And everyone, but everyone, that you know seems to be getting engaged, heralding an endless series of nuptials preceded, crucially, by unisex getaways involving unfathomable amounts of alcohol. These are The Stag Years.
Standard operating procedure dictates that you bulk-buy some hyper-budget flights (the type where you get a discount if you hold your breath for the whole journey, and you can dine on limp cheesy plastic for a mere £8), and head off to some frosty corner of Eastern Europe that was probably beautiful before all of this started. Thereafter you'll ignore stunning culture and instead binge on pilsner, team t-shirts, misdeeds and McDonalds.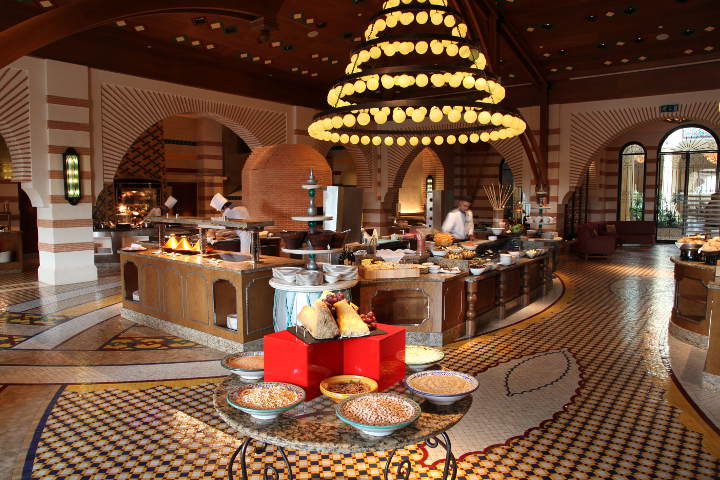 Well, readers, rumour has it there's another way. That there are places out there with refinement, with class, with on-site lad-appropriate activities like gambling, golf and go-karting. With man-specific massage and spa treatments. With copious amounts of alcohol. With fantastic kebabs. With quad bikes and camels and horses. There's a secret in the sands: there's the Mazagan Beach and Golf Resort. I must investigate.
This particular metropolis of leisure sprawls along the Atlantic coast of Morocco, a few miles north of El Jadida and about an hour from the airport at Casablanca. I approach at night through driving rain, wind and oppressive darkness, and am swept up to my room after an exemplary check-in through a fog of tiredness and alcohol, slipping into strange dreams. It's only in the morning that I can take a proper measure of the place. The insistent roar of the sea nudges me back into consciousness and I leap up, wild-eyed and ready. Pushing open the screen door to the balcony, the roar triples in volume and the Atlantic Ocean stretches as far as I can see.
Breakfast is a decent walk away, past the huge central pool that the non-ocean view rooms cluster around. It's worth the walk though, with various stations representing cuisine from different regions, and an omelette chef cooking up delights on demand for an expectant queue. I tuck in to be fuelled up for the first activity, quad biking, which takes us up and down the beach, swerving in and out of onrushing swells and waving a cheery hello to the horse riders thundering past. The resort has 7km of beach to play with, and while I only tour it on a quad bike, there are horses, camels and jet skis for the adventurously inclined. In February it's clear and mild, but in summer I imagine this is a busy venue for watersports.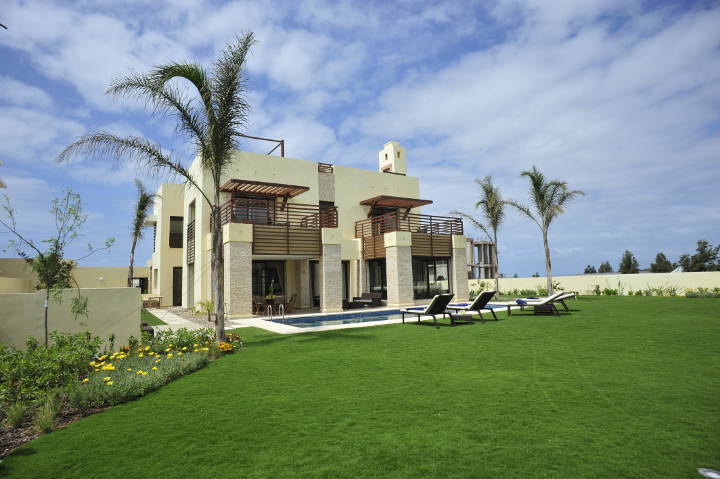 Next, the golf. Gary Player designed the par 72 18-hole links himself. The course is absolutely serene, and at 7,484 yards it's the longest in Morocco. I would charitably describe myself as a novice golfer, however, so I stick to the driving range, which utterly seduces me as the expert tutors take me from abject to just awful within an hour. We try our hands at the glassy putting green too, watching our efforts slide hopelessly into the long grass, but the sheer pleasantness of the sun-kissed early afternoon makes it all worthwhile. For the more advanced golfer there's sophisticated video analysis on offer which can add some serious yards to your drive.
Next up on the list of rugged masculine activities is the, er, spa. The Moroccan Hammam is its inner sanctum, and in the treatment rooms are offered experiences tailored towards the male customer. I get massaged which, admittedly, calms the testosterone engendered by the biking and golfing; however it is deeply relaxing. And I needn't have worried, as the next activity is go-karting. We all regain our manliness, strap in to our rides and completely lose it, hammering the pedal to the floor in a shameful display of overcompensation after the girly pampering. It's tremendous fun though, and as the sun sets, we scream around the track in a blur of skids and stalls, with bragging rights narrowly eluding me (honestly).
One of the resort's biggest draws is the Mazagan Casino, Morocco's largest, with over 400 machines and 60 gaming tables. A couple of prize cars (one noticeably nicer than the other) sit outside the entrance, pointing into the hotel lobby by way of an enticement. I need no encouragement, however, and have a splendid time at roulette until somebody teaches me the rules and I realize quite how much money I've lost. There's plenty of time to turn it around though, and the croupiers are extraordinarily friendly, bringing the novices up to speed in no time. I don't win the car but I do miraculously emerge in the wee hours with a fat stack of dirhams to take out into the world.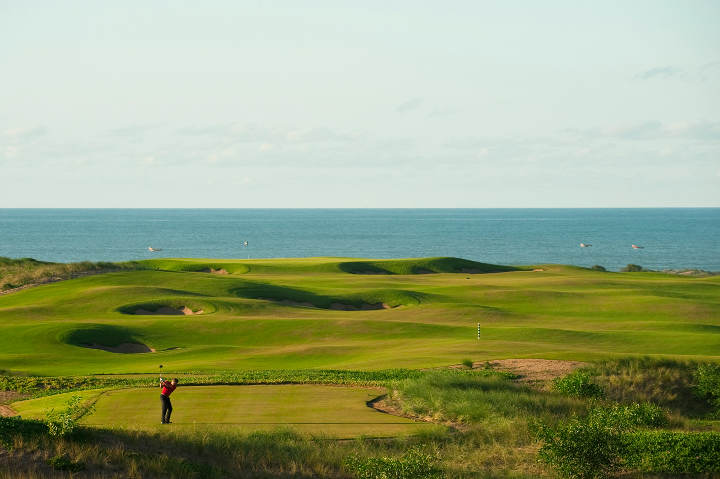 The world beyond Mazagan in this region of Morocco is well worth discovering – we check out Azemmour, where dusty street football plays out between the colourful street art, and the 16th century fort offers a great view for the late afternoon sun. Then we step inside the Portuguese stone walls of El Jadida, a much less hurried and harried marketplace experience than Marrakech, with person-sized piles of herbs and irresistible dates. There's a whole cow's head slowly grilling, which I politely refuse to try, but the various local delicacies that do find their way to me are all thrilling.
Of course, back at Mazagan the dining options are almost too numerous. I try as many as I can during my short stay, with the highlights being Sel de Mer and Morjana. Sel de Mer offers a rather trendily designed blue setting, with something that looks like a massive deconstructed xylophone hanging from the ceiling, and the menu focuses firmly on fish. It's all gracefully delivered, with the sea bream a real treat, so light it seems to float up off the fork and into my face. There's an octopus carpaccio which is a real crowd-pleaser too. Over at Morjana, the focus is on traditional Moroccan and Lebanese fare. Live bands and belly dancers are available to enliven proceedings but you may prefer to remain at one of the more secluded tables and concentrate on the sumptuous kebabs.
When it's time to leave this lavish citadel, I try to decide if the rumours are true. Could this be a viable alternative to the traditional 'lads' getaway? Luxury: check. Alcohol: check. Gambling: check. Great food: check. Activities? Well how about golf, karting, quad bikes, horse-riding, massage, a sea-view gym, watersports and a FIFA official football pitch (including a tie-in with PSG, though sadly I didn't see Zlatan anywhere)? Mazagan is a triumph in the scale and execution of its offering, and while I'd recommend it to anyone, it may have a particular attraction to those seeking an active, fun-filled Moroccan experience, without the necessity to travel. At only three hours from London, it's a temptation that's hard to resist.