As you'd expect, I have endured many long evenings slaving away at my desk, studiously subbing content and writing prose in readiness for the morning's newswire. But I have never spent the entire night in my office, nor would I wish to, as much as my dear colleagues would enjoy having me chained to my desk like some kind of feral beast!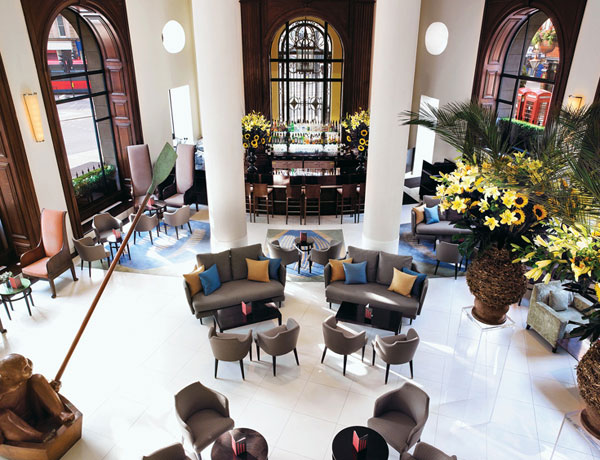 But one night recently I found myself in a very different office; an office I would happily spend the entire evening in. For a start, this office was round. My office at Arb HQ is not round (I want a round office). This office also had a bed. A very big bed. And there was a sofa too, some comfortable chairs, a coffee table, a large television, and an ensuite bathroom with a heated floor. My office at Arb HQ has none of these things! Furthermore, while my own office window looks out onto a delightful brick wall sporting many interesting varieties of urban moss, this round office had a view through three imposing windows, one looking straight down Waterloo Bridge, another with a view over Aldwych, and a window overlooking the Strand. And the whole rummy thing was decorated like a luxury apartment; it wasn't like an office at all! Only the small writing desk with high-speed internet jacks gave any hint as to what it could be used for if one so wished. But I doubt that many people use this room as an office anymore; because it's now a sophisticated suite in the 5-star One Aldwych Hotel.
Built in 1907 for The Morning Post Newspaper, Inveresk House was designed by architects Mewès and Davis, a successful Anglo-French partnership who were also responsible for the Ritz hotels in London and Paris. The elegant decorative details of the grade-listed Louis Seize exterior have been retained, together with the external ironwork on the windows. But the interior now tells a different story.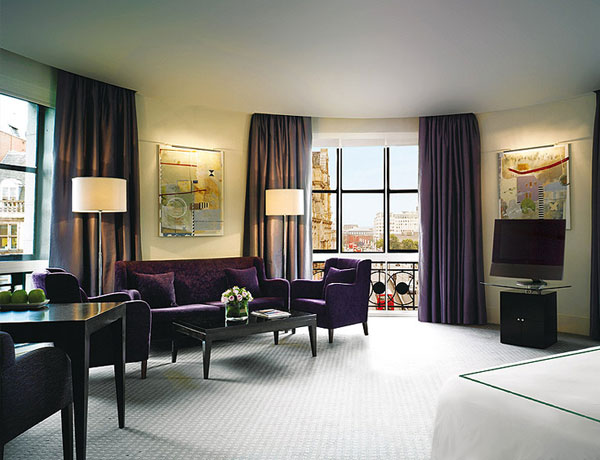 In 1998, the former newspaper building became a hotel, describing themselves as 'stealth wealth' rather than 'dripping deluxe'. Mary Fox Linton (founder of the design house behind The Grove) was drafted in to create the interior, which is slick and modern but inviting. The décor avoids the cold minimalism of some contemporary themes, opting for simple rich colours and tactile textures in the rooms and common parts, providing a suitable backdrop for the interesting modern art displayed around the hotel, including a sculpture in reception of a dog plastered with pages of the Beano.
The hotel has 105 guestrooms and some rather tasty suites, two of which have private gyms. I was assuming that ours was the former editor's office, hence my rambling introduction; situated on the first floor and at the front of the building, with high ceilings and three impressive views, it's the room I'd have chosen were my newspaper housed there.
"Oh this is rather nice," said my discerning lady as we entered our luxury suite.
"Gosh…listen to that…"
"Listen to what?" she asked, "I can't hear anything."
"Exactly. We're in the heart of London, with three large windows overlooking some of the busiest roads in the capital, and there's not a sound. Silence. It's wonderful!"
"It's double-glazing!"
"I wonder if they'd let me rent this room as my office?"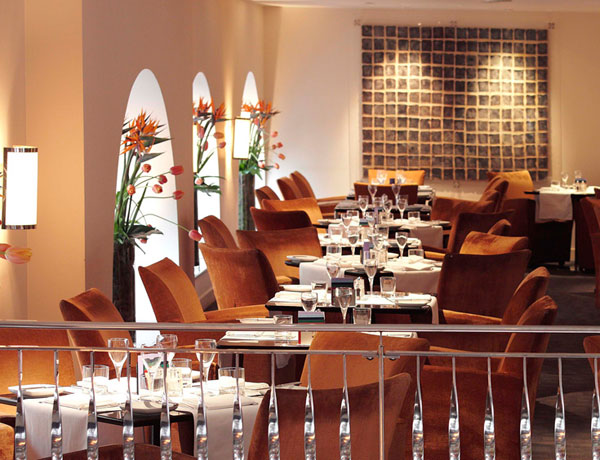 After a tasty cocktail in the airy Lobby Bar that evening (an Aviation for me, and some sort of champagne cocktail for Her Ladyship, which proved rather delicious and if it hadn't been quite so pink, I would've ordered one myself), we made our way up to the mezzanine level to Indigo, one of the hotel's two restaurants, a peaceful and intimate dining room overlooking the bar.
Indigo sports a robust please-all menu, and like the reception staff, the housekeeping team, the doormen and porters, service in the restaurant was exemplary. And that is what struck a chord with us the most about One Aldwych. Service at every level was provided with a beaming smile and a 'can-do' attitude; something one expects from a 5-star hotel, but doesn't always get.
We chomped through a very tasty roast beef salad to start, a fillet of wild halibut with wilted gem lettuce, baby artichoke and confit tomato with salsa verde as a main, and the impressive 'One Aldwych Chocolate Plate' for dessert, featuring white chocolate and passion fruit delice, chocolate and beetroot gâteau with raspberry and beetroot macaroon, and caramel and white chocolate parfait. And then there came tea, coffee and petit fours while we finished off the remnants of our well recommended wine.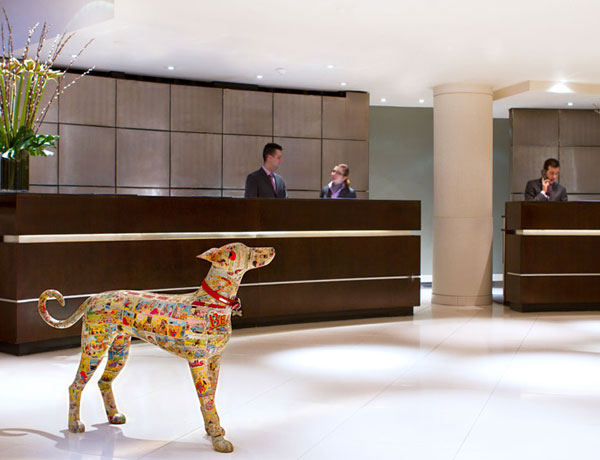 As usual, we were the last couple in the restaurant, and the waiting staff very quietly and tactfully began to set the other tables in readiness for breakfast service. This was not done in a clattering oh-god-when-are-you-going-to-leave!? sort of way as we've experienced at other venues, but rather with a smile and an attitude that said "Hey, if you want to stay there chatting all night, playing with the petit fours, by all means go ahead. We'll set your table for breakfast and you won't have to budge an inch!"
But the giant bed, the luxurious bathroom and the large television beckoned us, so we eventually bid the friendly staff a good night ("Night!? It's almost morning…" they could have said, but didn't). We made our way back to our quiet suite to find it prepared for slumber, looking warm and inviting and just what the editor ordered after a stressful day at the office.
The next morning, a large breakfast trolley arrived, sporting a full English housed beneath a charming silver dome, a number of pastries and jams, tea, coffee and a portion of American-style buttermilk pancakes with maple syrup. Her Ladyship had banked on getting blueberry pancakes, but I had inexplicably crossed them off the room service list the night before, reeling at the thought of all that sugar first thing in the morning ("But you have two spoons of sugar in your tea!"), and she has never let me live that down. Do not deny a lady her blueberry pancakes.
I will always remember staying at One Aldwych; not for the contemporary décor, nor the delightful round room that overlooked Waterloo Bridge; not for the heated floor in the bathroom nor the bed the size of a small island, the peaceful atmosphere nor the lack of blueberry pancakes. No. I will always remember One Aldwych because they made us feel special. And if that's not the aim of a luxury hotel, then I don't know what is. Now, if I could just move my office into that room…