It is impossible to arrive at The Bingham Hotel, in beautiful Richmond upon Thames, without being impressed and expecting a certain level of service and comfort. The popularity of boutique hotels for weekends away is perhaps due to our increasing desire for unique design and refined, relaxed living; with 15 bedrooms, individually designed with sumptuous bespoke furnishings and elegant décor, The Bingham combines the modern with the clean lines of the Art Deco era, and yet still manages to perfectly compliment the Grade II listed townhouse dating from 1740.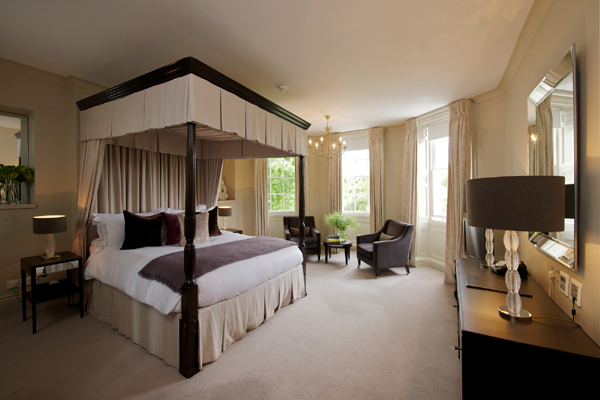 A peaceful riverside haven, located just 20 minutes from Heathrow airport and within easy reach of central London, everything about The Bingham oozes sophistication, so you can imagine my disappointment when we were shown to our room, three flights of stairs later, in the eaves, which had presumably been the old servants' quarters back in 1740. Although they warn their standard rooms are 'small, perfect for a short stay', they fail to supply room sizes and surely most of us would expect to be able to walk around a queen sized bed without bumping into the furniture? Our double room was barely suitable for a thin, single man on business (with a very small overnight bag) but we decided to resign ourselves, thankful for the shortness of our stay, and resolved to muddle on in typically British fashion.
The equally stylish website describes the hotel as a 'restaurant with rooms' and 'a gourmet bolthole', suggesting taking afternoon tea or sipping a 'Singapore Sling' in the chandelier and silver leaf adorned cocktail lounge overlooking the River Thames, and boasts of chef Shay Cooper's 6-course tasting menu which includes divine ingredients such as hand-dived Orkney scallops and seared foie gras. My experience of afternoon tea has been extensive to say the least and it always makes for a pleasant hour before the theatre. The Bingham has a good selection of speciality teas, but the service could be improved as we were not offered hot water or replacement tea until we were leaving. As for the teatime delicacies, the sandwiches were plain and uninspiring – however, they just about redeemed themselves with the scones and pastries which were generous, skilful and delicious.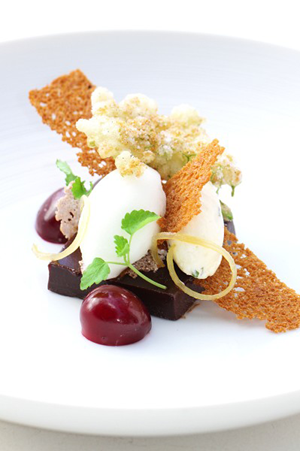 The boiler, located in a cupboard beside our room, broke down just after 1am, leaving any sleep impossible due to the infernal clanking noises – similar to a builder hammering nails into a wall. Despite the staff being most apologetic they were unable to resolve the situation. On checking out later that morning the manager expressed his sadness at our bad experience and handed us a gift card entitling us to a complimentary stay another time.
Although I no doubt sound like the female equivalent of Victor Meldrew (genes I inherited from my father), believe it or not I was predisposed to find favour with The Bingham second time around. The manager can only be praised for his customer service skills and made sure we were given 'Baudelaire' – a superior riverside double room complete with a four poster bed, large whirlpool bath, walk-in shower and magnificent triple aspect river views. There was even a nice selection of books including a pictorial bio of Grace Kelly – not even I was complaining!
With snow imminent, we were naturally keen to heat the room and stave off the draught emanating from the bay window, but far from the room being cosy and warm on our return, the air conditioning unit was determined to continue blasting out an arctic breeze. The night receptionist, who no doubt remembered us from the boiler episode, inspected the unit but was unable to restore us to warmth or provide a portable radiator. The management later admitted the heating can be rather 'temperamental'. Shivering, I made a dash for the four-poster, the only saving grace, and believe me it wasn't easy getting me out again!
If you are looking for a truly Georgian experience (without the luxury of a maid lighting you a fire) then this is the hotel for you. If not, I suggest you stay somewhere else, take someone who will keep you warm at night, or visit during a heat-wave (just don't expect the air-conditioning to work). I certainly won't be going back – but then I don't think I'll be invited after this…
View Hotel Info, Rates & Availability
Things to do in Richmond:
Visit Gelateria Danieli on a hot day where the long queues are proof that no-one, resident or tourist alike, can resist a waffle cone piled high with authentically produced ice cream, before a stroll by the river. To die for flavours include – Amaretto, Chocolate Brownie and Cinnamon & Plum. In the summer months, pleasure boats are available to hire or why not go to Hampton Court or Kew Palace by passenger boat? (April-October).
Kew Palace re-opens on 2nd April and their intimate tours provide an insightful glimpse into the home life of King George III where he was later treated for his 'madness'. Don't miss the incredibly lifelike waxwork bust of King George in the permanent exhibition; a reproduction taken from an original Madame Tussaud impression. Explore the 200-year-old Georgian 'Royal Kitchens' at Kew from 18th May 2012 – opening to the public after a one million pound conservation project.
In the evening take a trip to the magnificent Richmond Theatre, designed by Frank Matcham and first opened in 1899. Now owned by The Ambassador's theatre group, the theatre is considered a fine architectural example of its kind and continues to see the finest actors and actresses of the stage grace its boards.
For me, Richmond has always held an air of romance since reading Great Expectations by Dickens, where Pip escorts Estella in a heartbreaking scene describing his unceasing love for her. I can't help sitting on a bench in Richmond Green without wondering which townhouse she lived in, imagining Estella exiting, poised and wearing a fine silk dress.
'Where are you going to, at Richmond?' asks Pip of Estella…'I am going to live at a great expense, with a lady there, who has the power – or says she has – of taking me about, and introducing me, and showing people to me and showing me to people…It is a part of Miss Havisham's plans for me, Pip,' said Estella, with a sigh, as if she were tired; 'I am to write to her constantly and see her regularly and report on how I go on…' It was the first time she had ever called me by my name. Of course she did so, purposely, and knew that I should treasure it up…We came to Richmond all too soon, and our destination there, was a house by the Green; a staid old house, where hoops and powder and patches, embroidered coats rolled stockings ruffles and swords, had had their court days many a time…The doorway soon absorbed her boxes, and she gave me her hand and a smile, and said good night, and was absorbed likewise. And still I stood looking at the house, thinking how happy I should be if I lived there with her, and knowing that I never was happy with her, but always miserable.