Watching over Gstaad like a benevolent fairy godmother, the Palace hotel looks like the kind of mythical castle you would encounter in a Brothers Grimm tale. On the drive up the road from town I imagined Rapunzel leaning out of the one of the tower windows, or Cinderella arriving for a ball in a horse drawn carriage. Perhaps my ski buddy JM would magically turn into handsome prince?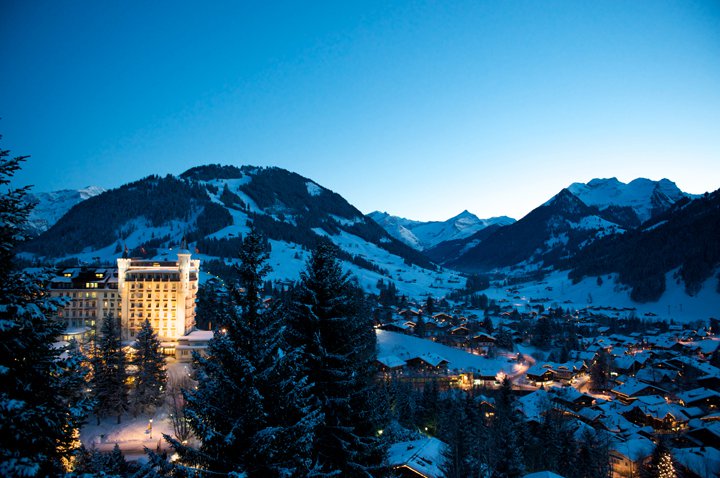 Unfortunately, I was unable to find someone magical to turn our pumpkin of a rental car into something more befitting a guest at the Palace, which has seen more than its fair share of the jet set down the years. Nevertheless, entry was easily achieved once our credentials had been established.
Inside, the difference between the traditional Palace and the more contemporary Bellevue, from whence we came, was immediately apparent: lots of wood panel, plush carpeting, and certainly no stuffed animals. Our room echoed the lobby's efforts with plenty more wood panelling, plush carpet, as well as the largest walk-in wardrobe I've ever seen: there was room to swing several cats, a couple of fur coats or even two pairs of skis.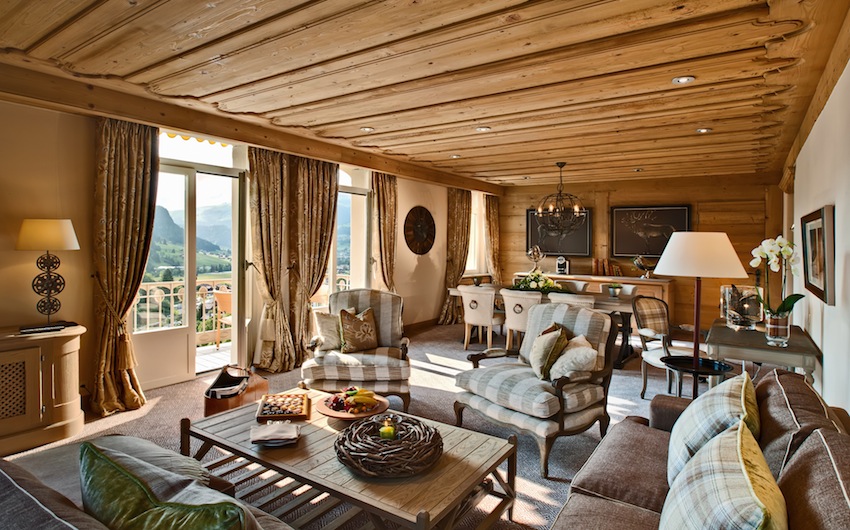 The Palace has a reputation for glitz and glamour and there are pictures of former guests like Liz Taylor and Richard Burton, Louis Armstrong and David Niven among others in the bar to remind you of just that. Therefore, unusually for me on a ski trip, I had actually packed my glad rags and had plenty of space to hang my tweed jacket!
It was a good thing I did, because dinner on the first night was in Le Grill: the hotel's flagship restaurant, where gentlemen are required to wear a jacket in the evening. With several signs scattered around the hotel, including one in our bathroom reminding guests of this, I came prepared in tweed. We were having dinner with the hotel's marketing director and a fellow writer from China, who didn't arrive for dinner in a tweed jacket, or indeed a jacket of any type.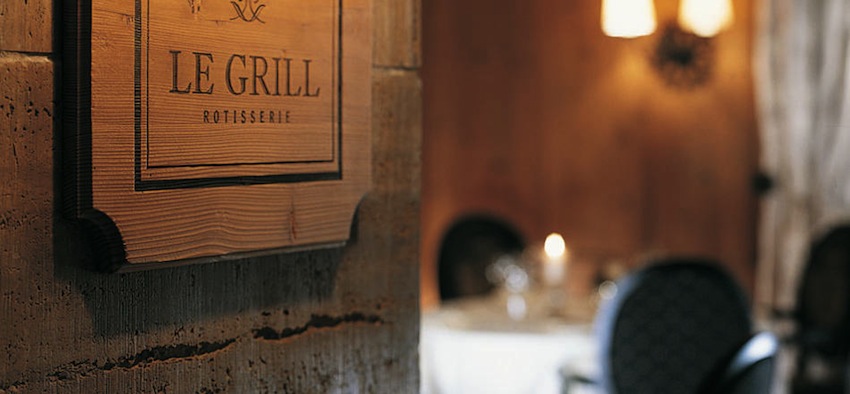 On spotting him jacketless, the maître d' immediately barked out several short sharp orders in the manner of a parade ground sergeant and his army of waiting staff went to work. One of them stripped my fellow writer of his black overcoat, then two more appeared with a grey sports jacket and wrestled it onto our friend, who seemed fairly unconcerned by the whole affair and carried on telling us about his recent trip to the Dolomites!
With regard dinner, I was mildly impressed by the food, especially a ravioli of mozzarella and nicely cooked loin of veal. But our vegetables arrived horribly overcooked and there was an extremely long wait between the courses. So long that, via a series of meandering anecdotes, I was forced into explaining the LBW rule to a Chinese man and a German lady. Nevertheless, the service was as slick and well judged as I have encountered and the Bordeaux blanc chosen by the sommelier kept flowing.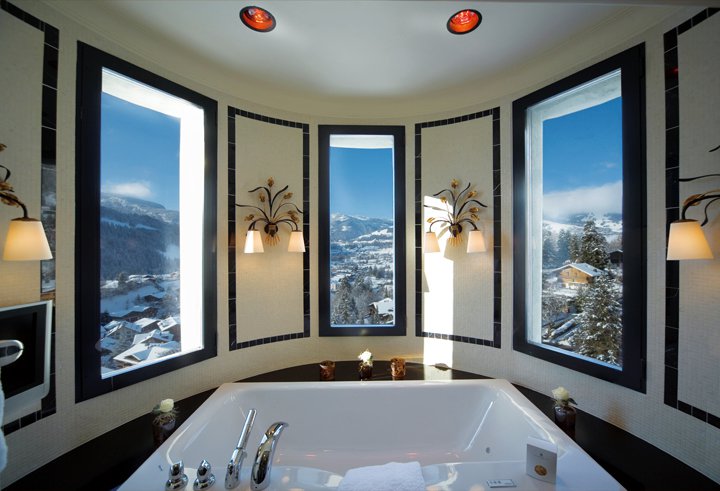 The hotel has four restaurants: in addition to Le Grill, there is Gildo's Italian, Le Grand Restaurant and our next evening's destination Le Fromagerie. I had enjoyed a truffled fondue just three day's previously at the Bellevue and it almost did for me, so gluttonous was I. So when the waiter brought out yet another bowl of melted cheese and truffle I knew I should restrain myself. Not only was this cheese and truffle though, the chef had thoughtfully added a measure of champagne to the mix. Was this simply a show of decadence and without any gastronomic merit? Well, the seasoned hands from the Palace declared the champagne lightened the mixture, which meant you could eat more fondue! They might well be right, because I was unable to contain myself and again ate too much – those who do not learn from history are doomed to repeat it!
Once again this necessitated several trips to the spa in an attempt to sweat out the cheese in the sauna. Surprisingly, for the larger of the two hotels, the Palace has a smaller spa than the Bellevue, without the assortment of steam rooms, saunas, ice-rooms and indeed the Himalayan salt chamber that the Bellevue can boast. What it does have though is a heated outdoor pool, so I was able to enjoy the rare pleasure of lazing around in the hot water watching the sun set and the moon rise.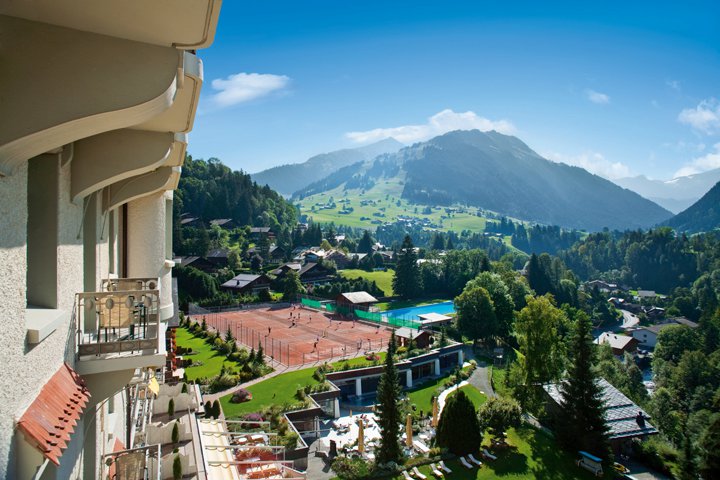 Leaving the Palace and indeed Gstaad was rather like being dragged out of bed on a cold winter's morning. Having spent four days being cosseted in its warm embrace, the real world seemed like a rather bleak place. People no longer opened doors for me; I had to carry my own skis; turn down my own bed in the evening; and no-one smiled and said bonsoir as I passed them by.
But, would I willingly return to Gstaad? Well, for just the skiing, probably not. I like my ski towns a bit rougher around the edges, with a few dive bars to sink a beer in after a hard day on the slopes. However, I must admit that being ensconced in both the Palace and the Bellevue was such a luxury that if I got that job at a hedge fund I would seriously consider it. Places like these are a cocoon from the real world and you feel your worries and cares drifting away with that first pre-dinner aperitif in the hotel bar.
The Palace has just celebrated its 100th anniversary, so if you feel in need of a bit of R&R then a stay at Gstaad's fairy godmother might be just the ticket. I'm sure they intend to be around for another 100 though, so no need to all rush at once!
View Hotel Info, Rates & Availability
To celebrate its centenary, the Gstaad Palace is offering an exclusive '100 year' offer for guests, which includes:
urs stay at the Gstaad Palace (3 nights, 4 days in a Double Standard Room)
100 minutes Private Spa with a 50 minute massage per person
A bottle of the Gstaad Palace anniversary wine 
100 minutes with the Owner and General Manager Andrea Scherz (optional)
Package price per person per night including half board and use of the Palace Spa from CHF 354 and is available from January 5 to March  9, 2014 subject to availability.