New year, new you, new column…travel writer and spa guru Anna Selby knows a thing or two about healthy living. As the author of The Complete Ayurveda Workbook, she embraces 2014 in earnest with a new monthly column for the Arb in which she'll be sampling the world's finest, healthiest hotspots. What better way to bring in the new year…
It's customary at this time of year to look back on the excesses of the holiday season and turn over a new leaf. And, of course, shed a few pounds. So it is not unknown for people to go to what were once rather unkindly known as fat farms. Spas today, though, have come a long way and you can find everything from six star luxury (bath filled with yak's milk and rose petals, anyone?) to a body beasting worthy of the SAS. On the basis that Arbuturian readers have enough fluffy towels of their own, this column intends to seek out spas with a USP. From spiritual enlightenment to anti-ageing, from high-tech to ancient therapies, all will become clear over the coming months as, one by one, Spa of the Month is revealed. And so, for January, we have…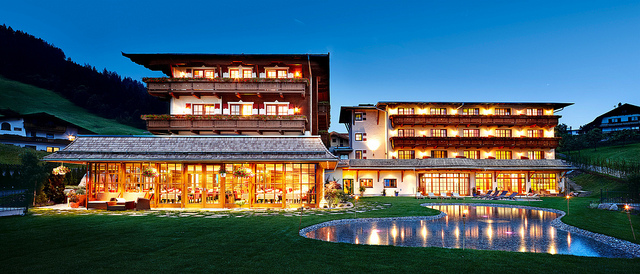 Sonnhof European Ayurveda
So you've recovered from the hangover, stood on the scales and made a resolution. The question is – does it comprise the latest fad diet, a bit of guilt-driven abstinence (no more chocolate/red wine/carbs) or are you up for a real detox? If you are, there's only one word you need. It's time to go the full Panchakarma.
Perhaps we'd better go back a few steps. Panchakarma is the centrepiece of Ayurveda, the traditional form of Indian medicine that literally translates as the Science of Life. And we're talking ultimate detox here. Some say that a Panchakarma cure takes five years off your biological age. Certainly, it will take off a few pounds. But it will go a lot further than most detoxes, working on the cells, the tissues, the organs – and the mind.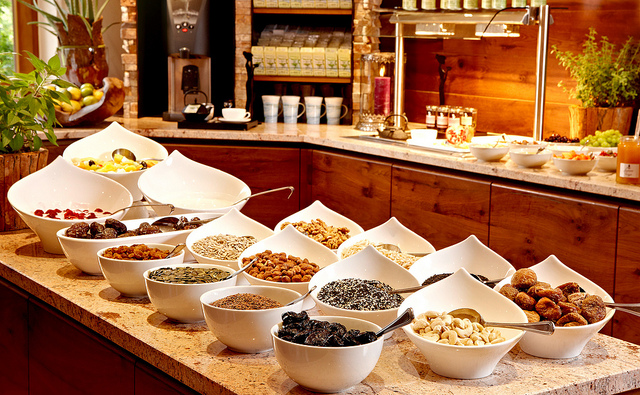 Very, very simply, here is the Ayurvedic science bit. Ayurveda works on the basis that we're not all the same. We begin with different metabolisms, characteristics, proclivities and lifestyles. There is no one size fits all in Ayurveda and it divides these tendencies into three "doshas" – Vata, Pitta and Kapha. People are rarely just one, more of a mixture and you can have imbalances from any of them – and Ayurveda strives for balance above all things. So here's a quick sketch of the doshas. Vata is skinny with dry skin, creative, active, quick-witted and feels the cold. Pitta is average height and weight, analytical, sporty, competitive and can be workaholic. Kapha is the biggest body type with pale skin, patient, reliable, sentimental and likes lots of sleep. So to do Panchakarma you have to work out which dosha mix you are, what are your imbalances and how to put them right. You don't, though, have to go all the way to India to find out. Unlikely as it may sound, Ayurveda is alive and well in the Austrian Alps at the Ayurveda Resort Sonnhof.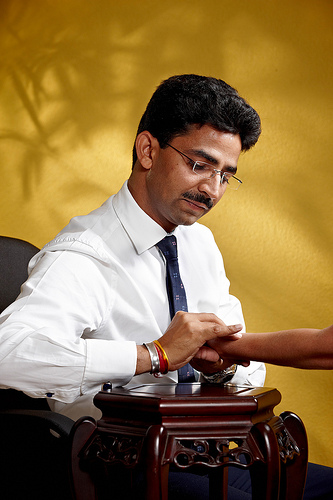 As Ayurveda is a system of medicine, it all begins with an initial consultation. Dr Sharma's examination, though, doesn't follow the same pattern as your normal GP's. He does take my blood pressure but after that he uses five unexpected diagnostic methods: face shape, the tongue, the eyes, the pressure of your two hands on one of his, and a series of pulses on different parts of the arm. His diagnosis is remarkable in a number of ways. He observes that I sleep on my side and not very well (total insomniac, actually), I make music with my hands (I play the piano), I have a lot of cold food and drinks (I shouldn't). So he will make a plan for me for the next week, tailored for my particular needs. It turns out I'm Vata-Pitta with imbalances in all three doshas. So: I will only have hot food and drinks, I must drink a minimum of 2.5 litres of hot water a day, I will have a series of massages, saunas and other treatments that he will work out – you don't pick the massages you fancy here, they are prescribed treatments. For the first three days I shouldn't exercise, swimming is off the whole time (water is not my element), my digestive and lymphatic systems will be stimulated and my nervous system will become tranquil, I'll lose 3kg. "Your mind needs to be calmed but in Ayurveda we reach the mind via the body," he says. "When we calm your nervous system, the mind will be calmed too." Dr Sharma puts his hand on his heart, "I will do my best for you." Gosh, it must be bad – and I'm sent off immediately for an Abhyanga massage.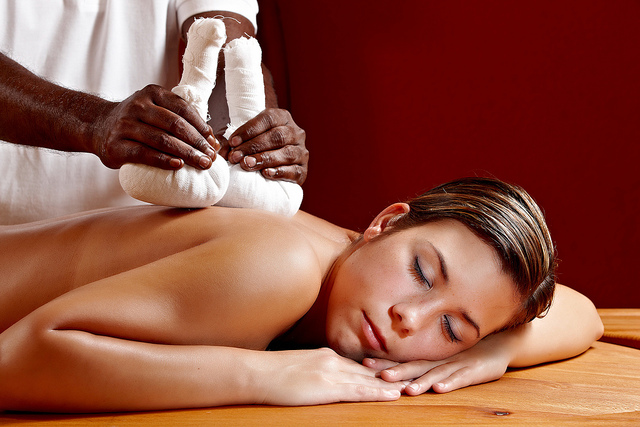 Now the great joy – aside from the results – of Panchakarma is its massages. They were first designed for the exclusive use of Maharajahs and the like as their properties were both so powerful and so delightful they weren't to be wasted on the hoi polloi. In Ayurvedic massages, oil is applied very hot and there's plenty of it. The strokes are long, slow, strong and rhythmic. The bed is heated and any bit of me not being massaged is covered up often with a hot water bottle on top. Resistance is futile. First my muscles melt in the heat, then the joints open and relax. I begin to feel that I'm not just swimming in oil, I must be exuding it too. I've probably got enough on me to swim the Channel. There again, as my mind not only calms but starts to unravel, I think I may have morphed into a mackerel…
This isn't, though, just all for my delight. It's working to release "ama" (waste and toxins) and direct them to the digestive system to get flushed out. They are helped on their way by half a cup of ghee (hot clarified butter). This is breakfast – you gulp it down and then suck on a lemon wedge to take away the taste. They're also helped by the Vata sauna (very hot steam) that I take after the massage and the infra-red one beforehand. By the end of the morning, I feel completely limp, my body has slowed right down and I collapse in a heap on the bed for half an hour before lunch.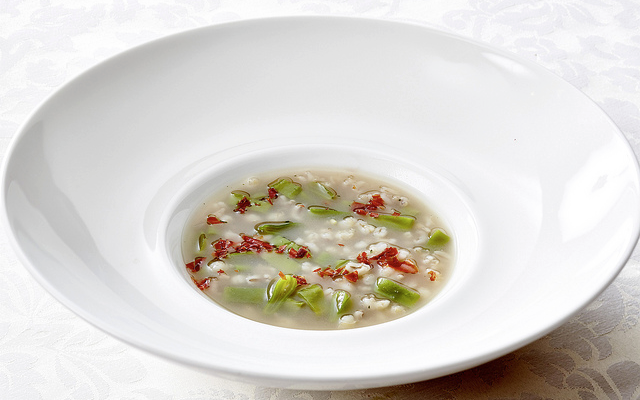 Strangely, though all I've had for 24 hours is a bowl of soup (that's it for dinner on Panchakarma) and half a cup of ghee, I don't feel hungry. But when I get to lunch it's all delicious and there are three courses! They are, though, all very light – soup, grains and vegetables, fruit puree. Before that, you have a "metabolic cocktail" (like a herbal tea) and after each meal I take herbal supplements prescribed by Dr Sharma that will help the detox process along. In the afternoon, it's Upana – Himalayan salt peeling and a detoxing bath – with another infrared sauna beforehand and a Vata steam after. The salt peeling starts with a body brush and then more hot oil, scented with the same kind of spices you find in a Christmas pudding. I'm brought a cup of Kapha tea with honey while I'm in the bath – "just relax and feel at home" says the therapist. Relax? I'm so wound down, I'm barely functioning.
On Day 2, the detox is full on. You're sweating it out in the saunas, there are two yoga classes, two treatments (deep tissue massage and foot massage) and a whole cup of ghee. Let's just say you're no stranger to the bathroom. On Day 3, it's your purge day – hadn't I done that already? Surely, there are no toxins left – or indeed anything else. Instead of the ghee, you take a strange green mixture and eat nothing but rice broth for lunch and dinner. The idea is that the ghee is still there and acts as a transport medium for the purge to sweep through picking up toxins on the way to elimination via the bloodstream and the intestines. The main treatment today is a belly massage to release blockages in the stomach area. As a result, I now take up residence in the bathroom. I feel hot to the point of feverish almost all the time, which is very strange as I am looking out on a perfect Christmas card scene. The first snow of the season has fallen over the Alps and the mountains are beautiful, there are frosted Christmas trees everywhere and the Buddha floating serenely on the pond in the garden is cloaked in snow.
Suddenly, on Day 4 the hard bit is over, I feel lighter not just in weight but in spirits and I have lots of energy. I even get breakfast (steamed fruits) and there's no more ghee. Fantastic treatments keep on coming every day. Jambira-Pinda-Sveda, for instance, is a (very) hot stamp massage in which poultices are stamped, then circled, then swept over your body to stimulate lymphatic drainage and reduce swelling and water retention. Udara (abdominal massage) regulates digestion. Nasya clears the sinuses, tones the breath and the nervous system. Each session begins with your blood pressure (mine goes steadily down during the week) and a variety of questions (sleep, appetite and, inevitably, the intimate details of what went on in the bathroom today).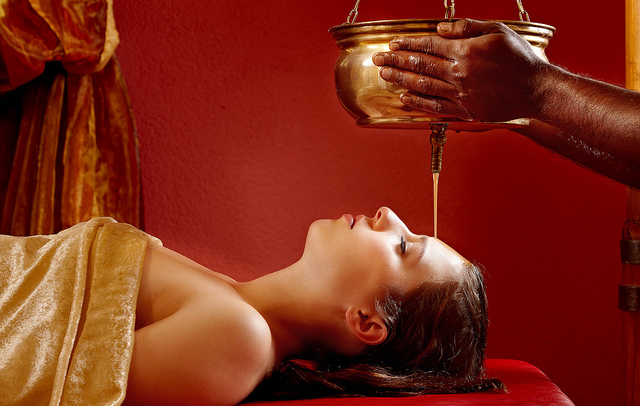 The grand finale is my last full day, another Abhyanga followed by Shirodara. Now, if you know any Ayurvedic treatment it will be Shirodara – the one with the oil flowing back and forth over your forehead. I have had this before but never quite like this. It may help that I am so much more relaxed now than when I arrived, or because the Abhyanga was so good, it had already melted my bones. But for the first time, something manages to completely still my mind (one of my problems, as Dr Sharma pointed out) and I experience the deepest relaxation ever. Afterwards, I am left to relax for a while with rosewater eye pads and oil soaked cotton wool in my ears to muffle any sounds. I could have stayed there for hours. Later, I was told to rest in my room for an hour. It was surprisingly easy and I lay looking out at the light changing on the mountains, the snow falling from the trees, black birds flying against a white landscape. It's simply beautiful and the perfect place for a mind detox. I imagine it's just as good in the summer when the houses are hung with window boxes full of red geraniums and, I suspect, the place transforms from a Christmas card to the backdrop of The Sound of Music.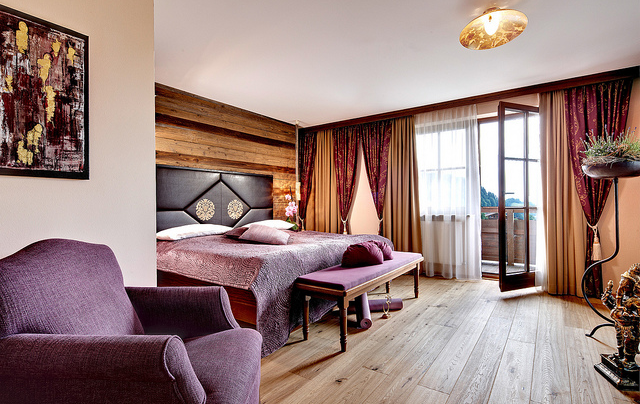 There's a choice of 7, 10, 14 and 21 day Panchakarma courses but you don't have to do the full detox here at all. You can come for a weekend and just have some lovely massages or do a course geared specifically to weight loss, back problems and even Ayurvedic cooking.
Whatever you do, you are guaranteed to feel less stressed. It is recommended at the Sonnhof that you don't check your emails, go online or use the phone. The idea is that your focus turns inwards and you concentrate on what you're doing at every moment of the day – anyway, surely the world can do without you for a week. To further this, there are a couple of yoga classes a day, meditation, relaxation and ideas to mull over on your daily programme and in the literature in your room. My phone goes dead after two days and can't be used anyway – it's a sign, laughs another guest. After seven days, for me the results were clear. My skin was soft and glowing, my eyes were bright, I had lots of energy yet felt much more relaxed, and I'd lost weight! I think I might have just experienced the ultimate detox for the body – and maybe for the mind, too.
Ayurveda Resort Sonnhof, Hinterthiersee 16, 6335 Thiersee, Tyrol – Austria. +43 5376 5502. For more information, visit the website or contact them by email. Panchakarma cures start at €1288 for seven days (excluding accommodation).
Complete Ayurveda Workbook by Anna Selby is available from Amazon or www.anovabooks.com priced at £11.99.