Calcot is less of a manor, more of an entire hamlet with the main house, the barns, the stables, the vast Tithe barn and 200 acres all around it. The whole place is built of gorgeous glowing Cotswold stone – the epitome of a place to chill. So an unlikely setting for a boot camp then.
But you can get seriously fit here. Personal trainer Euan does a comprehensive assessment (VO2 Max assesses your cardio-vascular fitness, then there's blood pressure, BMI, body fat, flexibility and posture). After that, you can have a training session with him to work on all the bits that are going to hurt the most. Euan specialises in strength (he's an Olympic weightlifting instructor) and core stability (he teaches the Pilates classes too) so you might be using weights in the gym or trying the X-Cube Outdoor Boot Camp. There are a series of routes where he can take you running – the length of the run depends on your fitness level – and then you get to the Trim Trail Stations. These are Fast Feet, Shoulder Press, Pull ups, Push Ups, Star Hops, Ab Attack – then you're back to running. Euan will assess your technique and foot strike along the way.
Not enough of a challenge yet? Then try a few of the classes – HIIT Mix (high intensity with a Tabata cardio workout), and 20/20/20 (a combination of Step, Aerobics and Body Conditioning). If you're after more grace than power, there's yoga and Ballet Tone and a variety of dance classes.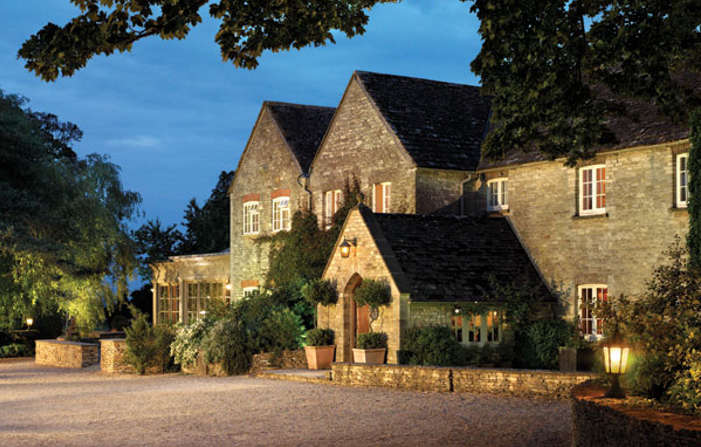 Now all this training is clearly a good thing and will have wonderful results for your body. However, if you'd like to speed things up a bit – and get a little extra help – then Calcot Spa has some remarkable treatments that blend the holistic with the scientific. I went for the Rodial Crash Diet – in the hope it did what it says on the tin. Arlene, my therapist, warned me that this was not a relaxing treatment. It was, in fact, rather vigorous. So the techniques included a decidedly firm massage with plenty of cupping (using the hands to create suction and a loud clapping noise) and hacking (the sides of the hands making karate chops) as well as being wrapped up in cling film at various stages. Noting I was very stressed, Arlene threw in a foot massage and a scalp massage and commented that my energy channel (she found this somewhere round my knee) was going crazy! In other words, chill out.
The products used in the Rodial range interact with each other and are applied in layers, the aim being to help the body's natural waste system to remove excess fluid and toxins to leave it looking and feeling svelte and toned. (Yes, please!) One of the main ingredients in all Rodial treatments is pomegranate ("rodi" means pomegranate in Greek) and there are plenty of others in the mixture of unguents applied. They all have names that sound either scary or profoundly effective depending on your point of view. Boob job, anyone? Or how about a tummy tuck? Then there's the Freeze Facial that uses snake venom inspired peptides to give you the effects of botox without the needles. Ideally, you leave the products on so that they can continue to work for around eight hours dumping toxins and excess fluids as they go.
This was a bit of a shame as I'd had a dip in the pool in mind – there's a fabulous indoor heated one of 16m as well as an outdoor one. There's also a hot tub in the perfect setting – a south facing courtyard garden surrounded by all that lovely golden Cotswold stone and with a blazing log fire that drifts the mellow scent of wood smoke through the air.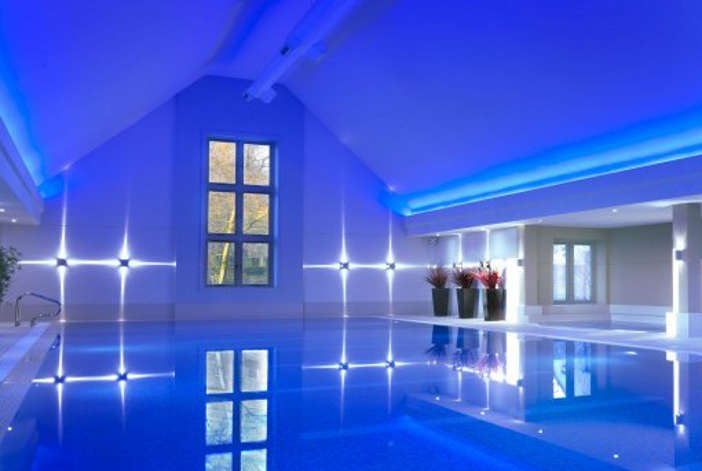 But I was bearing in mind that recommendation to chill out. It really wasn't too difficult. My room was actually more like a small house and included an upstairs bathroom with twin oval baths and a TV. The main room was huge. And there is real attention to detail that makes you feel relaxed – confident that they've got everything covered. So there's subtle lighting, set while you're having dinner, fresh flowers, books and magazines, really comfortable beds with crisp linen, sweet-smelling Aromatherapy Associates products in the bathroom and a promise, if you dial 0 for reception, that they will provide whatever you need.
I think I just mentioned dinner. And even if you're thinking boot camp, you still have to eat. There are two places to choose from – the Conservatory Restaurant is described as the slightly more formal one but it's actually pretty relaxed, too. The Gumstool Inn is like a country pub with its own pub garden. I went for the Conservatory and there is definitely no Spartan dieting here. So I had the sautéed scallops with Jerusalem artichoke, bacon jam, white balsamic vinegar and Treviso to start followed by the roasted local duck breast with butternut squash puree, spied pak choi and blood orange sauce. In an attempt not to undo all that hard work I'd done earlier in the gym, I passed when it came to a third course. Not on the wine list, though, and there were plenty of wines by the glass all arranged in a very user friendly way – whites were grouped as every day, light and fresh or aromatic; reds were light and fragrant, soft and elegant or full bodied and powerful. Well, there was nearly three hours of exercise today. Surely, I'd earned it.
Prices from £280 per night for a double room including full English breakfast and use of spa facilities. Spa treatments extra. In July, Calcot is also introducing a Life and Fitness day spa with a fitness assessment, skin scan and 55 minute body and facial treatment. For more information call 01666 890391 or visit the website.