It seems that we plan so much of our lives around food and drink; whether it's a business meeting, social event, family gathering or an old-friend catch up session, almost all our important activities revolve around eating…well, at least mine always do. So there I was, a few hours after landing at JFK, sitting in one of New York's most desirable after-work destinations, The Bar at The Four Seasons, off 5th Avenue, with lofty ceilings, gentle lighting and fascinating people, drinking a Martini and talking to a blonde bombshell and a gorgeous literary agent about dating in the Big Apple (after how many dates is it appropriate to give a suitor a phone number?) and discussing cultural differences between London and the city where apparently all dreams can come true.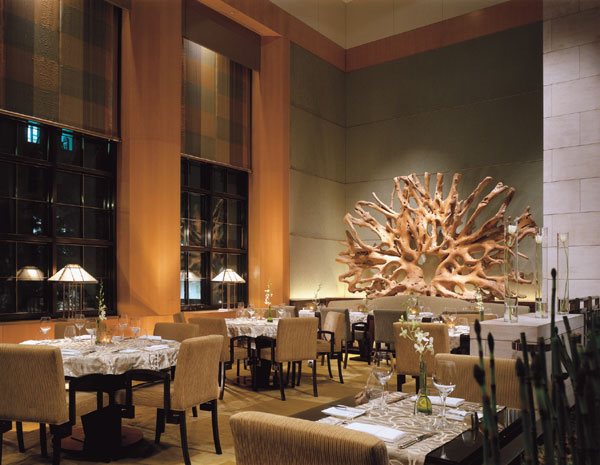 There is perhaps nothing more 'New York' than to sit in a New York bar with two New York girls – the image itself is cultural shorthand for glamour – and there is no underestimating New York women's power and energy. But while the girls in question sitting opposite me were loaded with energy and enthusiasm, I was drifting in and out of a relaxed coma. You see, three hours ago, I had gone to heaven and back.
I confess: I have cancelled plans and appointments due to jetlag before, occasionally even because I was merely a little bit tired. And with a universe of products available nowadays to address tiredness and jetlag (I am talking legal substances here), I still turn to the comfort of a cosy bed and hours of sleep. Having it all? Doing it all? Exhausting, isn't it? No, not this time, it isn't. In a city that never sleeps, The Four Seasons has come up with the perfect solution to overcome jetlag in a mere two hours and I managed to book myself in. Their famous Jetlag Treatment rebalances and sooths the travel-weary body and mind – even mine – and is specifically designed to relieve the symptoms of long-haul flight. From my first step into the spa, I had started to unwind.
The hotel has ingeniously tucked its spa facilities underground ("There is simply no space here in New York, one has to build into the cellar," my therapist explained apologetically). Everything is kept contemporary with muted tones, minimalist design and walls covered with bamboo and rice paper.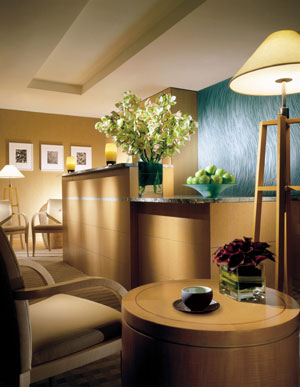 After a short consultation to check allergies, specific problems and tension areas, my therapist took me to one of the treatment rooms where she began with a full-body dry-brush exfoliation. Then, hydrating gels (cold!) and reviving oils were used in an invigorating, detoxifying and utterly relaxing massage. For two hours I was brushed, kneaded, massaged, pampered and stroked. The treatment was completed with an aromatherapy facial massage.
Once finished, I was led back to the relaxation area where water, teas and juices were on offer and where I could slowly regain life. I really did not want to leave the spa ever again and was even contemplating sneaking back into a therapy room and pretending to be someone else in order to experience the treatment all over again. I would have risked the embarrassment and the possibility of being removed from the premises. I still would. I still might. But that day, I had to get dressed for my meeting with the girls.
"Andy…Andy…Andy? Everything OK?" I heard a voice from afar, as I sat there like a lobotomised goldfish, perfectly content in my dreamy state of Zen-like placidness. "Andy, I think your next meeting is here and your table is ready."
And turning around, there he was, my handsome New York Man – actually, it was only my handsome brother, but 'New York Man' simply sounds so much better…So there he was, waiting to take me for dinner at L'Atelier de Joël Robuchon. I said goodbye to the girls and made my way over to the restaurant, exceptionally relaxed and maybe a little drunk from my Martini, ready for dinner and a fun NY night out.
I strongly recommend to anyone visiting New York and who would like to revive their spirit, indulge their senses and relax with a well-deserved treatment, to make their way straight to The Four Seasons Spa. An urban refuge, it gives you a welcome reprieve from your busy day. From shiatsu to reflexology, to acupressure with back walking, one's choices are many when it comes to soothing sore muscles, relieving jet lag and improving circulation. It's what every glamorous jet-setting girl should do.