Wake up, it's 2012. Yes, draw yourself out of your turkey induced comas, for January is the time we all pretend that we are going to change our lives for the better, drink less, eat less, spend less…isn't it? Not this year. There is something seriously fishy going on when you consider that Gillian McKeith, the bean-eating health-obsessed nutritionist, is the same age as saucy temptress Nigella Lawson; I know who I'd rather look like. So with this in mind, I set out on a mission to discover the country's naughtiest, most decadent and downright indulgent beauty treatments. Oh yes, welcome to the New Year Retox.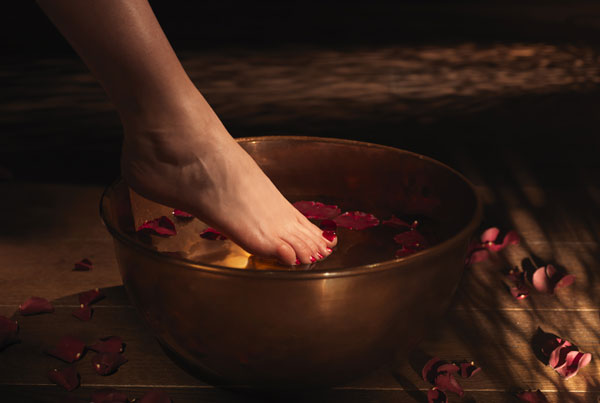 My journey began at the May Fair Hotel's underground spa, home to London's sweetest treatment. Upon arrival, the elegant hotel was brimming with spruced-up and somewhat intoxicated ladies celebrating Christmas. I was directed down towards the spa, and I was pleased to find the oriental inspired sanctuary provided an oasis of calm amongst the festive storm. As a friendly and unassuming therapist escorted me to the treatment room, I felt a pang of guilt; through no fault of her own, she was on dangerously thin ice from the second I slipped into my gorgeous paper pants. It had been a spa-filled week of reviews and my agitated skin was still crying out in pain from my last torture treatment, I mean body treatment, where I was excruciatingly exfoliated to within an inch of my life (and bones) at a spa that shall remain nameless.
The May Fair's milk and honey body wrap promised to restore my skin and leave it velvety soft, but as she walked towards me with a bowl of coarse sea salt scrub, I thought I might cry. After a somewhat uncomfortable exfoliation, she coated me in the deliciously soothing milk and honey body mask which instantly cooled and relieved my skin. Despite many people steering clear of honey, it is actually one of nature's great healers, with antiseptic qualities and the ability to attract water, it's fantastically moisturising. And as for the milk, well if it's good enough for the Queen of the Nile, it's good enough for me; I haven't bagged a king yet, have I!?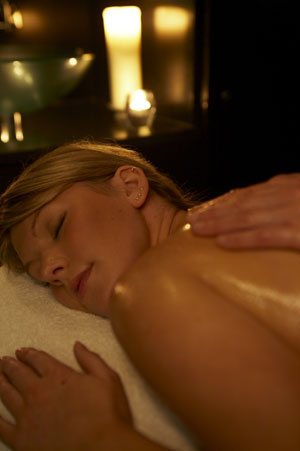 As I lay on the bed, motionless and bound in cling film, looking somewhat like a murder victim, my therapist gave me a blissful head massage while I pondered what treatment could possibly be more calorifically indulgent than this…
With my new found silky soft skin, I jumped in the car and headed to the Hertfordshire countryside. I breathed in the fresh air and admired the rolling hills, feeling a little phoney as I kicked off my shiny new Hunters that had never seen a puddle in their lives, and prepared for the most indulgent treatment ever: Champneys chocolate body wrap. My spa day began with lunch in the restaurant, which was an ironic affair as I was guided through the healthy options and correct ratios of protein, carbohydrate and vegetable; I would be drowning in chocolate soon enough – oh and what a way to go!
Okay, so I can't pretend that chocolate is a 'superfood', but the delicious treat is packed full of antioxidants which protects the body from ageing, so next time you see Nigella nip down to the kitchen in her negligee to lick the spoon, you know why she looks so smug (and young). As I excitedly climbed into my paper pants, I was almost shaking with anticipation as the therapist arrived with a giant bowl of chocolatey goodness and a paint brush. First she scrubbed my skin with sugar (as if the treatment wasn't naughty enough), then having painted me from head to toe in the warm ooze and wrapped me up in foil, she gave me a sublime coconut oil head massage; I felt like a human Bounty bar. When she woke me up (yes it was that good), she directed me towards the shower where I battled with the thick paste; it's true, chocolate really does cling to your hips!
"Does anyone ever taste it?" I shouted from the shower. "A few silly people do, but it's mixed with moisturisers and shea butter," she explained, "so it would taste horrible." I laughed and agreed, "Yes, some people are so silly," I said, desperately trying to rinse out my mouth.
With the taste of manky moisturiser still fresh in my mind's palate, I headed towards Sofitel St James's So Spa to wash my mouth out…with gin! Bring on the Martini Manicure. Some things just fit; steak and red wine, coffee and dark chocolate, Torvill and Dean, and now the martini and manicure (I am less sure about the spa's 'Pint and Pedicure' but hey ho).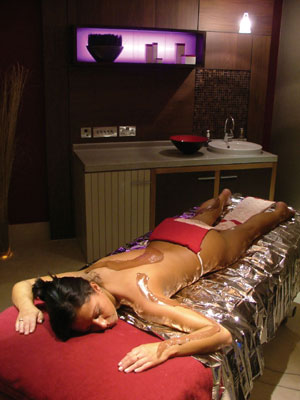 As my friend and I sat at the manicure station eagerly awaiting our cocktails, we couldn't help but feel just a little bit Sex and the City: "No, I would be Charlotte, you would be Samantha", I said. "But Samantha is a scary nymphomaniac?" she replied, looking a little hurt. "I know…oh look, our cocktails." Phew, saved by the gin. I watched my friend sipping her cocktail all too precariously, "Don't worry sweetie," I said, "gin is good for you, I found a website that says it is good for arthritis, losing weight, your bones and your heart," and even as I said this, I knew it was rubbish, but it tasted delicious. As we exited the hotel with our five-star manicures, I spotted the afternoon tea room overflowing with ladies who lunch and enough cakes to feed a small army. I think I have found my next fix.
On the final day of my New Year Retox, with a sore gin-soaked head, I made my way to London's very own secret Moroccan retreat, The Spa at Dolphin Square. The perfect place to subdue a hangover, the dimly lit spa is stuffed with intricate wooden carvings and luxurious velvet clad relaxation rooms adorned with flickering candles in which to collapse. I was here to experience the 'Spa and Mmm', a three-hour ritual encompassing a range of pampering treatments and tasty treats. Ironically, my treatment started off more like spa and hmm than spa and mmm. As I fought my way through the salt-infused steam room and sat down, I took a deep breath, ready to relax, only to be collected two seconds later for my next treatment; hmm, either there was some confusion over my 15 minute steam, or I had just found Pimlico's very own time capsule.
Hey ho, onto the rhassoul ritual. After being caked in clay from head to toe, the therapist attempted to open the door to the rhassoul heat room, but hmm, we were locked out. I panicked a little as my body began to stiffen like a Covent Garden mime artist, but after five minutes, two therapists and one knife, I was in. Hooray! I sat in the steamy chamber and let the rhassoul mud get to work. Literally translating as 'the substance which cleanses', the rich mud found deep within the Atlas Mountains can absorb its own weight in oils and toxins, making it incredibly detoxifying.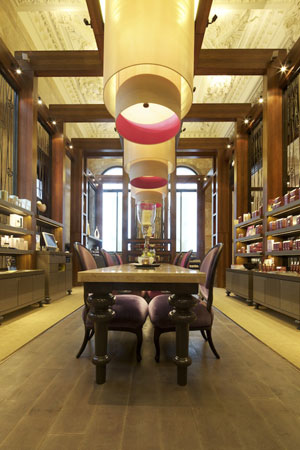 So, with a toxin-free blank canvas to play with, I popped into the tepadarium relaxation room for the next treat(ment): a glass of chilled champagne and a plate of delicious goodies; now that beats wheatgrass and carrot sticks any day.
The Milk and Honey Body Wrap is available from the May Fair Spa, at £99 for 1 hour. The Chocolate Wrapper treatment is available from Champney's Tring, priced at £65 for 55 minutes. The Martini and Manicure treatment is available at the So Spa at the Sofitel St James, priced at £45. The Spa & Mmm day treatment package is available from the Spa at Dolphin Square, priced at £125.