So we've got those endless dark nights, miserable short days, floods, awful weather and no prospect of spring on the horizon. SAD surges, Vitamin D plummets. And the outdoor burgeoning gloom brings your own issues (career/relationship/health/home/family – you name it) into sharper focus. It all makes for a bad case of the winter blues. This isn't the time for a big detox or a boot camp. What's called for now is a nourishing, restorative break for body and soul, with lovely treatments, lovely food and lovely coastal scenery. Welcome to….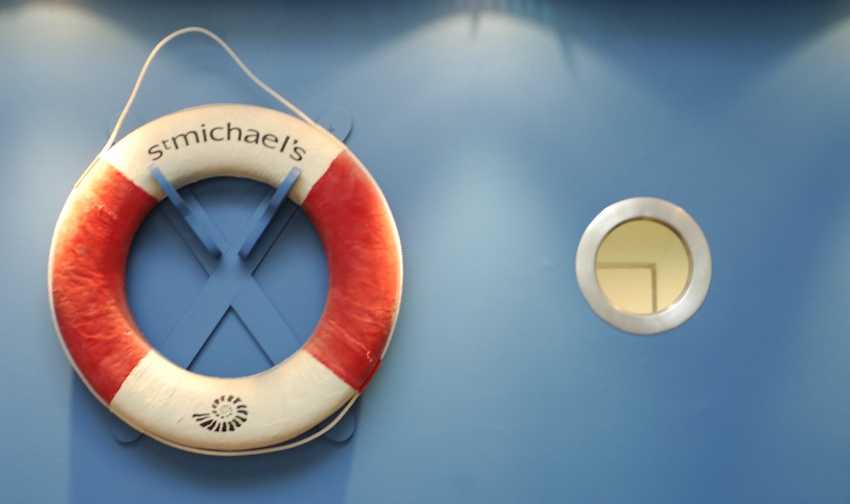 St Michael's Hotel & Spa
I arrive on a Friday afternoon in mid-January and it immediately feels very different from London. The south coast of Cornwall around Falmouth has its own micro-climate and the early daffodils are already out. Subtropical plants bask in St Michael's south-facing garden. Sun streams in through the windows and you look out across the gardens towards the picturesque Gyllyngvase beach and the sea, two minutes' walk away. You can see the Lizard in one direction, Henry VIII's Pendennis Castle on the other. There are no crowds. It's quiet. Deep breath – taste that ozone.
The hotel itself is in laid-back coastal contemporary style. The reception desk is the side of a clinker built boat, colours are blues, turquoise and silvery grey, the staff wear navy and white stripy T-shirts and chat in a friendly, relaxed way. Relaxed – imagine that? In fact, I can feel myself starting to unwind just a little but this is nothing to my exhausted friend Diana who has booked treatments for this first afternoon. She returns over two hours later (aromatherapy massage and facial) and collapses on the bed. "I had no idea how stressed I was. It felt like a rope of knots across my shoulders that had to be undone."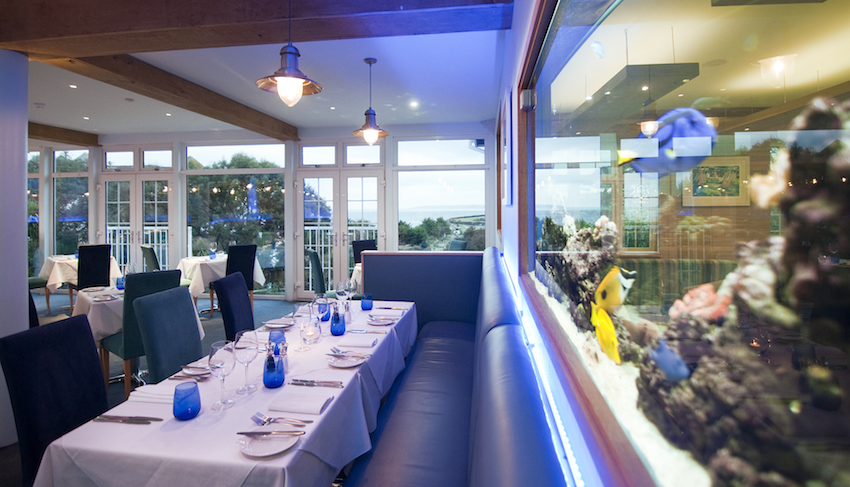 The evening promises more coastal cool. There's a blue-lit circular bar and fluorescent tropical fish look out at you eating their cousins in the Flying Fish restaurant. Not surprisingly, the speciality here is all things fishy and it's all very local. Crab and scallops, sole and plaice, oysters and mussels. There's meat too that's equally local – Cornish duck, pigeon and partridge, beef – and the cheeses are Cornish too. As I said this is a good place for nourishment – of all kinds.
So we've done taste, what about the other senses? Walking along the coastal path the next day I found myself shedding layers. Down on the beach, you share the sand with a few dog walkers and you can feel the faint warmth of the winter sun on your skin. There is that uplifting smell of sea in the air. The birds are singing. All of this is part of the treatment here. Environment matters and a walk by the sea makes you feel good and is the perfect place to get a new angle on life. Have an early morning walk and breathe. Curl up on the sun terrace with a book and a fleecy blanket in the afternoon. Swim in the indoor pool or soak up the heat in the steam, sauna and hot tub if it's raining outside.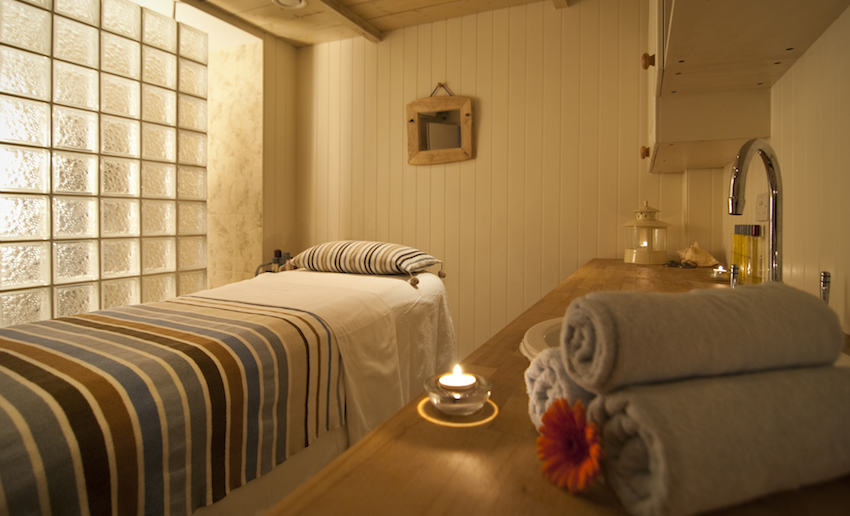 And then there's the sense of touch. In the spa here, there is a real sense of localism. Just as all the food is local, so are the staff – and the treatments are local, too. St Michael's is a small spa but an unusual one. The therapies are not off the peg, they're authentic and specific and they'll cut and paste to your needs. They use Espa (my favourite) and also a local brand, Spiezia, made almost within shouting distance at the Lizard. These are 100% organic products and they use such ingredients as apricot kernel oil, beeswax, sage, rose buds, dark brown sugar, frankincense oil, lavender and the peel of sweet oranges. They are gentle and very fresh (no preservatives).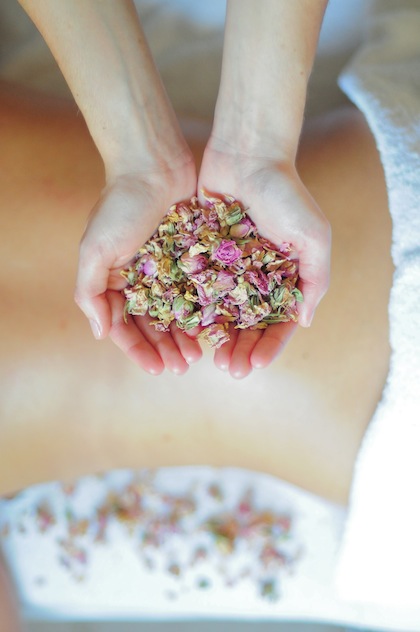 I experienced a few of these in the Cornish Organic Facial during which I could unaccountably smell chocolate (not one of the ingredients). This does all the usual things you'd expect in a facial plus a few more – there's a wonderful pressure point scalp and foot massage, for instance. Then there's a Cornish body polish using local sea salt and a blend of aromatherapy oils and this can be extended to include a body masque, a face cleanse and masque and a pressure point eye treatment. The algae wrap is a detoxifying body treatment including a body brush, exfoliation and then a long soaking up of the rich sea minerals and enzymes. You can be topped and tailed with the Stress Minimiser – warmed volcanic stones are placed between the toes while the scalp is massaged, then the stones are removed for a foot massage. There are lots of massages: Tui Na Chinese massage, hot and cold stone massage, and Back Bliss – a cleanse, exfoliation and massage followed by a warm masque while your feet are massaged.
If you want go home looking a bit more glamorous as well as relaxed, there are beauty treatments too: nails (manicures, gels, extensions), waxing and tanning, lashes (tints, perms, extensions) and a good male grooming menu. You can exercise, too (there's a new £250,000 fitness suite) and there are exercises classes as well. Or, better still, use those free facilities of beach and sea air and cliff top walks.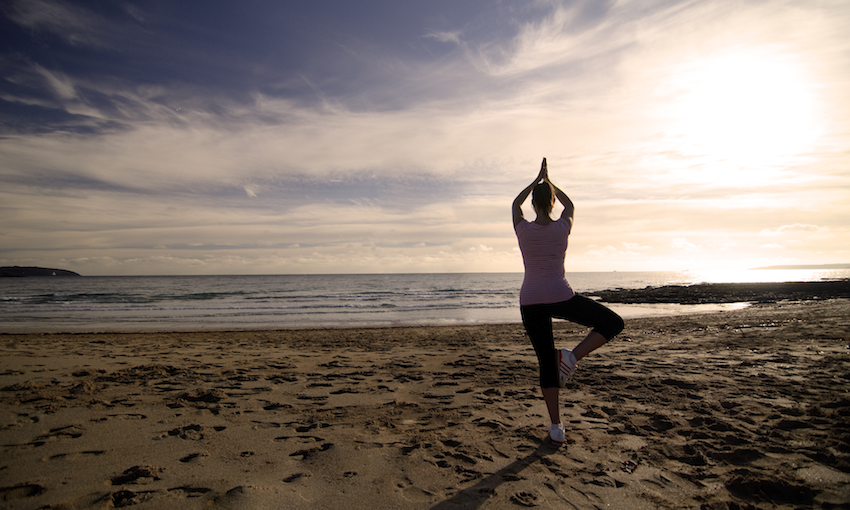 So whether you just want to swap exhaust fumes for ozone, or need some peace and space to recover from city stress, this is a pretty good place to do it. It's not big, though, so if you want to have treatments, make sure you book in advance. Recently St Michael's was given the Best Spa in Cornwall award so it's popular with hotel guests and locals, too. And forget the diet. I can recommend the crab cakes and the salted chocolate pudding…
Spa breaks start from £101 including accommodation, 3 course dinner at the Flying Fish Restaurant and full use of the facilities.