Summer is looking enticingly close so – no more excuses – it's time to give some serious thought to your beach body. Want to lose a few pounds then? Take a leaf out of Michael Gove's book. No, seriously. Last year he lost a substantial amount of weight at the Mayr Clinic in Austria. I decided to go one better and try "modern Mayr" in the lakeside town of Klagenfurt at the Viva Mayr Clinic.
So here I am lying in a bath that does no ordinary water massage. It starts at my feet, works its way up my calves and under my knees, along my thighs and hips, then switches to my hands, up my arms, then to my back up to my shoulders – all with a meaningful amount of power. I comment on this to Laura, the lovely therapist. "Yes," she says, "it's not about bubbles. This is a medical bath."
And that's the clue to Viva Mayr (named after Austrian Dr Franz Xaver Mayr, 1875-1965). This is not so much a spa as a clinic. It's not about soft music (there isn't any), or mood lighting (none of that), or massages so heady with aromatic oils they make your toes curl up (none of those either). Mayr is all about The Cure. This is a system that looks at you from the inside and works its way out. It aims, by getting rid of the damage you have so willingly done to your body, to restore it to health. And it's all run by doctors.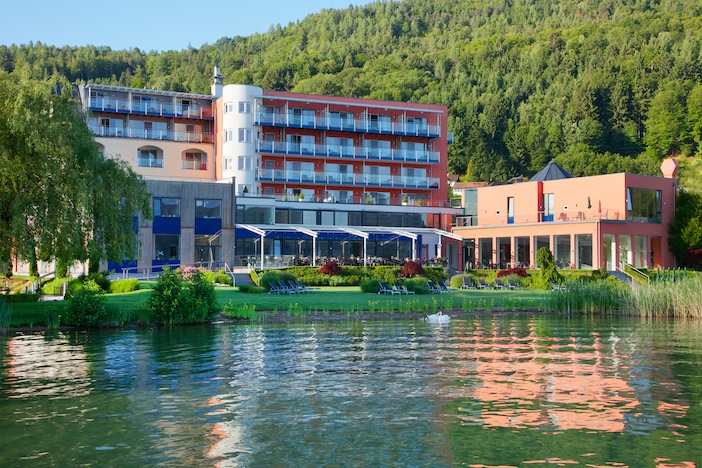 So here I am to give it a try. I have unpacked in my vast suite with its balcony overlooking the beautiful Lake Worthensee and the snow-topped mountains beyond. It is unseasonably sunny and warm for March. What more could you ask?
Well, if it's food you may be in trouble because the detox here is serious and your food is prescribed. I arrive just in time for lunch but having not seen the doctor yet I am allowed a pudding – a poached pear. That would be my last. At nearby tables, people are comparing weight loss. One man has lost five kilos in a week, another seven in ten days. Interestingly, unlike your usual spa, men outnumber women here.
So there's not a lot of food. But what you lose in quantity you make up for in quality. Everything is fresh, beautifully presented and delicious. But, though you might expect them, no salads. Raw food is forbidden as, according to the Mayr philosophy, this is harder to digest and your digestive tract is here for a rest.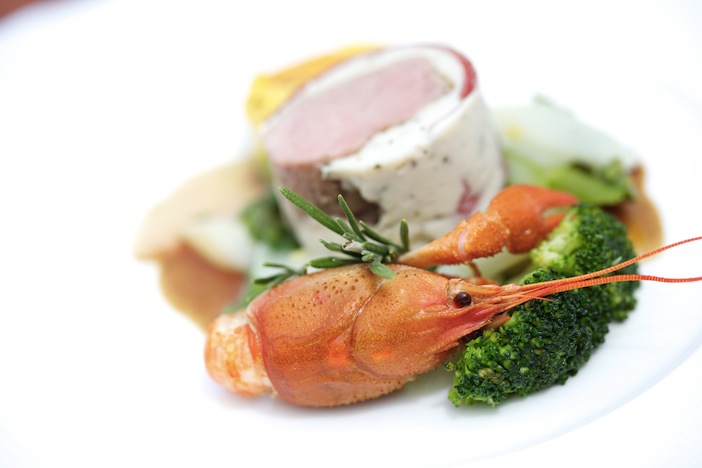 Before I can begin any treatments, though, I have my consultation with Dr Zancolo. He takes my blood pressure (120/80 which is good) and does various other tests then asks what my aim is. I decide it's weight loss I'm after. He looks slightly stern and says that weight loss is just a side effect of the detox and I will receive my programme later. We go and pick up my various supplements. These include alkaline powder – to redress the balance in the body, which with our modern diets is almost inevitably too acid. Everyone takes this four times a day.
Then I go straight up to my massage. A male masseur introduces himself and I could swear he calls himself Alice (actually it's Hannes). I must be tired – well, it was a very early start. Hannes, however, knows his stuff and manages to apply strong effective strokes without causing any pain even on the knots left over from a sleepless night and two planes. I return to the room, take the alkaline powder and get ready for an early dinner – the lightest meal of the day and always to be taken early, around 6pm, so your body has time to digest it. I barely have time for my self-applied liver wrap (a hot water bottle in a wet towel) before I collapse into bed.
It's just as well I wake up early. There's so much to do in the morning. First of all there's the drink – Epsom salts mixed with the alkali base powder. Not great but do-able. And you need to have another hot drink afterwards to take away the taste. Then after you've cleaned your teeth there's the mouth wash – but no ordinary mouth wash. You need to keep it in your mouth 10-15 minutes, even more if you can manage it, sloshing it around so that it covers every part of your gums and teeth as it gradually froths up into a foam that eventually you can spit out. A peppermint taste slowly emerges in the process.
After all this, I need a cup of tea and have now worked out that the pale brown envelopes at the back of the cupboard are DIY teabags so put some herbs in the bag and lie down for a bit. But not for long. Next it's skin brushing followed by alternating hot and cold showers. All of this is interrupted with frequent visits to the loo, courtesy of the Epsom salts.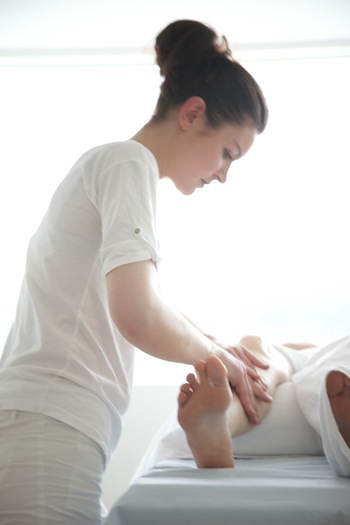 My morning programme starts with a lymphatic drainage massage: slow, rhythmic movements designed to get the lymph working, that will then deliver stored toxins into the blood stream, and out via the kidneys. This is subtle, there are rocking movements and the next thing I know I fall asleep. And then it's breakfast but not as sparse as I'd feared. There's the bread (like untoasted soldiers but spelt not wheat based) with a delicious dip based on goat's cheese and some sheep's yoghurt. I'm not that keen on bread but it's part of the re-education process. You eat very, very slowly and chew everything to a pulp.
Next up is the electrolysis footbath. This is a warm and not unpleasant experience except that during the 20 minute session, the water turns a dark and peculiar colour, to reflect the toxins that are emitted through the soles of the feet. Mine produce a foam on the top. The therapist glances at it and pronounces, "liver". Is this a good thing?
After that, it's "nasal reflex therapy according to Roeder". Now I'm not sure who Roeder is but he has a lot to answer for. This therapy entails sticking a cotton bud with various aromatic oils into three positions up your nostril. It has to be the most undignified treatment ever devised and looks completely ludicrous. I almost collapse with a hysterical fit of the giggles. My last session before lunch is back with Dr Zancolo for an abdominal massage. This has much the same effect as the Epsom salts and takes place daily. As I said, the detox is a serious business.
My final treatment is called Vino and it was my favourite. This is not, though, what you're thinking. There are no interesting vintages involved here. It's actually a powerful scrub, followed by that bath I mentioned then a massage with a thick restorative cream. All the products used are grape-based and that's it. There's definitely not a glass of wine in sight at Viva Mayr.
All this – and I haven't even mentioned early morning gymnastics or my body composition analysis – is just the first day. Mayr doesn't include slacking. I just have time for a late afternoon walk in the spring sunshine. The lake is breathtaking, surrounded by wedding cake hotels in pink and yellow, with boat houses lining the shore and steps down into the lake itself for swimming (a bit chilly at the moment, though in the summer I'm told it's perfect).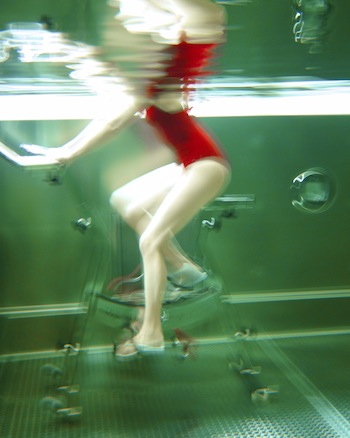 And this is the rhythm of the next days. It is actually very easy to slip into and I found I didn't feel at all hungry – presumably drinking around 3 litres of water helps. In fact, I did feel really well, light in body and spirit. There are daily exercise sessions – group ones in the early morning plus one-to-one later in the day. These include a souped-up power plate and underwater bicycling. I thought this had to be a mistake in translation but it's just what it says it is. The stationery bicycles you'd normally find in a gym are dropped into the pool and you pedal against the water resistance with your feet in crocs. I get another fit of the giggles – for a place with such serious intent, I seem to spend a lot of time helpless with laughter.
There's a daily massage, too, always with a therapeutic purpose – in my case, it's decided I'm storing too much water so we go for the lymphatic one rather than anything too vigorous. Then there are more footbaths and scrubs, therapeutic baths and laser and oxygen therapies (the latter very much the modern bit of modern Mayr) – all with a decidedly medical aim, tailored to your own particular needs and updated daily during your consultation with the doctor. At one of these I also experience an applied kinesiology test. This tests for food intolerances and other things using muscular pressure – simply judged by the doctor assessing how much strength you have to press his arm away after you have had a few drops of a particular substance dropped on to your tongue. For some you don't even have that – you hold a tiny phial of the possibly toxic (for you) element. So I didn't have candida, intestinal parasites, intolerances to glucose or soya. What I did have was an intolerance to gluten (wasn't surprised), to cow's milk (was surprised) and a problem with histamine. Still I could live with this even if I have to say goodbye forever to the ploughman's lunch. Mayr aims at prevention before you need a cure.
There are, though, people who come for more serious conditions, treatments for ailments such as diabetes, MS, infertility, arthritis and stroke rehabilitation or to restore their balance after treatment for cancer. And there are many other treatments that Viva Mayr offers that I didn't try. Blood tests reveal deficiencies in minerals and vitamins, to be treated with supplements or "infusions" given intravenously. Other tests reveal stress levels, heart health, general vitality and emotional problems – there's psychotherapy here too. So it can be as much a mind as a body detox.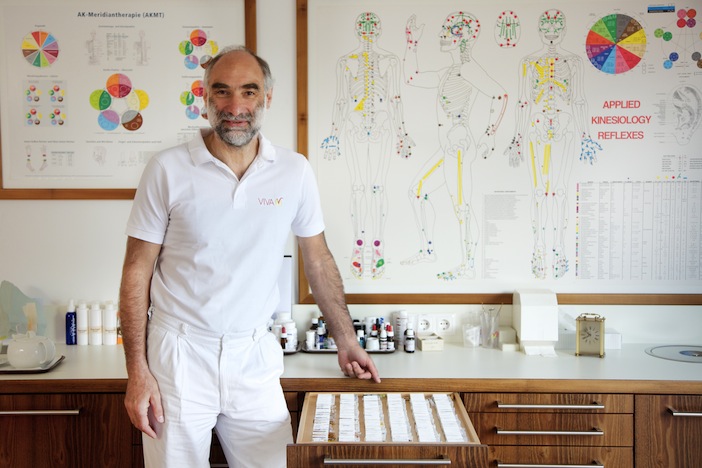 Everyone who works at Viva Mayr takes the cure at least once a year. And it does seem to be very effective – the whole workforce glows with health and it can't only be the clean mountain air. I was there for a week and felt great. A week, though, really isn't enough for the full effect so I was advised to continue with the same eating habits, regular exercise and drinking a daily minimum of 2 litres of water for another two weeks. So how have I got on? I have stopped eating bread (caved in very slightly on the cheese) and try to eat in the early evening as lightly as possible. And the weight loss? After a week at the clinic, I'd lost 2kg (men lose more than women – rats) and 4cm round my waist. I lost another kilo the following week. Taking the Mayr Cure could become an annual event.
A seven night stay at Viva Mayr including a similar programme to Anna's would cost around €3000. For more information, including details of treatments and rates, visit the website.
Austrian Airlines fly every day from Heathrow to Klagenfurt via Vienna. Easy Jet fly from Stansted to Ljubljana in Slovenia, approximately 1 hour from Viva Mayr.