Nothing says 'my Stalinist autocracy is bigger than yours' like throwing up a ridiculously ostentatious building or two. Pyongyang's Ryugyong Hotel is an ominous 105-floored pyramid of doom, 26 years in construction and still not open [Arb review request pending – noted, Ed.]. The Soviet Embassy in Havana resembles a giant concrete ice cream cone with a flake in the top. Moscow's communist superstructures are legion, with Lev Rudnev's university taking the gold medal, looming magnificently over a shimmering lake like a Vegas casino. So when Nicolae Ceauşescu, Romania's top dog between '67 and '89, decided that the country needed a new Palace of the Parliament to consolidate the various institutions of government, he knew that size mattered. He had to think big.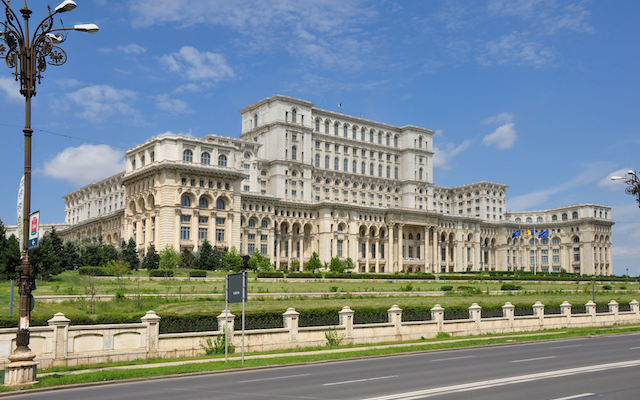 He thought so big that I swear light bends around this building. Even after driving away from the palace for a few minutes to take a photo, I can't fit it in the viewfinder. Each room is more massive than the last. I escape through one side of some glorious ballroom or other and arrive in what I'm convinced is the exact same room. It's like Pacman, off one side of the screen and back on the other. Everywhere there are 50-foot curtains, intricate chandeliers, immaculate marble staircases and not a solitary speck of dirt. Anywhere. It cost about €3bn, it offers 3.7m square feet of office space and the utilities run to €3m annually. I had to surrender my passport at the entrance. I see two of the twelve stories above ground (there are four more below) and stumble out into the autumn sun, genuinely confused as to how one could possibly build something that requires one million cubic metres of Transylvanian marble, and the tearing down of 25% of historic Bucharest, including 30,000 houses.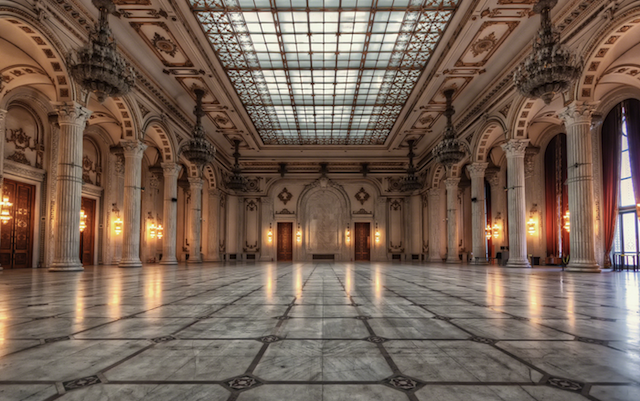 I arrived in Romania two days ago to find autumn blowing through the streets, with rusty leaves clogging up the boulevards and a fresh breeze buffeting me on the airport tarmac. I head immediately north to Urlati, a small town which plays host to a 17th Century Boyar manor, now a hotel and restaurant called Conacul Dintre Vii. Its business nowadays is wine, and it sits in a few acres of verdant vineyards, rolling over the hills to the south. I'm treated to an energetic wine-tasting in the cellars of the place, where enormous barrels rest under equally huge red brick arches, and the sommelier leads us gamely through six local expressions. A few details are lost in translation (a discussion of regional fishing somehow leads to the encouragement to take craps with your claret) but overall it's a pleasant experience, and the reds in particular pack a certain punch. Upstairs we sample some traditional cuisine, including a massive turkey which is brought in, aflame, on a tray, to be paraded for our benefit, before presumably being extinguished in the kitchen.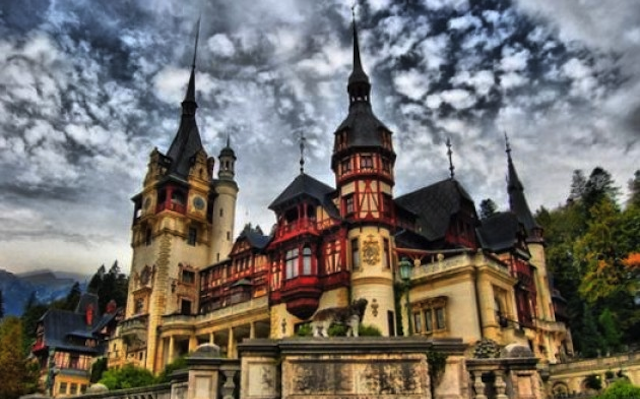 The morning after the night before, during which it's possible that too much wine was tasted, we set out for Peles Castle.  This particular palace lies on the gentle slopes above an auburn valley in Sinaia, a couple of hours from Bucharest by train, and was King Carol I's summer residence, with construction beginning in 1873. It remains lovingly preserved to an astonishing degree – the whole interior is bedecked with exquisite rich, dark walnut carvings, with alabaster inlays depicting various historical scenes. Some of the friezes are rather more sophisticated, the work of royal pal Gustav Klimt. King Carol was something of an early adopter, and this place had electricity, central heating, an elevator and a palace-wide vacuum-cleaning system back in 1903, all of which still work. The roof even opens to ease the heat in the summer. Even for those with stately home-fatigue, it's must-see, simply for the immaculate, intricate wood carvings and myriad curiosities, like the King's collection of over four thousand weapons. And do check out the nearby monastery, also electrified by the King. As I stood in its chapel, a gentlemen was gently mopping the carpets in somber silence. All very reverential.
Onward, to Bucharest. The clichés describe the capital as 'the little Paris of the East', and its architecture does bear a striking resemblance to its distant French cousin. This a unique mix of buildings though, with dilapidated concrete utility intermittently wedged between the neo-classical facades. Keep an eye out for the gold-bedecked mansion which formerly housed Prince Nikolai – its current owner, politician and businessman Gigi Becali, also owns Europa-league botherers Steaua Bucharest, though at the moment he's a guest of the state, serving three years for illegal land plot exchanges. For my own crimes I'm ensconced in the Grand Continental, a quiet and absolutely proper base from which to explore the city. Some of the high-ceilinged rooms have the faint, distant whiff of the L&Ms that probably dominated the hotel at a time when smoking was positively encouraged; it's not off-putting, just a gentle reminder that Romania only fell in line with European diktats and banned public smoking at the start of this year.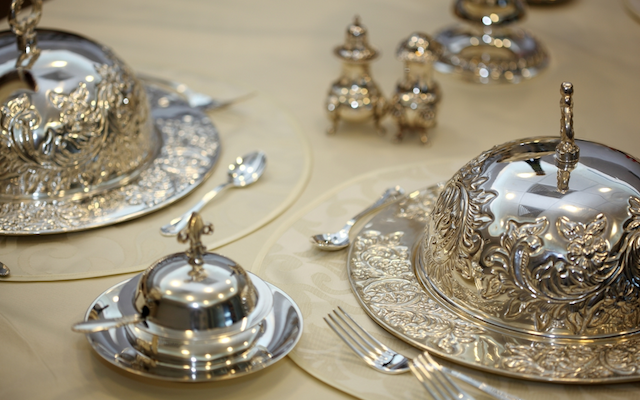 The Dimitrie Gusti National Village Museum is a sprawling, outdoor spectacle in Herăstrău Park where more than 250 traditional dwellings from recent centuries have been gathered in one place. Meandering through the huts and houses is a pleasant way to while away a morning, checking out the Danube delta dwellers and their funky blue cottages. There's a remarkable wooden hand-cranked Ferris wheel, and a water-driven paste grinder from 1794. For some unknown reason the place is overrun with kittens too, which certainly doesn't hurt. However I proceed directly to the Parliamentary Palace and all senses of scale, time, place and self are quickly discarded.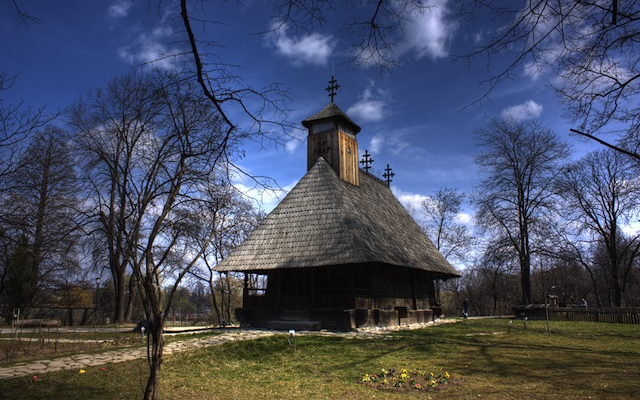 Food options in Bucharest are varied, although the experiences tend to centre on common themes: meat. Vegetarians might have trouble finding dishes that aren't just meat dishes without the meat, however the carnivores are in for a treat. Skinless sausages are a specialty, though the sour tripe soup may be one for the purists, and left me feeling a little irregular. But that could have been the palinka – fiery fruit brandy with alcoholic content often heading north of 60%. It doesn't feel quite as bohemian as absinthe but it'll certainly clear the pipes and get your night started with a jolt.
The different ends of the Bucharest dining spectrum were represented by visits to Caru cu bere, a cavernous beer hall with scheduled dancing and frighteningly booze-laced cakes, and Joseph by Joseph Hadad, the elegant flagship restaurant of the internationally renowned, Romanian Masterchef-judging executive chef himself. The former, I suspect, will be a rambunctious fixture for the large male groups visiting the capital for pre-nuptial getaways. The latter is a more refined affair, with the baked duck a real treat and the chocolate 'dream' parfait far too good for the light lunch to which I appended it.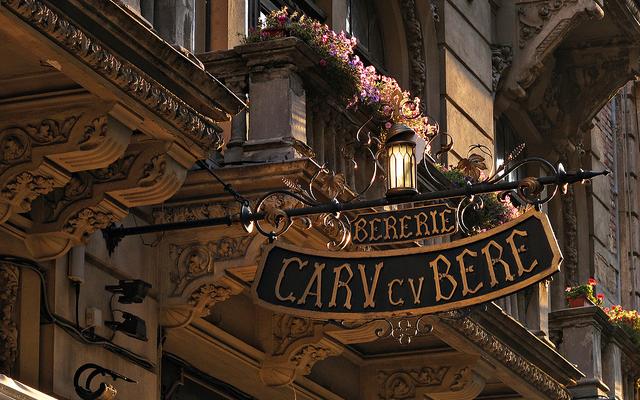 But I would suggest visiting both. A varied approach seems the best option when exploring Bucharest – while one of the central drags makes it very clear as to the kind of patron it hopes to attract (genuine bar names 'Bastards', 'The Bankers' and 'Bordello: Because Sometimes Love Is Worth Paying For'), there's plenty on offer for those not travelling with 'the lads' in team t-shirts. Not least that Palace of the Parliament – it's the second biggest building in the world, in surface terms, after the Pentagon, and they're hardly going to let you run around there. Just go easy on the palinka – a little goes a long way.
Tom flew to Bucharest with easyJet, running flights directly from Gatwick with prices starting at £32.49 one-way from January 2014. For more information of schedules, prices and information on the city and its attractions, visit the easyJet website.