In our travel feature this weekend, Alwynne Gwilt goes distinctly off the beaten path, via 'bunk bus' and ferry through Vietnam, to arrive at an island that once had a dark past, but now has a bright future…
There often comes a point in every adventurous traveller's journey when you find yourself faced with a scenario that makes you ask: "How on earth did I get here?"
Mine came while sitting on the top chair of a bunkbed style seating system on a bus in southern Vietnam – as I watched large, whirling purple car wash brushes swish past the windows, I looked down to see a startled elderly gentleman awake from his nap, stare up at me with puzzled eyes, and promptly go back to sleep. It was a moment that firmly planted itself in my memory, and one of the more bizarre experiences of my recent travels.
A few minutes prior, I'd been chatting to my partner as the bus zoomed somewhat perilously down the chaotic Vietnamese highway, dodging the usual plethora of scooters that swarm like wasps along any and all roads in this Southeast Asian country. We'd both been sat on the top 'bunk' of the bus, having decided to take the 'scenic' route from Ho Chi Minh to the south coast to catch the new ferry service to Con Son Island, a remote former penal colony around 100km to the south east of this previously war-torn country and the largest in the Con Dao Archipelago.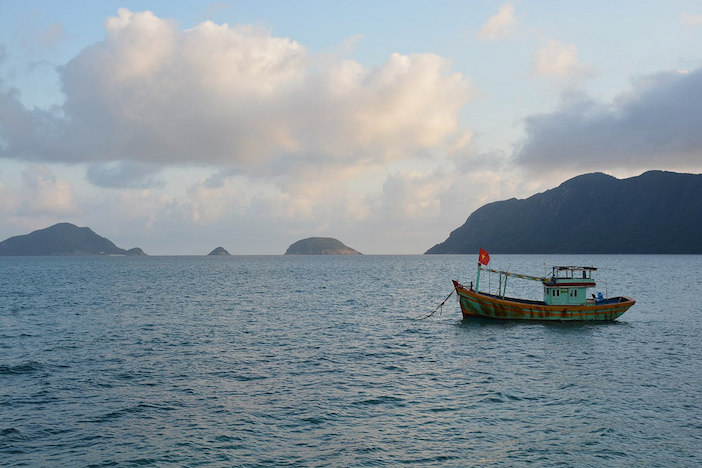 Up until March 2018, the only way to reach the island was to take a 12 hour commercial ferry journey, or an expensive flight. However, with the instating of a new ferry service, the rate of tourists is expected to rise substantially, and we were keen to visit while it was still relatively untouched, unlike Phu Quoc, the popular island to the west which we'd heard had already become too filled with tourists and hotel building sites since becoming more accessible a couple of years ago.
In order to reach the ferry, the quickest (and cheapest) route is by bus – a five to six hour journey from Ho Chi Minh to Soc Trang, from which you can grab the shuttle to the ferry docks. The ferry – run by the Superdong company – takes only two to two and a half hours.
Both my partner and I are avid, active travellers, often taking 'holidays' that leave us more tired upon our return to the UK than when we left, but equally filled with great stories to tell. This was our second trip to Vietnam, so we were already prepared for the chaos on the roads, but not quite as prepared for the bus adventure we found ourselves faced with.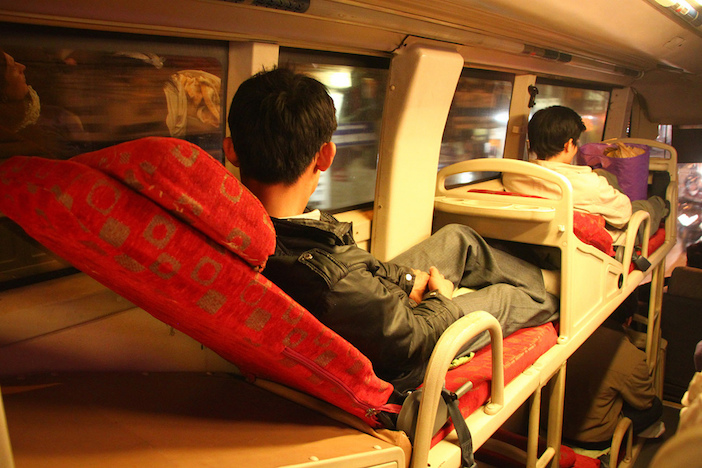 When the bus pulled off at what we assumed was a rest stop, my partner hopped off to stretch his legs, as did many other customers. Much waving to me from the bus driver ensued, but as he spoke no English, we assumed he was only encouraging me to also get out and take advantage of the stop. Instead, seeing I was not moving, he shut the bus doors, and drove off, leaving my partner stood in the parking lot, with no phone or wallet, as I carried on my way, unsure as to what was happening. After a brief few moments of panic, I realised that we were simply going through a car wash. Ten minutes later, as the bus parked up, I ran off to find my partner, who was – to put it mildly – slightly panicked, having no clue where I'd gone. A travel lesson had been learned: always get off the bus when the driver tries to insist you do.
Two hours later, we found ourselves in the outback town of Soc Trang. Sat on the ubiquitous tiny plastic chairs at a rustic seafood place called Quan Oc Thuy Duong – one of half a dozen on the strip near our motel – we smiled to each other as every person in the joint stared at us, clearly wondering how on earth we'd ended up there. A kind, wrinkled lady with bright smiling eyes showed us how to cook the clams we'd ordered on the charcoal burner, while a girl touting beers kept us well watered.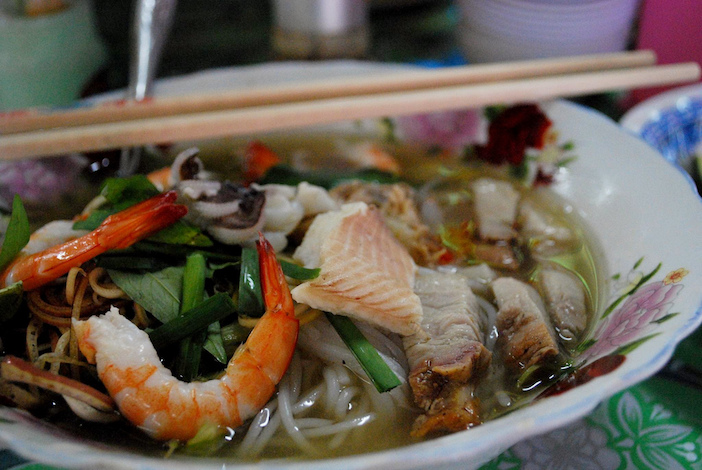 The elderly lady spoke smatterings of English, and I couldn't help but wonder if she'd learned them during the war from a soldier and what adventures and trials she'd witnessed in her long years. At the end of our extensive meal, she hugged me, reminding me of my Grandma back home in Canada – vivacious and energetic, despite her years.
The next morning at 6am, we grabbed the shuttle from Soc Trang to the ferry docks at Tran De Port after a quick street food breakfast of strong Vietnamese coffees and Com Tam (rice with grilled pork chop and fried egg). It was a beautiful morning, with calm seas – a good sign as the ferry can sometimes be cancelled if the waters are too choppy. The ferry sailing was full, but we were amongst only four other foreigners – the rest were Vietnamese, making the pilgrimage to Con Son to honour the dead. More than 20,000 prisoners died on this notorious prison island, which remained in use until 1975, and it is a tradition for family to visit in their memory. I wondered, as we sat in comfortable, large reclining chairs, how much they appreciated this new ferry service, which costs approximately £10.
The sun was bright and the morning hot as we departed from the ferry at Con Son – we opted to grab one of the many mini buses traveling into the main town, but hotels can easily arrange a taxi pick-up for those so wishing.
Our destination on the island was the recently opened Poulo Condor Boutique Resort & Spa, one of only two luxury 'resorts' to have been built thus far. It joins the remote Six Senses, made famous by its celebrity guests such as Brad Pitt and Angelina Jolie when they were still on speaking terms. Today, the Six Senses' gates are heavily patrolled, and fencing keeps its beaches private from any wanderers. Poulo Condor Boutique sits another four miles further up the only road that runs around the island, but hidden from view due to its lengthy driveway to the main entrance.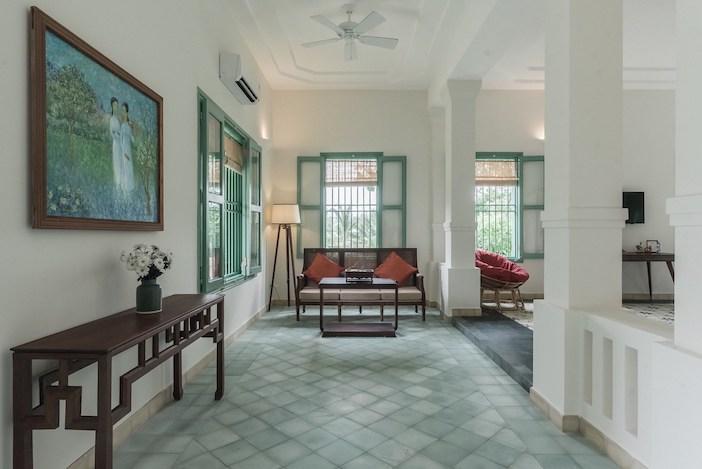 After a cooling glass of Vietnamese fruit punch and a refreshing towel to wipe our humidity draped brows, we are shown to our extensive 100 square metre Colonial Suite Villa. The room is beyond tranquil, with cool stone floors featuring calming blue and yellow flowery tiles, a huge four-poster king size bed, and expansive bathroom with soaker tub and outdoor shower – a perennial favourite of mine. The detail of the villa is exquisite, and the large French doors lead to a veranda big enough for us both to lay out our mats and do a spot of morning yoga, or recline in the comfortably padded chairs when we're not exploring the grounds. It is a perfect place to unwind in, the dream spot to find true R&R.
In the mornings, we begin with a stroll around the sprawling property filled with ponds and forests, before swimming in the bathtub-warm seas, the only people on the private beach at that time. Its seclusion makes us feel like we've arrived on the set of The Beach as it originally was, discovering a land that no one else has. Surrounded by towering rock cliffs, and backed by palm trees, it is one of the most beautiful, remote beaches I've ever been to – and to have it to ourselves in the early hours makes it even more special.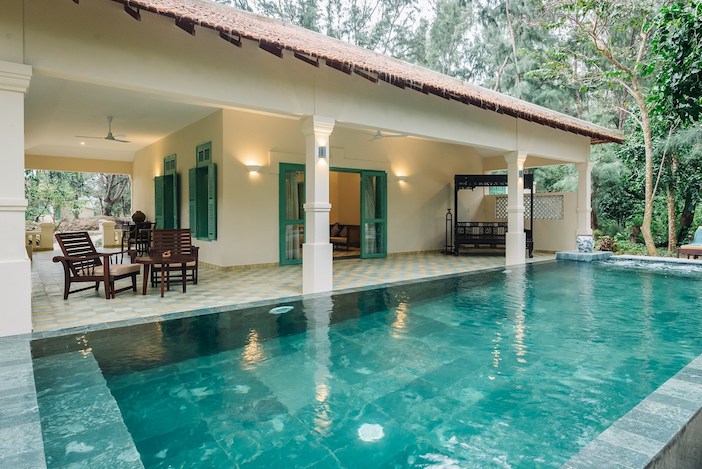 After breakfast by the pool we use the bright red scooter – rented from the hotel for £10 for three days – to get around the island, my partner driving as I feel my hair blow in the wind and revel in the beauty of this remote corner of Mother Earth, a paradise that feels truly undiscovered. The roads are quiet, with none of the masses of scooters that populate the mainland, so we feel relaxed on our journeys. We explore tiny beaches, such as Bai Dam Trau to the north, drink from coconuts and laze away the hours. In the evenings, we scoot into town – about a 30 minute ride away – and discover tiny restaurants with food so good and plentiful, we order more and more until our bellies are full to the brim with softly fried fish, delicate broth dancing with vegetables and morning glory, and piles of pillowy rice.
At night, a timid green frog greets our arrival back to our villa, and the cool floors and privacy of the space make us feel as if we are the only people in a one hundred mile radius. A quick call to the front desk, however, reminds us that incredible service is at hand if we so desire – in this case, it's ice so we can make a G&T to enjoy on our veranda as the creatures of the night hum their hypnotic tunes.
The hotel's motto is: "Where time stands still" and as we leave, it feels as though time truly has played a trick on us. Our two days there counteracted all the normal hectic nature of our travels, leaving us not only rejuvenated, but filled with harmony and feeling as if we'd been on the island for a week.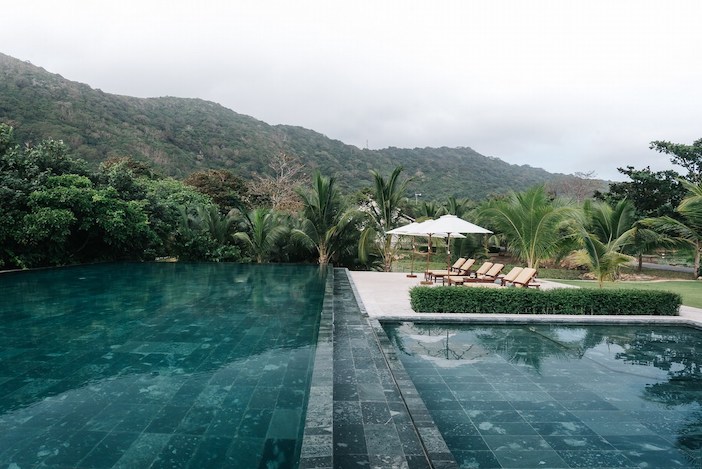 How more people haven't discovered this island is a surprise to us both, although the hotel staff and manager agree that it won't be a long kept secret. With the new ferry route opening, the demand should increase and the cost of flights will inevitably decrease. One saving grace of Con Son, however, is that a vast majority of it (around 20,000 hectares) is protected park land, meaning any building should stay more balanced with the incredible landscape.
We opt to take the short, 40 minute flight back to the mainland having had a good share of adventure en route to Con Son. It's certainly quicker and more convenient, but as we fly over and the island becomes a mere dot out the window, I already feel pangs of sadness for the fact this route means we arrive back to the chaos and bountiful noise of Ho Chi Minh city so quickly. There is no doubt this island will get more built up and more people will arrive, but for now it is still a hidden gem, filled with kind, generous and giving people, ready to move on from the violent past and open up to a whole exciting new future.
For more information about the Poulo Condor Boutique Resort & Spa, visit www.poulocondorresort.com.
For more information about travelling in Vietnam, including how to plan your trip, visit the official tourism website www.vietnam.travel.