It springs, I feel, from a youth spent being forced to go to Scout camp. About 15 of us would cram into a Second World War mildewed monstrosity, roll out our inadequate sleeping bags and spend the next 12 hours pretending to be asleep. God, how long a night of camping can seem! The first pheasant cackles insanely at three in the morning, just as you've finally driven the flapping of the windblown canvas from your brain long enough to drop into a light doze. From then on in, every denizen of wood and field drops by your tent for a natter, and just as you decide you might as well get up, the heavens open and rain spatters noisily overhead. Sound familiar?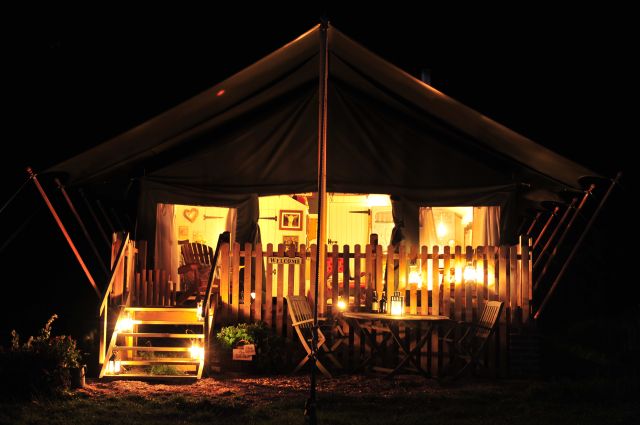 So when my wife suggested a camping trip – with our darling children, you understand – it may be understood I was less than enamoured. But while The Dandelion Hideaway is camping in essence – canvas, woodburning stoves et al – it takes the real pain out of the exercise. I mean, at least you can go to the loo using a flushing toilet. There's piping hot running water. And did I mention Chesterfield sofas, a gas fridge and a roll top bath?
Set in the rolling fields of Leicestershire on John and Sharon Earp's mixed farm, it's a delightful spot. And perfect for little ones. They can collect still warm eggs from the friendly hens each morning; groom and pet the gang of Shetland ponies which Sharon lovingly tends; and best of all, get to meet and milk the herd of 750 inquisitive goats which now form the majority of the farm's income.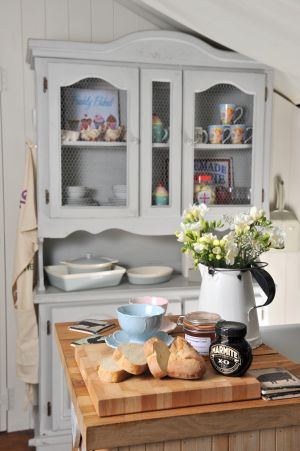 John is a classic farmer, with a good line in grumpiness ('I don't have a mirror; else I'd fall out with myself'). It's only when we've spent time with him going through the daily trials and tribulations of a goat farmer that we begin to get a glimpse of the man underneath the gruff exterior. He loves his farm, his land and his beasts and is being squeezed until the pips squeak by supermarket cartels and rocketing fuel and feed prices. He shows the girls how to attach the suction cups to milk the goats and lets them drink fresh goats milk in the parlour. It's indistinguishable from cow's milk, to my palate and apparently very good for you. The goats themselves are great fun and very friendly. Campers are welcome to visit and pet the goats during the day and Sharon leads a pony grooming session, too; perfect for two young girls who both wanted a goat and pony to take home. Oh, and also a chicken or two.
Each Dandelion tent is equipped with bucket loads of wood for the burner at no extra cost to the camper. This is invaluable, as you'll get through plenty as you strive to keep the stove at kettle boiling pitch. There are also lots of candles and some rather cool rechargeable lamps, which you return to the farm shop for replenishment each day and which hang on lampstands to guide your way in the black of night. The shop is replete with local goodies, from frozen pies to cakes and toys, all of which you can simply add onto your honesty list and pay for at the end of your stay.
An enormous badger sett sits atop the campsite and a lovely hide has been constructed to allow you to try and catch up with them. But filthy English evening weather put pay to our chances, so we settled for stories by candlelight huddled around the stove. On our first night, Sharon brought a welcome homemade sausage casserole. Bright starts and plenty of fresh air mean early yawns and we were early to bed.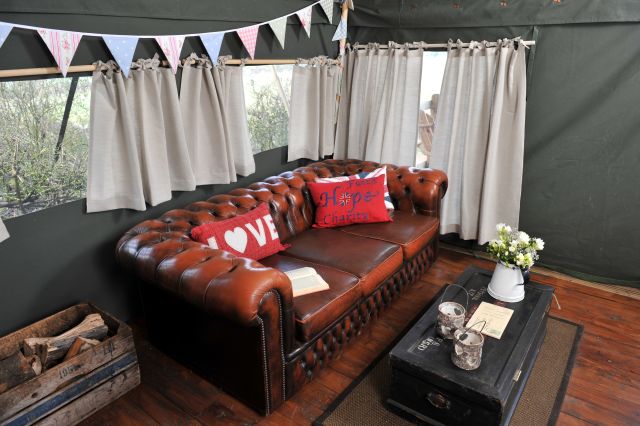 Mornings start with a chilly frenzy to get the fire stoked once more, but you soon get the hang of it and the sizzle of bacon and eggs gets everyone out of their warm beds. Once the troops are suitably fed and watered, a trip to nearby town Market Bosworth can be recommended: picture tearooms, old-fashioned sweetshop, the occasional chic restaurant. Perfect.
After a weekend of outdoor living – however glam – we were ready for the mother of all Sunday lunches and so zipped round to the local pub. Four pubs later, we were still sans dimanche déjeuner and things were looking frayed at the edges. These local country pubs were few and far between and each was rammed to the gunnels with rosy-cheeked types. We even tried to gatecrash a Christening. Panic was setting as staff in the excellent-looking Black Horse in Market Bosworth shook their heads sadly as we traipsed in. But glory of glories, they called their sister restaurant in Congerstone and within 20 minutes we were in clover: superb menu, foaming ales, a decent wine cellar and a garden for the girls; job done.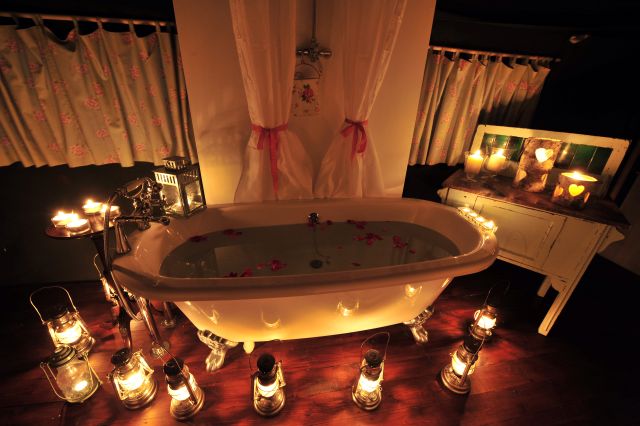 Suitably replete a couple of hours later, we sauntered back to our hideaway, next task: to build a roaring campfire next to the wood. Dusk settled, the wind dropped and the fire popped and crackled as we shared marshmallows and wine with the family in the next tent along. This is what camping should be about. Not soggy ground sheets and long hikes to sinister shower blocks. The kids yelled and careered about in the darkness as we sat drowsily around the embers.
A half bot of Claret later, we were tucked up under duckdown duvet for slumber and I was secretly looking forward to getting up to feed the stove in the morning, collecting fresh eggs with my littlest and having a chunter with Farmer John about the current state of the international wheat market.
Dandelion Hideaway, Osbasten House Farm, Lount Road, Osbasten, Leicestershire CV13 0HR. Tel: 01455 292888. Website. Four nights for two adults and one child in Bluebells and two children in the Tree House from £462, or a week from £697. Four nights for six in a family canvas cottage from £394, or a week from £654. All prices include wood for campfires and wood burning stove.
[wzslider]