Nathalie Bonney visits the capital of the Emerald Isle, for a different crack at the craic and, amazingly, there's not a drop of Guinness in sight…
An expected weekend in Dublin itinerary would involve pints of Guinness in 'authentic' Irish pubs where fiddlers play cheery music and tourists dress up as leprechauns. It would be so easy to leave the Irish capital 48 hours later, perhaps having only frequented the bars and pubs of Dublin that locals would never dare step in.
But there are other ways to experience the city than on a bar crawl in the touristy establishments of Temple Bar.
For those fortunate enough to visit Dublin when the sun is shining – heck, even just on a day when it's not raining – ditch the gimmicky pub tours in Dublin's centre and do as the locals do: head out of the city. Just 40 minutes away by train is the harbour town of Howth (if asking a Dubliner for directions pronounce it Holt).
Primary colour small boats bob on the harbour alongside larger fishing vessels, but better than boat-watching is the seal-watching. Enjoying the still waters of the harbour, these aquatic creatures  dip above and under the water's surface, each time they re-emerge from underwater looking like they've been newly baptised by the Irish sea's oily palms.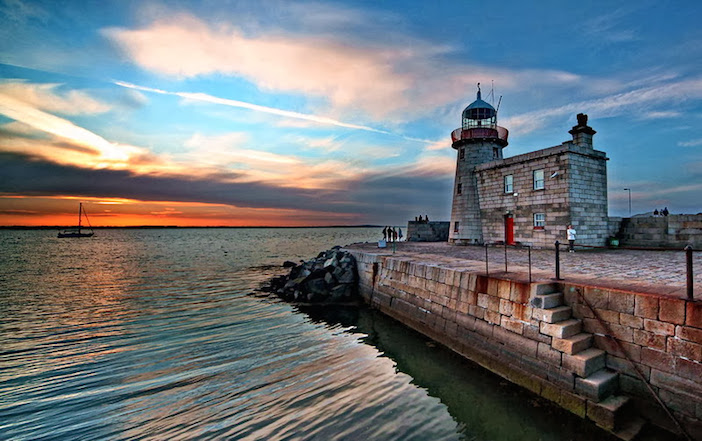 After a stroll alongside the harbour walls and taking in ample gulps of fresh sea air my friend and I face the difficult task of trying to find a seafood restaurant; there are plenty. We settle for the Oar House on the West Pier, a bustling establishment serving up simple fresh fish dishes. The walls and tin shack roof are decorated in shipping nets, boats' steering wheels and anchors, but while the decor may be contrived the food most certainly is not. Crab claws served with a punchy garlic butter, soft-as-snow cod and zingy mackerel fillets are delicious but it's the super fresh oysters that take top prize – I've never eaten better. To make the most of the afternoon our meal is concluded elsewhere, at Maud's ice cream store, where a scoop of Pooh Bear (honeycomb) ice cream is a must.
That's not to say you can't enjoy fresh fish in Dublin city centre. At Peruke & Periwig (more on this gem later) I feast on a generous bowl of chorizo and monkfish pasta that serves up great meaty chunks of fish. Meanwhile, the canal-side Marker Hotel, situated in 'Google' Docks, serves up fishy treats as part of its 'le Drunch' (dinner-drink-lunch, see?) menu every Sunday. Its oysters served with Vietnamese dressing are not to be missed either. And it should be made mandatory to order a Bloody Mary with these bad boys too (we oblige); served in a tankard, the Marker's BM is tangy, with a good kick and not too thick and sweet – more Mary than Bloody, if you will.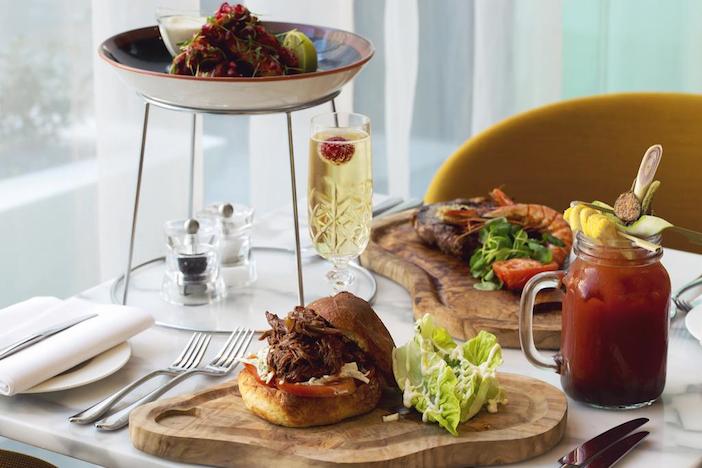 It's not just Bloody Marys the Marker is good at; the hotel's drinks menu is well regarded by hotel guests and locals alike who visit the canalside hotel at weekends to make the most of its Drunch menu. Served in an airy ground floor space, the vibe – and decor – is New York loft, with a DJ playing and sleek furniture in a grey and mustard palate. After Drunch head to the hotel's rooftop bar for fantastic views of the city, complete with heaters and blankets to contend with inclement Irish weather.
We are staying at the Merrion Hotel which, delightfully, offers its guests complimentary use of its two bicycles. It also offers guided bike tours, and picnics for additional fees, but we decide to go off piste. The floral-design bikes come complete with panniers and wicker baskets to store valuables, safari-inspired  helmets, bottles of water and ponchos. Knowing our navigation skills are poor we figure you can't go wrong following a canal path and cycling on a sunny Sunday morning past joggers, families with bounding dogs and kids on scooters in tow once again feels a world away from the tourist trail.
Not that we could claim our cycle was particularly arduous, punctuated by plenty of rest stops at each road crossing, it was nonetheless a treat to return to the Merrion, knowing its beautiful basement swimming pool and steam room awaited us. Despite being at full capacity the pool was still quiet. Humbug-striped loungers line alongside, inviting guests to relax with a glass of juice, fruit tea or piece of fruit.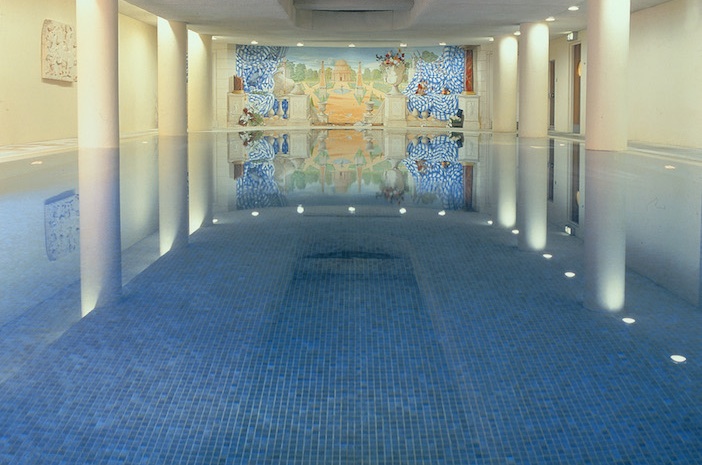 The Merrion's ornamental garden provides yet another space for quiet but its the front reception (with its original artwork and an imposing staircase that would give Downton Abbey's hallway a run for its shillings) and drawing rooms that are the most atmospheric. Originally four Georgian hotels that were knocked together, guests can enjoy drinks, afternoon tea or just a read of the paper in one of the lounges. Chandeliers hang from high ceilings and fireplaces crackle and spit flames. The atmosphere is hushed but relaxed and informal. Our hotel is in the newer part of the room but the same attention to detail and finishings has been applied here: plush carpets, smart upholstery, gleaming bathroom fittings, Asprey toiletries and slippers so deep and voluminous they feel like velvet quicksand.
The comforts of our hotel room and the basement spa are the perfect anecdote after our Dublin travails and cocktails the night before – and, yes, it is possible to go to Dublin and not touch a Guinness.
Situated in the Georgian part of Dublin, the Merrion is just a short walk from Dawson and Grafton Streets in an area that the flat-capped Peruke & Periwig barman tells us is the place to head to in Dublin. Admittedly he's biased but he's right. The bars in this neighbourhood prove that Dublin nightlife doesn't begin and end in Temple Bar.
Split over three levels in a Georgian townhouse Peruke & Periwig's combination of quirky design, beardy barman and fantastic cocktails is the perfect antidote to Temple Bar's tourist-ville establishments. The bar on the ground floor, its walls lined with wigs, is the most raucous, pumping out Motown hits amid lashings of ale-supping crowds.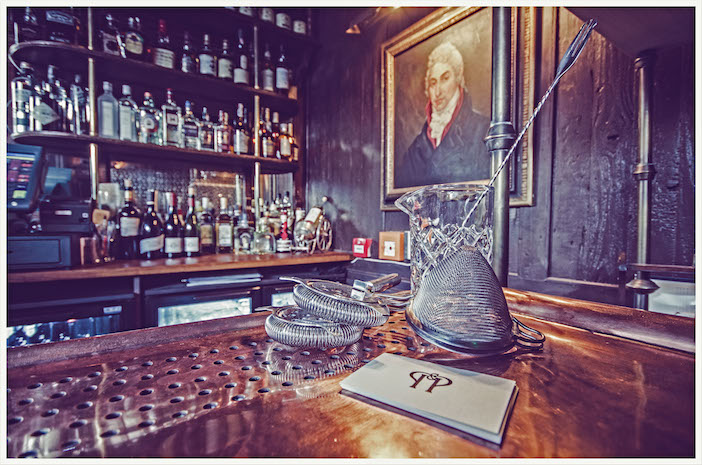 The next two floors are for diners and cocktail sippers. Floral wallpaper and oil paintings line the staircase walls. Giant mirrors, red velour-padded walls and more chintzy china models than you could find at a car boot sale create an aesthetique that is half Miss Havisham's parlour, half Moulin Rouge boudoir. It works but, thankfully, the menu (both food and drinks) don't disappoint either.
Aside from the aforementioned main course, a tenderstem broccoli with ricotta and chilli starter is simple but oh-so effective but it's the peanut butter and salted caramel chocolate mousse that has been made with divine intervention. The extensive cocktail menu comes in hardback books, each cocktail given a literary quote. I can't resist an Invisible Long Island Iced Tea, purely because of its literary accompaniment: "You can't get a cup of tea big enough or a book long enough to suit me." My friend opts for the Smoking Gun, a whisky and tobacco liqueur cocktail that arrives, unexpectedly, smoking and tastes like the inside of a log cabin.
Then there's the Vintage Cocktail Club similarly serving up delicious blends of cocktails in a speakeasy-inspired decor. A fantastic choice of drinks, the barmen have their own individual takes on how to mix a cocktail so don't expect a uniform VCC approach. Nearby, the Blind Pig goes for a similar vibe but it lacks atmosphere. Having said that cocktails 'French 75' and an off-menu tequila/Mojito hybrid are beautifully made: the more cavernous space is better suited to late-night visits.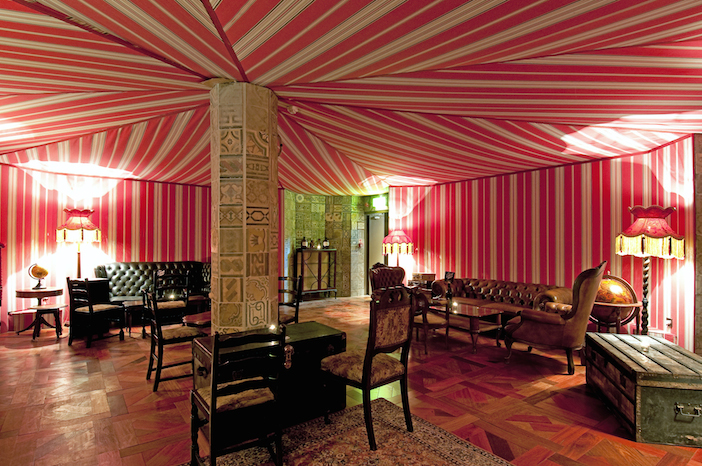 As the night ratchets up a gear, for dancing, great cocktails and amazing decor head to the Liquor Rooms. From the circus-tent first room through to the patio area garnished in fake red flowers this place is bold and fun. The DJ spins his decks from a stage surrounded by theatre lamps and red sashed curtains and fringing. In another hidden cubby a poet, Stephen Clare, sits at his typewriter writing poems for punters.
He writes a poem for  me about tea and cake (my two great loves) and some of the lines remind me not just of afternoon tea but the warm, fuzzy feeling I've got from Dublin too – not least because I'm reflecting on this Sunday evening back in the Merrion's gorgeous drawing rooms with tea and mine blueberry cakes in hand.
'Put together by a welcoming party and delivered with love'. Thanks for all the love Dublin.
Stays at The Merrion, Dublin from €275 per room per night based on two sharing with a full Irish breakfast. For more information, including rates and offers, visit the website.
For more information about Dublin, including what to see and do on the beaten path, visit the Visit Dublin website.