I am in love, with a stud called Mac. We've only just met and yet as soon as we locked eyes I knew he was the one. Tall, dark and handsome, I'm awestruck as his rippling muscles gleam under the intense heat of the Cumbrian sun. As I get closer I can smell him; an intoxicating mix of earth, sweat and leather floods my senses. As the excitement takes over my body I grab my whip and slowly mount him. He is enormous. He is 50 shades of bay.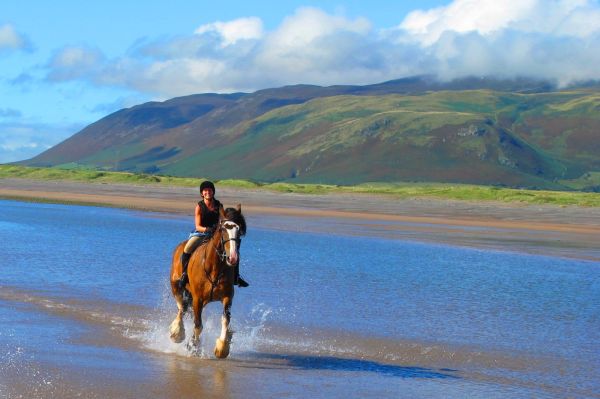 Yes, Mac is one of the most beautiful horses I've seen in years. Well what did you think I was talking about? Okay, I may have led you down the garden path there, but you have to make your own trouble around here. I am in the depths of Cumbria, bordering the stunning Lake District and its timeless beauty is like a scene from a Jane Austen novel; all rolling heather-covered hills, dramatic skies and peaceful tarns. Why, the air smells so fresh I am feeling more wholesome by the minute. So, what is a city slicker doing in a deserted farmyard in the middle of Cumbria with a faint waft of manure threatening to seriously overpower her Chanel? Well, I am here to experience my first riding holiday; a dream I have been eager to fulfill ever since my parents first dumped me at the local stables for a spot of underage slave labour and some peace and quiet. Far from deterring me, the soiled straw and frosty mornings left me desperate for more as I glossed through the pages of Horse and Pony magazine staring enviously at the chaste women pictured galloping through the sea or jumping a fallen tree in some picturesque corner of England.
Well, now it's my turn and having finally made to the Cumbrian Heavy Horses centre I can't help but be a little intimidated as I stare at the 18 hand beast that stands in front of me. A small family-run stable, the only specialised Heavy Horse Riding establishment in the UK, it's nestled in the foothills of the famous fells of Black and White Combe, surrounded by desolate beaches and vast lakes and offering some of the most exciting hacking in the country.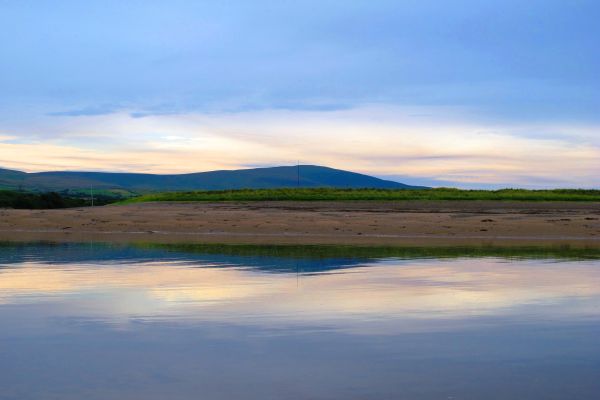 Having spent half an hour mulling around, nervously perusing the information on each of the beautiful (and enormous!!) creatures, I was introduce to Mac, my stallion for the day. Annie, the stables' feisty, and pleasingly bohemian, owner soon made us feel at home and with my excited nervousness left behind we headed off the beach. Bumping around in the trailer it was refreshing to hear someone speak so passionately about the heavy horses. Largely thought of as just working horses Annie has a real passion for promoting these gentle giants as riding companions, and what riding companions they are!
We wasted no time and were soon galloping along the empty shores with uncontrollable grins stretched across our faces. I soon regretted asking for the 'slow one' as my flatmate Heather galloped off ahead of me, covering me in salty wet sand and leaving only her cackle behind. Charging off along the desolate beach as the icy Cumbrian air runs through your hair and the Irish Sea pummels the coastline beside you is totally invigorating and immediately puts London life in to perspective; I felt my worries slip away one by one as my eyes stared hypnotically at the horizon as I charged towards it.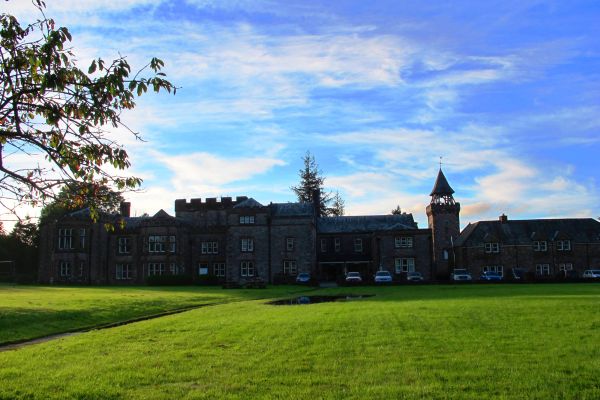 That evening, having headed back to our 14th century manor house hotel, Irton Hall, to shower off my facemask of sand and mud, we kicked off the jodhpurs and headed off in search of a log fire and a large glass of red. Within minutes we stumbled upon Nether Wasdale; the quaint hamlet was set against the stunning backdrop of Britain's highest mountain, Scafell Pike, which was stained a beautiful burnt orange by the setting sun. As we sat beside The Strand Inn's roaring log fire with that satisfying rosy glow that accompanies a good gallivant, we excitedly compared stories from our adventure. Laughing over a hearty home-cooked meal and bottle of plonk in the middle of nowhere, the world of spreadsheets and conference calls couldn't have felt any further away. I can honestly say it was the most exhilarating ride of my life. Stuff Christian Grey, I'd take Mac any day.
View Hotel Info, Rates & Availability
Cumbrian Heavy Horses, Chappels Farm, Whicham Valley, Nr Millom, Cumbria LA18 5LY. Tel: +44 (0)1229 777764. Website.