In the second part of our Ibiza feature, Hannah Berry George, fresh from an MOT for mind and body, seeks out the hedonistic side of the island, but with a little difference…
After a week of being good, I'm only human, and as the retreat ended my friend and I headed off to our next travel destination: Pikes. Up a random dirt track, away from the nearby town of Sant Antoni de Portmany, you wouldn't think anything exists here. But I soon learn that I'm one of few not in the know, as Pikes is legendary for its iconic rock 'n' roll status and all-night parties. It's hippy meets celebrity, dressed in Pucci. It's a no-children zone and a place you come to truly live – where everyone and everything is embraced and accepted.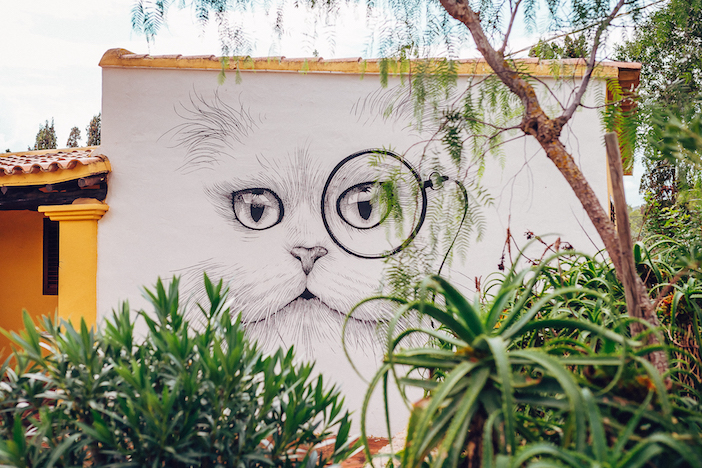 Onsite you have everything you could possibly need and though I wouldn't call it luxury, it definitely rocks a kitsch-retro vibe that you can't help but fall in love with. From their blue plastic sheep that look on as you eat, to their bright pink and green tropical print uniform shirts, and several murals by Rory Jobner, not to mention furniture sprawled around the grounds that looks like its straight out of Narnia, this place is the bomb. It has perhaps the tiniest hotel boutique I've ever seen – in a mirrored cabinet by reception – but one of the best I've come across, with an on-point selection of jewellery, crockery and knick-knacks that fit right, including their own version of the 'Choose Love' charity tee for Help Refugees.
No matter the time of day, you'll have the time of your life here. We made friends with a group of 40 people there for a 40th and were fast absorbed into their temporary family. The food is great (Sunday roast is a must), thanks to their Ramsay-trained chefs, and the gin (try Bulldog with cinnamon and orange) is always served in true Spanish fashion: LARGE.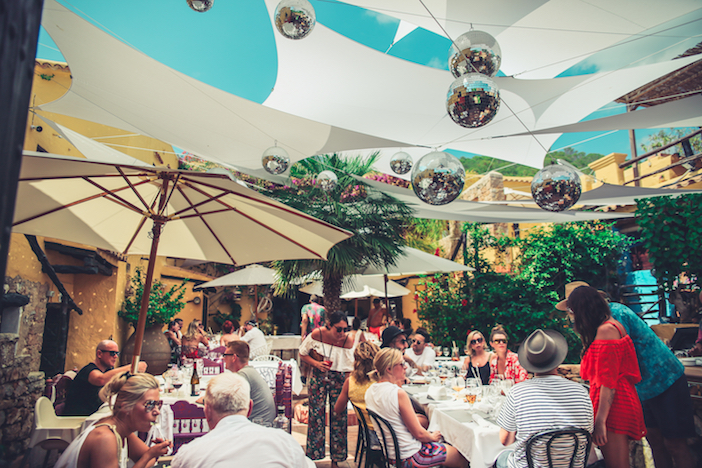 But you can also opt for some TLC – Franky, their resident model-turned-fitness guru will put you through your paces, but really he's more about setting you up to create something that's sustainable in the long term – long after you've waved a tearful goodbye to this Ibizan haven. That's why he's started his Rockovery Retreat. Plus therapists are on hand for treatments on the grounds, on your patio or inside your room. What they don't have, Pikes will find and arrange.
To rebalance we head to Nobu Ibiza Bay. This isn't my first Nobu – I've been lucky enough to savour a tasting menu at their spot in Shoreditch – but it's my first experience enjoying their hotel. Specifically, lounging by their very-inviting pool, on a double sunbed, with speciality-Hawaiian cocktails in hand, and melodic beats – I've definitely found my happy place. And, going back to the food, I notice that you can have a 3-course lunch at Nobu for just €40.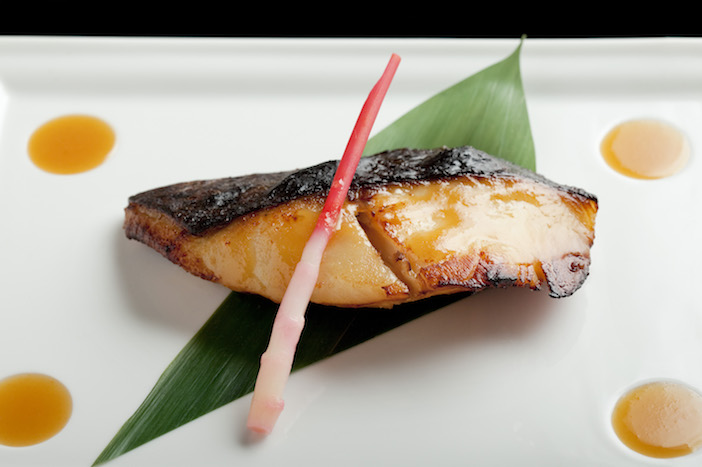 This is WAY better value than at the aforementioned Sunset Ashram and the food is worlds apart. My fav? The Black Miso Cod and Popcorn Shrimp – a well-known fav of a certain Mr De Niro, as is their Matsuhisa Martini – a blend of Ketel One vodka, Hokusetsu sake, pickled ginger and cucumber. However, I much prefer the spicy kick that is served with their Jalapeño & Ginger Martini. But if you want to stay here you've got to be quick, as they were fully booked before they even opened.
If you're into variety, STK might be something that takes your fancy. Drawing a Love-Island-esque crowd this place comes alive at night with burlesque, dancers, drag queens and more. The food could be much improved, but you're not really there for that – you're there to be entertained and entertained you are.
When it comes to sunsets, don't make the same mistake as me: visiting Café del Mar and having all your idyllic-beach-bar visions shattered. It's on the strip which I would personally avoid like the plague – instead, I would head over to the Hostal La Torre for incredible food at reasonable prices and the most serene views at dusk.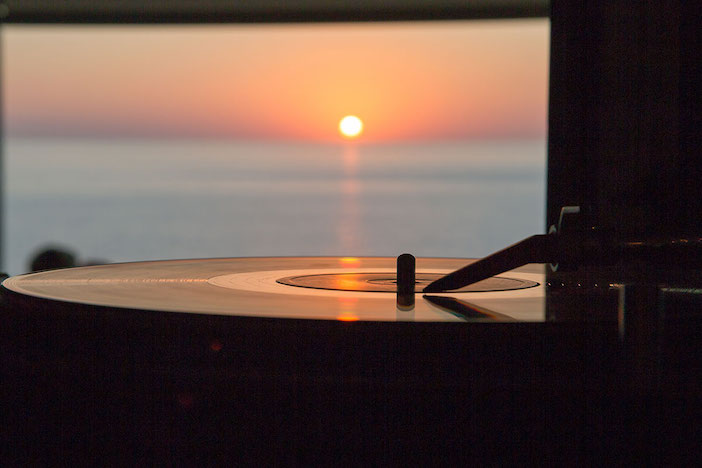 This is my first time in Ibiza and, when in Rome, though I'd been lured by the promise of a retreat, my friend and I couldn't help but add on some extras. By the end of our trip, I feel I've seen many sides to this Balearic island – the good, the fun and the even more fun. The unexpected surprise is an awareness of my body and core that will suck up milkshakes for the rest of my days and give me buns The Terminator will (eventually) be envious of. Good bye bad back, hello Namaste.
The season runs at Pikes from May-October. Rooms start from €150. For more information, visit www.pikesibiza.com.
At Nobu, the season runs from April-October. A member of Small Luxury Hotels of the World, rooms start from €630 per night. If you're not staying at the hotel, ring ahead to reserve a daybed. For more information, visit www.nobuhotelibizabay.com.