The swallows and I were competing for the pool; they kept diving in front of me intent on clearing the way of insects that had beaten us into the water. It was 7:30am and the air was crisp from the chill of the previous night. The water felt good though. My journey to Marrakech slowly washed away and my thoughts turned to the coming days; days that would show me the heart of Morocco, the variety of delights it has to offer and the unexpected wonders hidden where you least expect them, the luxury side by side with simplistic living and the adventure which resides around every corner. My first sojourn to North Africa was underway and I was excited.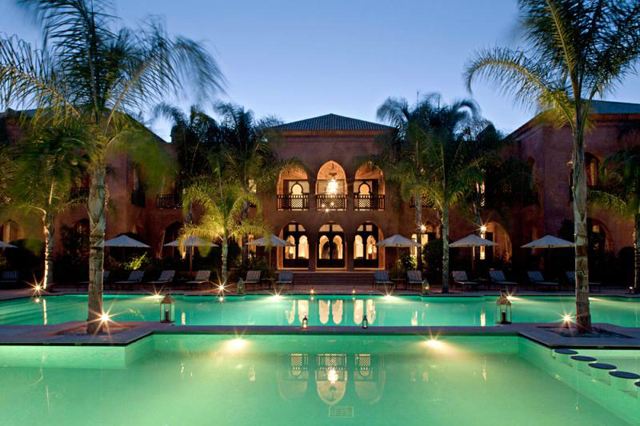 It started in a slightly less adventurous, albeit equally pampering way, at Stansted. Like Marrakech, it has a couple of hidden gems and not just in the form of Speedy Boarding or clean, helpful and sometimes entertaining service on board the flight. I found myself watching aircraft descend and ascend in an endless, wonderful sky ballet from the vantage point in the Number 1 traveller lounge, an executive area open to all travellers with membership. If you are looking for a chance to relax prior to boarding where you can sip champagne or nibble on Welsh rarebit, this is it. It is a quiet contrast to the bustle and frenetic shopping of the main airport, having the secluded and private feel of a John Le Carre novel prior to the protagonist slipping off to commit a dark but worthy deed, it is a secret that you have discovered and probably don't want to share lest it becomes crowded. I contemplate dark, yet worthy, deeds.
Of all the Arabic-speaking countries, Morocco is probably one of the most accessible. Its geographic proximity to Europe within easy(jet) access by both plane and boat combined with the relative liberal attitudes makes it an obvious choice for the adventurer looking for something off piste without being too challenging. A strong and diverse culture permeates with influences coming from a colourful mix of indigenous Berber, colonial French, the Mediterranean and a host of other neighbouring countries.
The flight is quick. About 3 hours give or take and it, forgive the pun, flies by. Once you're up, had a quick drink, annoyed/regaled (delete as appropriate) your fellow passengers, had another quick G&T for inevitable landing nerves and voila, you have arrived. 3 hours. It takes me that long to get back to Devon on the train to see family Stirling. The landing was smooth, we disembark and the heat tickles you right away. At this time of year (it was April) it's that lovely dry heat that caresses your neck and wraps its arms around you while whispering 'Welcome to Morocco'. Keeping the clandestine theme going, my passport was taken away for further inspection. Well, this is exciting! If I wasn't sat in the luxury arrival lounge sipping mint tea and being served baklava by friendly staff I might be worried. My papers return with an approval stamped and a note saying how much the passport officer loved our piece on the Royal Mansou. The aroma of strong, rich tobacco also welcomes you as does the realisation that your Arabic is nowhere near good enough to get you by. Fear not. French is also widely spoken and although you can and should do your best to engage in at least a few words of the national language, you can resort to the colonial European tongue when needs must.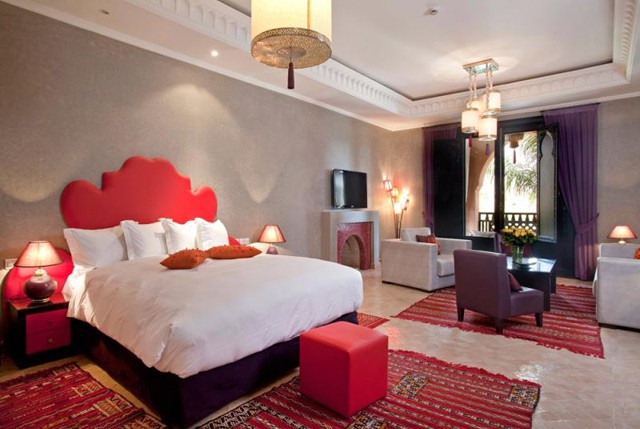 I was staying at the Mosaic Palais Aziza, a beautiful hotel in the Palmerai area of Marrakech. This is a neighbourhood replete with royal villas and well-tended gardens – I was in good company. Far enough out of town to be peaceful, close enough to be only a ten minute drive into the heart of the action. The grounds of the hotel are plush and vibrant; it contrasts to the hot, dusty trip from the airport and the lights of the driveway offer soft illuminations hinting at what might lie beyond the shadows. I arrived in the evening, the sun had set and I was invited to have a welcoming drink by the pool. The clear water, the warm evening air, the lightly spiced cocktail and the Kenny G sax player mingled to make the welcome a singular moment. Hold on. Kenny G? What's he doing here? Ah, he must be my contact, I will retort with appropriate 1980s lyrics in bar later.
I ponder that on the way to my room. This is a junior suite overlooking the pools that has a grand balcony with enough space to accommodate you and your friends for an evening drink or cigar. It would seem that smoking is near compulsory, although you wouldn't know if the last occupant has trimmed the end off a Crowned Heads smoke from the Headley Grange range or not as the room is spotless and without a hint of tobacco. As well as being spotless it is also welcoming; the room is obviously luxurious but without pretence. As stunning as the hotel and pools are I was happy to relax in my room. Another very nice addition was the wood burning hearth, with a fire ready to light on arrival. I resisted the urge to go all Boy Scout – something to do with the hot spring evening, perhaps.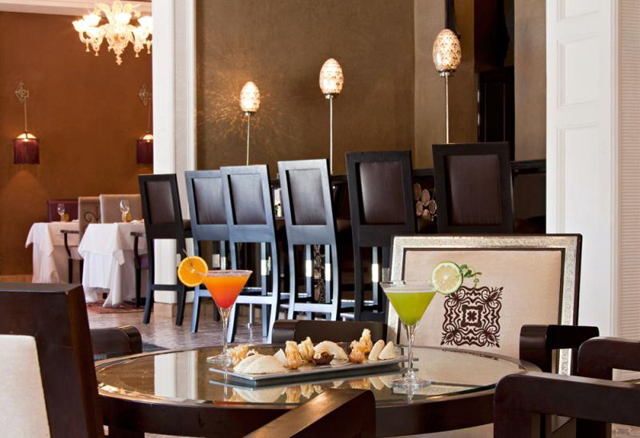 That night I dined outside under a starry sky at the Maroliano restaurant, one of several places to eat or drink at the hotel. Executive Chef Jonathan Spiteri has prepared a selection of dishes that show off traditional Moroccan cuisine infused with Italian aplomb. Lamb and couscous feature as the main. The couscous is divine. A quick chat with Jonathan reveals some of the secrets to the process, including a steaming process over a stew to infuse it with flavour.
The next morning I'm up early and making friends with the fauna and the larger of the two pools. Breakfast is served on the terrace, another fusion of Moroccan and European. Perfect scrambled eggs with a side of vine tomatoes sets me up post swim. I venture to the buffet and select from the artisan breads, olives, honey, dates and a thick Harira breakfast soup. Slightly spiced and made with tomato, lentil and chickpeas, it wouldn't be my first choice but it complements the other foods extremely well. The carefully crafted cuisine, calming location and delicate service combines to give you a warm, very well looked after feeling. I'm very comfortable, very relaxed and very surprised to have not yet made contact with KG.  He's probably busy coding the latest missive back to GCHQ and polishing his brass.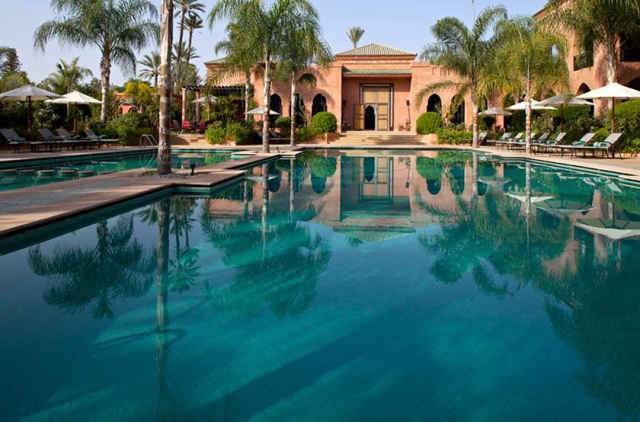 The hotel also has a luxury spa offering traditional hammam treatments and the addition of live music played by a suitably old and wise looking chap on his lute. Champagne and henna tattoos are also on offer – I was offered a manly tattoo of a scorpion, symbol of fighting prowess and deadly power. Appropriate, I thought. Then again, it might be that elusive coded signal. I donned my clothes and returned to my room to await further communications. I didn't have to wait long. The phone and a husky, thickly accented voice said "Do you want to go to Nikki Beach? If so be in the foyer in three minutes."  Nikki who? Was she a friend of Kenny? This must be the clandestine meeting I've been expecting. "I'll be there in two," I replied, already stepping into my Alan Wicker-esque shorts. I reached for my sunglasses and prepared myself for the next part of my adventure.
Next week, our man in North Africa dices with death on a zip wire half a kilometre long, navigates the Souks, tames a camel, delivers his message to Kenny G, meets the mysterious Nikki and returns home a hero. So he professes.