A week ago I was dining in one of my favoured North London restaurants when a couple in their mid to late twenties were placed next to me. Up until that point I had had a very enjoyable meal. Unfortunately their arrival and subsequent conversation left me seething. They were the type of people who consider themselves to be well-travelled, well-meaning, open-minded, and laid-back. Frankly, however, they were dull. For although they had enough financial backing to fund lavish adventures, they lacked any original insight into the experiences afforded them.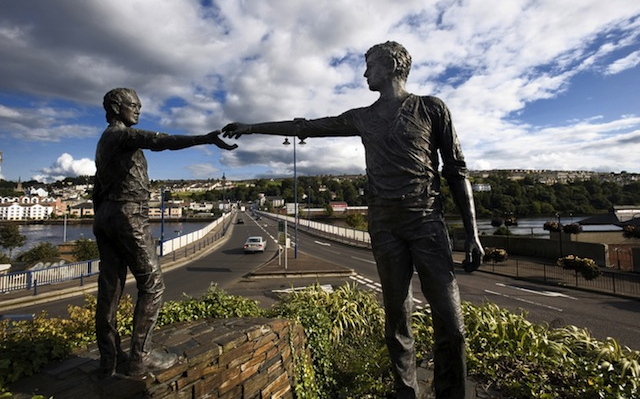 They had just come back from their latest 'travels', this time from Cambodia, and were planning their next 'expedition'. Yet their worry, their deep anxiety, the single most perturbing thing on their minds, was that they feared that soon there would not be a part of the world left for them to explore. They'd already 'done' Africa, and South America, and now they'd gone and done South-East Asia too!
At the time I let my rage simmer enough to get the bill and be rid of these ghastly people, but with hindsight I wished I'd given them a piece of my mind. And so, this piece is in part a letter of advice to that dreadful couple in the North London restaurant – and, reader, I do hope you can forgo your already mounting annoyance with its author and allow him to get to the point…
With globalisation and cheap flights, many feel that the world is becoming a smaller, and potentially more boring, place. The far-flung destinations of the globe are no longer esoteric expeditions, but packaged holidays. So what does the 21st-century adventurer do to ensure that they have unique, individual, extraordinary experiences? The answer: think outside the box and go to Northern Ireland.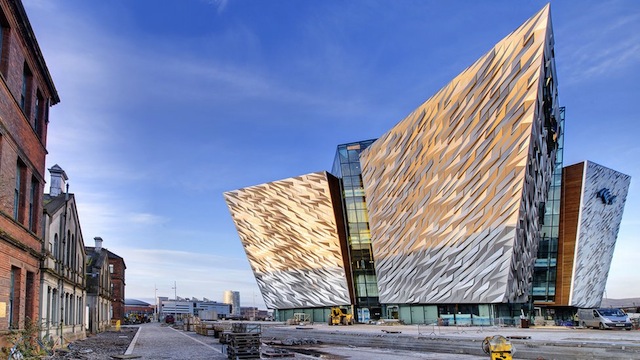 Belfast and Derry are not famed as tourist hotspots. They do not feature in lastminute.com's top ten destinations for city breaks. Yet both offer as much culture, history and beauty as you can find in any of those cities, if not more.
What's more there is a fundamental difference between Northern Ireland and other places; you don't know what to expect. When you visit most cities you're buying into a fantasy. When you go to Paris or Venice you're buying into the Romance. When you go to Berlin and Amsterdam you're buying into the culture and nightlife. When you go to Dublin you're buying into the "Craic". But Northern Ireland's identity is still nascent. It hasn't had the chance to construct a brand for itself, yet it's actually because of this almost amorphous identity that Northern Ireland is special, and deserves the attention of any serious traveller.
In September I went to Northern Ireland for the first time to visit Derry and Belfast. I was enchanted. Unlike some cities in Britain and Europe which seem twee, staid and mundane, Derry and Belfast both feel very alive. They are teeming with history and culture, but not a history which seems antiquated or fusty, nor a culture which is dead and revered. These cities transfix you because they come so close to the bone. You can constantly sense the significance of all that is around you when you're there.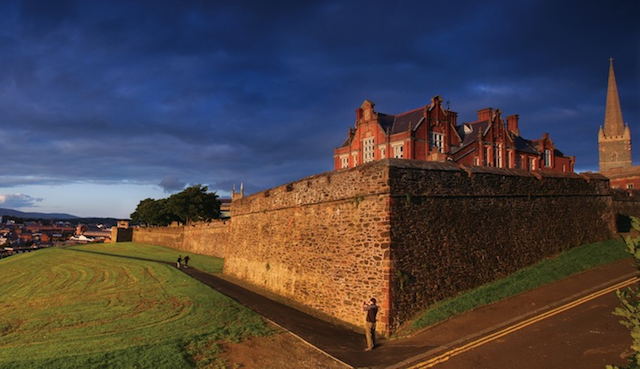 Take Derry for example. When we arrived in the "Maiden City", so called because its walls have never been breached, we were taken on a tour of the city by locals Martin McCrossan and Jim McNulty. I've done my fair share of city tours, and know that more often than not they can end up being a lifeless stream of not particularly amusing trivia. This tour, however, was a remarkable experience. When Martin and John tell you about the Troubles, about Bloody Sunday, lead you through the Bogside, and recount all of the tragic stories that took place in the latter part of the last century, you can't help be moved. It's a tour of a city which has real stories to tell, and with people who were actually there to tell them. Similarly, in Belfast we took a tour of the city by taxi, witnessing the Shipyards that built the Titanic, and the walled districts which bore witness to sectarian violence. They're not comfortable stories to hear, but they are engrossing.
In part the reason why the stories that lie within the walls of Derry and Belfast are so compelling, is because they seem so familiar, but yet at the same time feel foreign. I grew up with pictures of the Troubles on the news, I remember hearing the bombing of Canary Wharf from my home, but in mainland Britain Northern Ireland still seemed foreign to me. It's only by going there that you realize that a humanitarian crisis was taking place in the UK.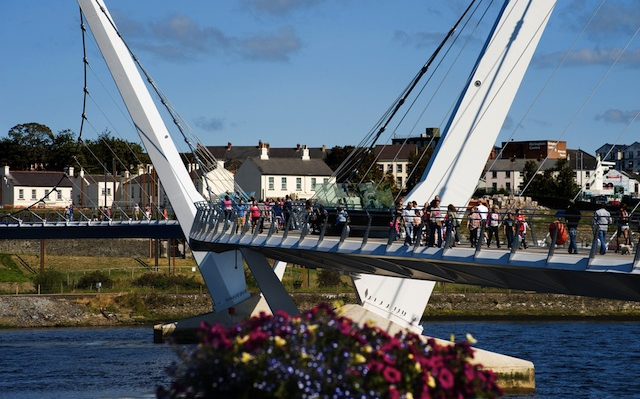 What brings this to the fore in particular are the cities' murals. In amongst the terraced house these gigantic wall paintings tell the stories of the past and the hopes of the future. Indeed they're very reminiscent of other political murals across the globe, particularly in the East Side Gallery in Berlin. Indeed, the similarities are so intriguing it makes you wonder why wall paintings were the most prevalent medium for expressing political division and oppression around the world at the end of the 20th Century.
Yet even though the murals in Berlin are strikingly similar to those in Derry and Belfast, they are not as affecting as their Northern Irish counterparts. The paintings in Derry and Belfast are not artworks in their own right, some are actually daubed on the sides of people's houses. This intimacy with ordinary Northern Irish people breathes life into the artwork. It renders the paintings with immediate significance. It says, these paintings are about these peoples' lives. What's even more remarkable is that this extraordinary, unique cultural expression is right here in the UK, unheard of, and unseen, by so many people in the country.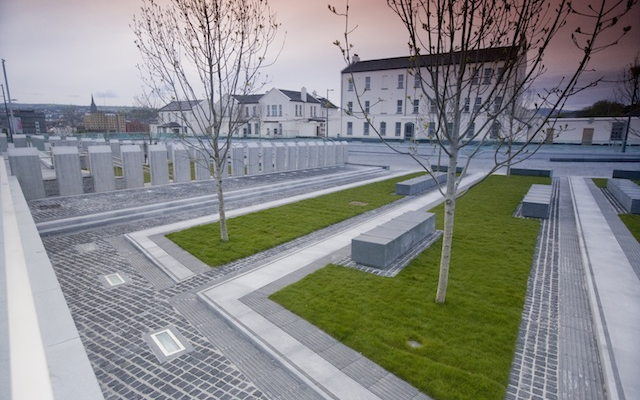 Of course politics and history are still an ever-present facet of life in Northern Ireland, but the country is not like it used to be. Northern Ireland is growing from its ashes with new investment and cultural attractions in both Derry and Belfast augmenting the country's cultural capital. In Belfast, the new Titanic experience allows visitors to revisit the epic story of the passenger liner, while in Derry, the UK City of Culture initiative gave the city a new identity. As part of the year's events, the city hosted open-air concerts, festivals and even the Turner Prize, this investment in culture has given the city a new direction, uniting both sides under an inspiring, optimistic banner.
As a tourist, this new page in Northern Ireland's history is all the more uplifting given the country's stunning landscape. I remember as I flew into Derry airport, being immediately struck by the country's magical beauty. The hills are a dark, almost brown, green, and the skies are a deep sapphire blue. It's a bewitching, dark and melancholy landscape. Also, if you're planning of visiting both Derry and Belfast at the same time you have to go by train. The line traces the northern coast, riding up past the rugged, naked coast, weaving in between misty mountains. Michael Palin described the train ride as 'one of the most beautiful train journeys in the world'. I haven't been on as many of the world's trains as Mr. Palin, but I do agree with him.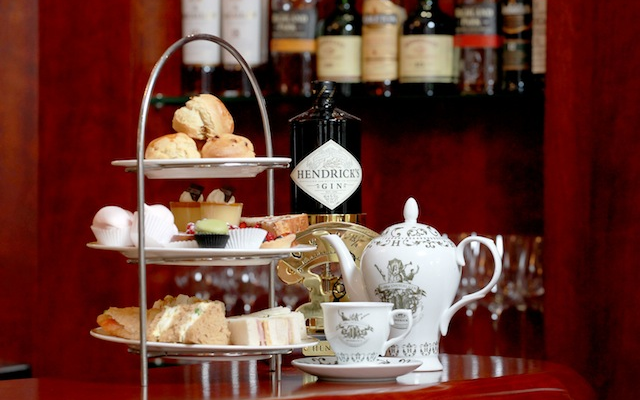 On top of that, the idea that visiting Northern Ireland would involve going to fetid, dingy B&Bs, or some nondescript chain hotel, couldn't be further from the truth. As a 21st-Century adventurer myself I understand that unlike our erstwhile counterparts, one cannot suffer a place unless certain standards are met. In Northern Ireland, Hastings Hotels are where you can rely on such standards. In Derry, The Everglades Hotel offers exceptional service and traditional, established comfort, only a short taxi ride from the city. The restaurant brings in locals from miles around, serving great steaks, a very special afternoon tea and a pretty amazing Ulster Fry along with porridge enlaced with Bushmills whiskey.
Likewise in Belfast, the Culloden Estate and Spa hotel is a perfect retreat after visiting the city. About 10 minutes from the city centre, the five-star, palatial property is set in verdant, spacious grounds, allowing you to unwind after soaking up Belfast's rich culture. I stayed in one of the hotel's suites – expansive, opulent, yet comforting in a very classic sense, with spectacular views over the rolling Holywood hills – a real delight.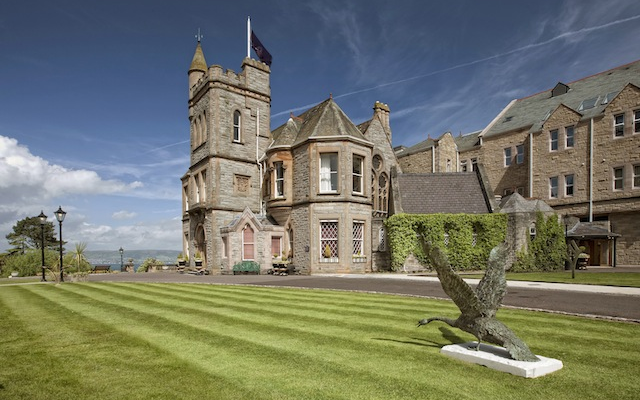 So for those out there who have seen it all, I ask you to think again. Northern Ireland is something rare among the world's destinations: a place that has not yet attracted the attention of the world's chattering classes. I suggest you visit before it does.
Culloden Estate & Spa
View Hotel Info, Rates & Availability
Everglades Hotel