What do you think of when you think of Seattle? That big futuristic tower that looks like a UFO? Somewhere near Canada? Being sleepless in? Perhaps, if you know the west coast a bit – a liberal, sustainable city? And top marks if you know its nickname is the Emerald City.
Seattle is indeed all of those things. It's also home to some huge employers: Boeing, Starbucks, Microsoft and Amazon. With Canada to the north, California below, sandwiched between the Pacific and endless mountain ranges, the result is a diverse, vibrant city with plenty to offer locals and tourists alike.
Gastronaughts will know that in this neck of the woods, Portland, in neighbouring Oregon, has a terrific food scene. Not so much is said about the culinary treats in the Emerald City though. But boy do they know how to do crumpets, clam chowder, chicken steak, coffee, cheese, and hundreds of other items that don't necessarily begin with the letter C.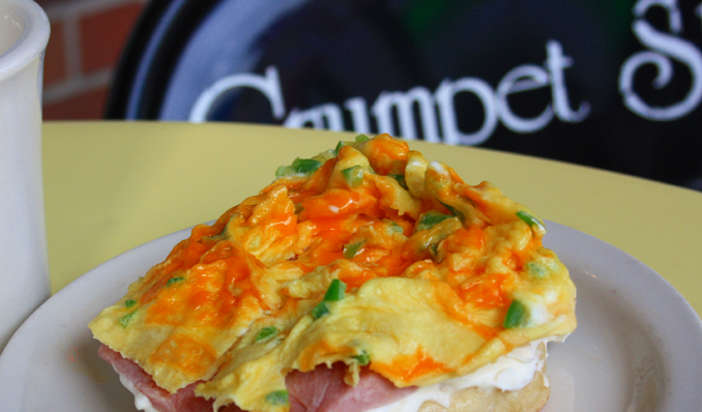 Let's start with the crumpets. If you're feeling homesick, pop into the Crumpet Shop, in the legendary Pike Place Market. Look through a window and watch them lovingly make the crumpets onsite. Then order a savoury (think pesto or Marmite) or a sweet (peanut butter, almond butter, cream cheese, mmm..) and sit back and enjoy the hot thick wedge with a cup of tea.
This bustling public market on the waterfront is packed full of cafes, bars, boutiques, and market stalls selling everything from flowers and fish to dim sum and paintings. Teeming with tourists, but not to be missed. You can try clam chowder at Pike Place Chowder – a choice of no less than eight different types. The indecisive can order a sampler of four cups of chowder for 12 bucks.
The fun of the market is that not only can you enjoy free samples – make sure you wander past Ellanos Real Greek Yogurt, which opened last summer – and buy tasty treats but you can watch the food being made too. Case in point: Beecher's Handmade Cheese. Peer into the cheese-making kitchen, and then order what it calls 'World's Best Mac & Cheese'.
If you have a hankering for cheap Mexican, grab a couple of $2 tacos loaded with pork and pineapple, or spicy beef, from Los Agaves Market. And if you haven't already overdosed on dairy from Beechers and Ellanos, visit the Pike Place Market Creamery for a salted caramel and peanut, or Guinness, ice-cream.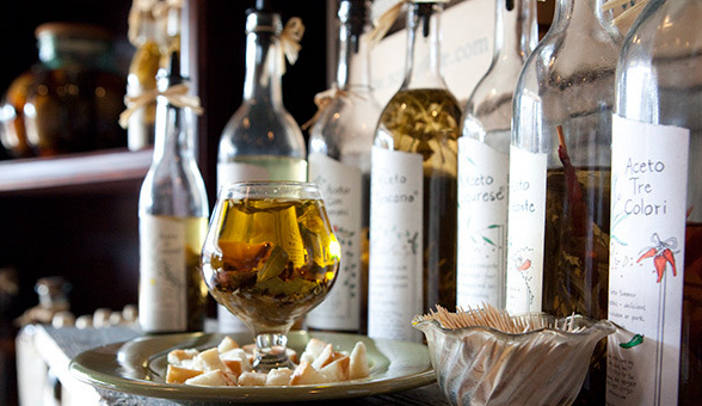 Down the road from the market, you can tuck into a sandwich at the grunge-y Biscuit Bitch (this is the city where Nirvana was born, and Kurt Cobain died, after all). Think a muffin or scone-like biscuit (an American 'biscuit') rather than a Custard Cream. This brilliantly-named cafe dishes up equally brilliantly-named biscuits crammed full of fatty fillings like cheese, meat, and er more cheese and meat. I chose the You Lucky Bitch with Cuban roast pork, grilled onion, Swiss cheese, fried egg and 'bitchy sauce'.
For more upmarket dining, Seattle doesn't disappoint. Whizz 500 feet up to Sky City, the revolving restaurant on top of the Space Needle. Revolving eateries can be overpriced and touristy. But under executive chef Jeff Maxfield's watchful eye, the food is sourced locally, cooked perfectly, and out from the kitchen come innovative dishes such as duck with amaretto cake and cherries and comforting ones too like ham and pea soup with potato bread. The signature martini laced with Blue Curacao and Malibu arrives smoking on dry ice. Quite a spectacle.
Talking of sustainable eating, Local 360 on 1st Avenue sources the majority of its food within a 360 mile radius of the city. The restaurant has a rustic feel with a timber roof above the booths and wild flowers dotted about. On a Tuesday night it's heaving but the 'servers' (not waiters or waitresses, this is America) are helpful and knowledgeable, explaining some of the weird and wonderful ingredients on the menu. Try the steak frites. And the apple icebox cake.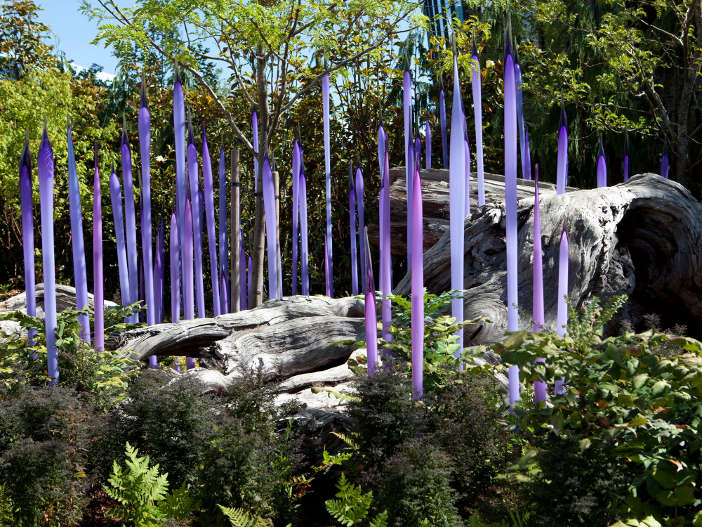 For great food in a more quirky setting, head to the Collections Cafe next to the Space Needle. It's part of Chihuly Garden and Glass, a spectacular permanent exhibition by artist Dale Chihuly. Work up an appetite as you marvel at the glass wonders. Chihuly also filled the cafe with his collections (hence the name). The collections range from the ornate (Mexican silver ashtrays) and the fun (ceramic dogs) to the ordinary (shaving brushes). "I discovered my first collection of beach glass on the shores of Puget Sound when I was four or five years old. I've never stopped collecting since," says Chihuly. "I love to find the beauty in everyday objects." Order the garlic chicken with acorn squash and then treat yourself to the cookie with Bourbon ice-cream, as you soak up the atmosphere and reflect on the beautiful glass exhibition next-door.
When you're not eating, a trip to Seattle wouldn't be complete without:
Visiting Future of Flight, Boeing's museum and factory 25 miles north of Seattle. It's not every day you can watch 747s, 777s, or 787s being assembled right before your eyes. The scale is mindblowing, and your friendly guide has an insane amount of facts to keep you interested.
Getting pampered at the Four Seasons, a short stroll from Pike Place Market. The brown sugar scrub (part of the Northwest Scrub Bar) is at once invigorating and relaxing. You'll smell beautifully sweet all day.
Popping down to the Jazz Alley on 6th Avenue. Go for dinner, or just for drinks, but savour the intimate atmosphere and some of the best live jazz in America in this cool and cosy venue.