Continuing her introduction to China, Gabrielle Sander arrives in the world's largest city for a whirlwind of Deco, dumplings and death-defying bike rides…
The train from Beijing station was as smooth as you'd imagine the sleek, aerodynamically shaped vehicles to travel; even at its maximum speed of 300km/h, taking us the 800 mile, five hour journey east to Shanghai, past lush green flats, paddy fields, tractors tending to the fruits of the land, fishing boats and factories, not once did my coffee threaten to spill over cup; pen roll off the table; shoes slide three seats away… In short, far more entertaining and far less faff than an internal flight.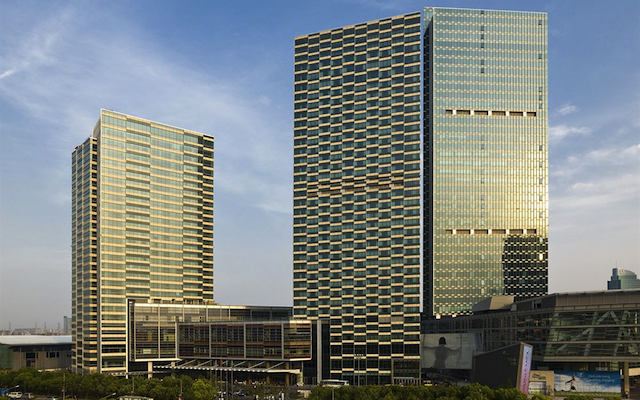 The train pulled in to the city mid afternoon met with a clear blue sky; a perfect backdrop to the ever increasing landscape of China's largest commercial and financial district. A 15 minute drive took us to Pudong, over in the east, where farmlands have been transformed into the cityscape known as 'new Shanghai' and where our not too shabby abode for the duration, Kerry Hotel Pudong, lies. The area is hub for big name banks, luxury hotels, smart residential apartment blocks, skyscrapers and building sites buzzing with construction workers and vertiginous cranes. Most notably, the cylindrical Shanghai Tower, visible on the skyline next to the Shanghai World Financial Center, aka the 'bottle opener' building; once complete, circa 2014/15, it'll be the highest building in China (beating current title-holder, the China World Summit), and at 2,074 feet, the second tallest skyscraper in the world.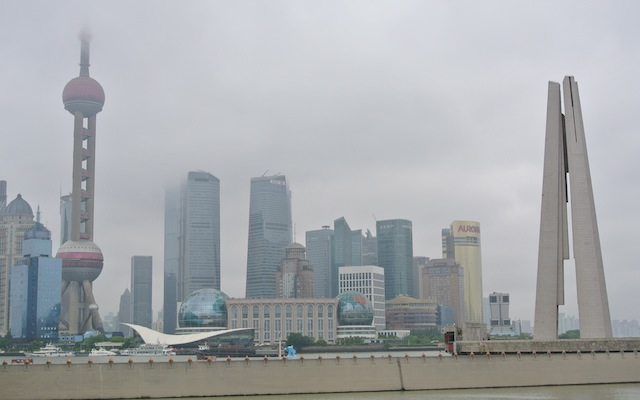 Puxi, in the west, represents 'old Shanghai' with low level shops and narrow alleyway communities, or 'Lilong', inhabiting the same ramshackle old world charm of Beijing's Hutongs, and facing a similar dubious fate as residents are gradually paid off and rehoused in apartment blocks to make way for the modern high rise; 90% of Shanghai was like this, now only a constantly dwindling 20% remain. Bustling wet markets omit questionable smells and pavements bear the memento of The French Concession, with their border of distinctively European leafy green trees.  Pedestrians swarm sporadically in an 'every man for himself' avoidance of motor vehicles and tuk-tuks, which gives the uninitiated a constant look over the shoulder feeling of unease. My heart skipped more than once crossing the roads in Shanghai, and more so, sans helmet in the side car of a vintage 750cc Chang Jiang motorbike.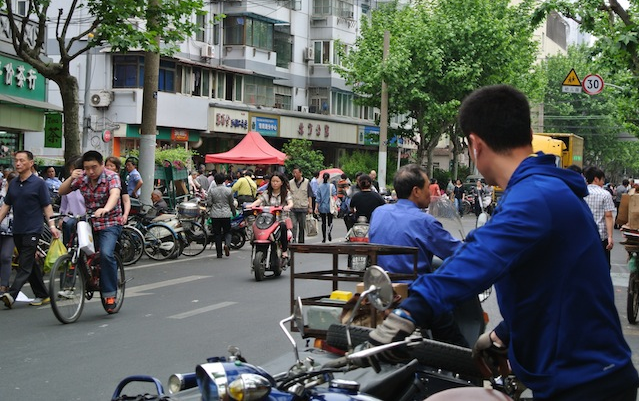 In between near misses with smoke-bellowing vehicles that would wipe the floor with us, had it not been for the quick reactions of rider Shane, we made the best of little time with a whistle stop tour of the city, whizzing at a perfect sightseeing, camera-wielding pace through the districts, stopping periodically for a closer look on foot.
A pit stop over in the Hongkou district revealed a taste of Shanghai's Art Deco side, The 1933 Building; a former abattoir on the banks of the Huang Pu River, designed by British architects Balfour. Taking up residence in the maze of chutes, walkways and arched rooms once dominated by cows are a handful of places to eat, drink coffee and shop, and a glass top floor that allows you to peer through the levels, spiralling down in snail shell fashion like a scene imagined by Escher. A must visit for architecture fans, not only is its intricate lattice detailing a pleasure to look at; it marks the first building to be made entirely from reinforced concrete.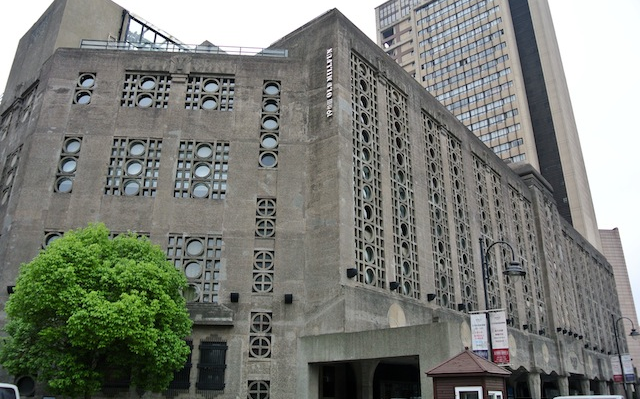 We finished up at The Bund, Shanghai's famous riverfront area where building heights are restricted and the towering cityscapes of Pudong provide a stunning backdrop where tourists and more newlyweds then I've seen outside a wedding fair jostle to capture the moment on camera. It's a beautiful strip, lined with more Art Deco (the city boasts one of the largest collections in the world) in the form of 5-star hotels and designer stores, and a roof top bar on the House of Roosevelt that's said to do a mean cocktail.
A visit to a new city would be incomplete without sampling its fare, and boy did we sample!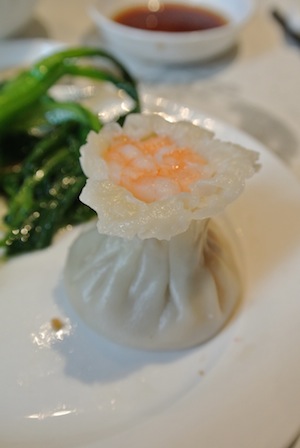 Before exploring the bustling souvenir shop tourist hub that is Yu Gardens, Anren Jie, and a stroll around the 400-year-old charm of the Inner Garden, we fuelled up with one of man's greatest creations: the Xiao Long Bao. Served up at Taiwanese restaurant chain Din Tai Fung, these delicate soup dumplings are so laughably, hug-of-a-dish moreish, I would fly the 5,000 odd miles back for another heavenly helping.
At our two-night abode, Kerry Hotel Pudong, the onsite food and liquid options were no less impressive, managing to cater all palates at The COOK, with a cheese room offering 42 worldly cheeses and an impressive consortium of live stations whipping up fresh dishes from India, France, Japan, Korea, and beyond, as well as a cake pop, delicatessen and coffee counter.
The BREW is Kerry's microbrewery and bar serving award-winning handcrafted beers on tap, from citrusy Hoegaarden-like wheat, through cider – aka 'beer Champagne' – to dark, and a vanilla milk coffee stout that would be lovely poured over ice cream, created by master brewer Leon Mickelson. The BREW's eight shining silver fermentation tanks are visible through a glass wall from the bar, with a winding staircase that takes you up to The MEET, the onsite steak restaurant, worth travelling across town for the decor and nifty horned napkin and bread art alone. Although, the meat really is the selling point here; namely the 'Ningaloo Tomahawk' their signature cut, a hunk of Wagyu Australian beef fit for Fred Flintstone, hung for 21 days and cooked in a cherry wood oven for 30 minutes, omitting a scent that would make a vegetarian reconsider their morals. That and a dollop of the truffled gratin dauphinoise, with a glass of Argentinean Shiraz, could well be my last supper request.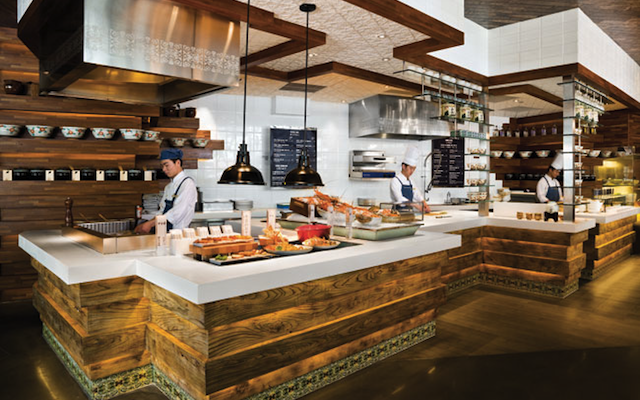 Not one to encourage a gluttonous, sedentary lifestyle, Kerry Hotel laughs in the face of lame excuses such as 'I forgot to pack my gym kit' for letting one's exercise regime go to pot on holiday. For the onsite Kerry Sports, Shanghai's largest fitness offering, has a stash of Nike trainers and clothing for guests to borrow and then return, sweat and all, when they're done. With treadmills looking out to the sights, and guest access to running paths in Century Park opposite, there are worse places to workout.
To loosen tight muscles and prep for the long flight home, there's the adjacent spa where I enjoyed truly the best massage of my life. So far. I've waxed lyrical about others before, but this was something else entirely. After a self conscious start involving stretching and breathing exercises, aided by a wooden bar, to 'open up the meridians', inspired by Wushu martial arts, but feeling more like someone, quite possibly with CCTV, is having a laugh; the masseuse's elbows, fingers, and quite possibly, knees and toes were used to wheedle out the knots and aches. Zoning out and then woken up with my own un-ladylike snore was further indication of just how good it was. Needless to say, with that Tomahawk feast following shortly after, sleep came easy that night, and I awoke to a dark, drizzly scene that reminded me of my final destination: home.