Self-named 'A window to the soul of South Africa', the Blue Train encompasses the diverse landscape of South Africa's arid plains, mountains and townships, providing an often startling glimpse into a country still struggling to outreach the grasp of poverty. The legendary Blue Train formed part of my epic journey and introduction to my chap's homeland, beginning in Johannesburg before transferring to the bush via light aircraft; thrust from the high-rise buildings and high security of the city to absolute wilderness, where security is of quite another kind, namely protecting guests from leopards and other predators none too keen on tourists with a Big Five checklist.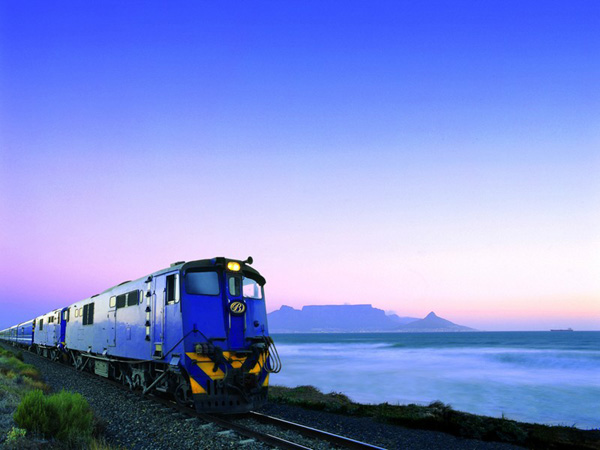 We continued our extensive tour of South Africa by embarking the Blue Train at Pretoria Station for a 27-hour route taking us to Cape Town. Covering 994 miles – further than John o' Groats to Lands End – this may be nothing out of the norm for those raised in a country the size of South Africa, but to me it was a huge adventure, tinged, as all luxury train journeys should be, with glamour and a dash of mystery.
When it comes to travelling, I would sooner avoid it; planes terrify me (especially the light aircraft kind) and boats make me seasick, but somehow I can't get enough of luxury trains. The Blue Train has long deserved its place as one of the top locomotives in the world. Known as the Union Express in the early 1920s, the original route took passengers from Johannesburg to Cape Town as a luxurious connection to the ocean liners of the day, but was forced to discontinue its service during the Second World War. The train resumed service in 1946 and was renamed The Blue Train in reference to its smart 1937 blue steel carriages. More recently, the train underwent a £7 million makeover in 1997 before re-launching and welcoming Nelson Mandela as one of its first guests.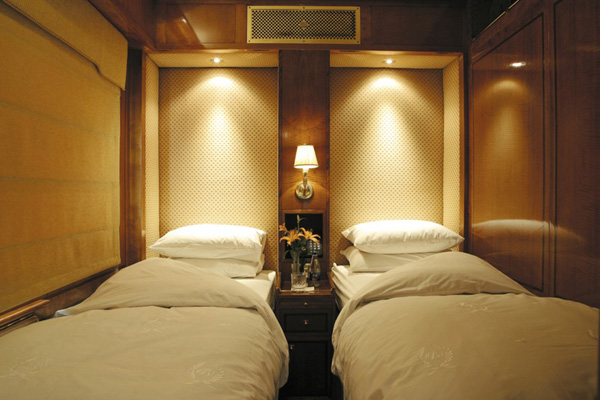 Once onboard we were introduced to our butler, Jan, who ushered us along the plushly-carpeted corridor to our beautiful birch-panelled De Luxe suite, one of 36, complete with gold plated fittings and a marble en-suite shower. He pointed out the wardrobe, safe, television, telephone, air conditioning, automatic blinds, and sofas which disguised the pull-down twin beds which he would magically adapt for us during dinner, unless of course we wanted an afternoon doze? In which case he could be contacted via telephone, a simple three digit number granting any requirement.
Noel Coward might have spent his 1944 overnight journey on the Blue Train composing songs, but beyond reading Paul Theroux and staring out of the window, drinking and eating appeared to consist of the main entertainment. Indulgence is the name of the game. Brunch, served in the dining car at 11.30am, did not consist of dishes such as Eggs Benedict as I expected, but a four-course lunch accompanied by the finest South African wines. We smiled when our waiter recommended the unoaked Constansia Uitsig Chardonnay 2011 – our next destination – perfectly complementing my first course of salmon tartar with caviar. I followed with the Karoo lamb rack, pink and juicy as I prefer and beautifully presented.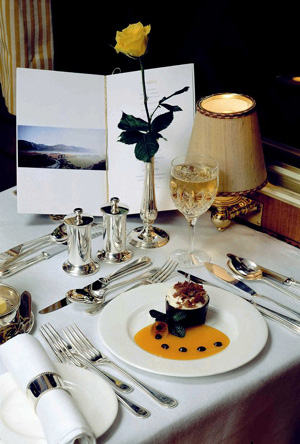 The chocolate cheesecake caught my eye for dessert, and exercising true extravagance, my chap and I even made it to cheese and biscuits. The streamlined kitchen of the Blue Train defies logic; despite not being large enough to swing a leopard in, the food produced is of a standard to match any fine dining restaurant.
I was beginning to think it was Christmas Day, the only day of the year when it isn't frowned upon to drink spirits before 10am and no amount of gauging satisfies one's desire to sample a little of everything going. High Tea was a relaxed yet lavish affair in the lounge car, with fresh cream scones, rich chocolate cake and smoked salmon and cucumber sandwiches served buffet style. Feed me till I want no more! Many passengers  seemed weary and dazed, wisely partaking of a restorative tea before facing the next round of drinks. There was nothing unruly about the clientele, mainly Americans, British and South Africans celebrating anniversaries and intent on making the most of this once-in-a-lifetime trip by maximising their food and drink consumption, unlimited save 'French Champagne' and caviar. Soon, however, it was clear to see some of them had fallen victim to the 'afternoon hangover' or at best severe indigestion, with the lounge car gradually emptying as they peeled away to their cabins for a nap prior to the Kimberley diamond mine excursion.
Due to the train running almost three hours late, the Black Hole as it is known was black indeed by the time we arrived, a surprisingly good turn out from guests no doubt keen to have a stretch of the old legs before another four-course meal. We peered at the impressive disused cavity – once mined by my great-great-uncle and now filled with water – whilst sheltering under an umbrella, the night sky occasionally lighting up from the thunderstorm some distance away. We listened to the fastest lecture on diamonds the museum's guide had ever delivered; he was under strict orders to get us all back in time for dinner. Besides, our onboard boutique had plenty of diamonds for anyone wanting a souvenir.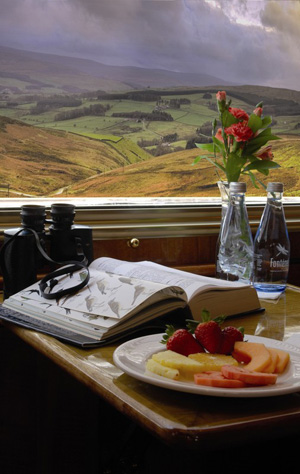 Although sleeping on a train is never easy, where else would simply raising the blind in the morning prove such an excitement? We found ourselves in the Karoo where the British and Boers once fought and 20,000 British troops, including Lord Randolph Churchill, were stationed. We returned from breakfast to find a miniature gold plated Blue Train carriage clock as a keepsake – a charming gift considering time on the train seemed only to be marked by the announcement of meals. Unlike any other transport in the world, one is pleased when a two or three hour delay is announced over the tannoy, along with a further opportunity for gluttony with some unanticipated 'hot snacks'. However gently the train rumbles on (90kph) it is impossible not to wish it were slower, so precious is each moment of this sublime mode of travel. The rows of vines belonging to the Cape seemed like an oasis after the arid plains of the Karoo, but sadly signalled the close of our journey – the termination of which couldn't get any more staggering than my first glimpse of Table Mountain.
The Blue Train currently has a special running where guests travelling on The Blue Train can enjoy one complimentary night's accommodation, either side of their journey, including bed, breakfast and their transfer between the hotel and the station at either 131 on Herbert Baker in Pretoria or the Taj Hotel in Cape Town. For more information, please contact Ethos Marketing on info@ethosmarketing.co.uk or tel: 01403 243 619 for brochures and a list of tour operators specialising in South Africa. Or visit the Blue Train website for more info.
The author flew to South Africa on British Airways Club World, London to Johannesburg from £2,600. For more information and bookings, visit the website.