Some would say you'd want to escape winter when winter comes, but Toronto does winter rather better than most, as Ruth Emery discovers…
'Well, you're not going anywhere today,' drawled the man at the departure gate in a deep Canadian accent. The Air Canada chap has just looked at my passport and this is his response. Everyone else is strolling past me onto the flight to Toronto. I panic and look helplessly at my fiancé. My heart beats faster and tears start to glisten in my eyes. 'What? What's wrong?' I stammer. He throws his head back and starts to laugh. 'Stop doing that to the poor passengers!' his colleague teases. He waves me through and chuckles.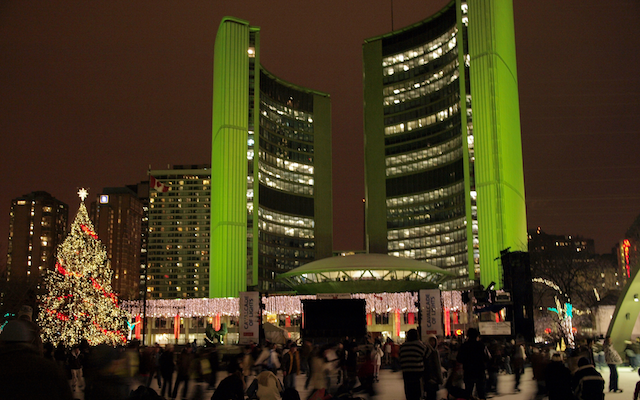 On board the Embraer 190 my pulse starts to slow down. In the world of North American airports, brisk and solemn interrogation is normally the order of the day, not last-minute jokes. Anyway, onwards we fly and after 2,000 miles or so from Seattle we land in Toronto, the capital of Ontario, Canada's most populous province.
Nestled between New York City, Chicago and Montreal, Toronto is the continent's fourth-largest city, ranked behind Mexico City, NYC and Los Angeles. It claims to be the world's most international city, with 50 per cent of the population born outside of Canada. Its beautiful beaches next to Lake Ontario, where the mercury often sizzles past 35 degrees C in the summer, makes the city a great holiday destination. Come the winter, the temperature plunges, and the city lights up with Christmas trees and markets, ice-skating rinks and even toboggan runs. It may be cold, but Canada knows how to do winter in style.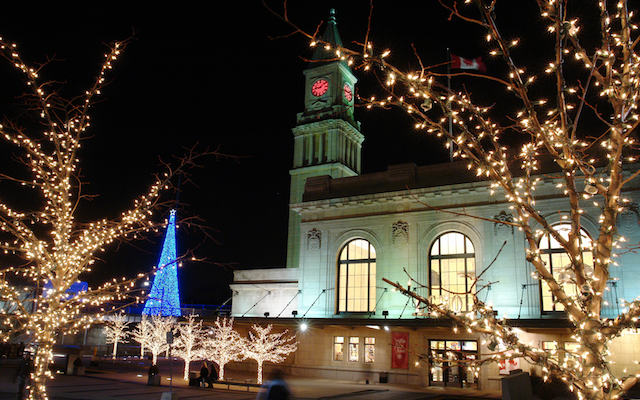 After a slightly traumatic start to my wintery weekend – thanks to that deeply unfunny joke in the airport – I need some pampering. And I know just the place. Opened in 2012, the Four Seasons soars 55 storeys above Yorkville, Toronto's glamorous shopping and restaurant district. The temperature is minus 5 degrees C outside, which translates to about minus 15 degrees C in 'realfeel'. Yapping away about what the 'realfeel' is seems to be a North American quirk. We Brits may love talking about the weather but our friends across the pond have trumped us by inventing a measurement that takes into account humidity, cloud cover, wind, sun intensity and the angle of the sun, as well as the humble temperature reading. Minus 15 realfeel is definitely a good reason to grumble that it is 'bloody freezing' in my English accent and run into the Four Seasons for a soothing massage.
The spa calls itself a 'sun-filled urban retreat' and is the largest luxury hotel day spa in Toronto. From the moment I'm greeted at the reception desk to then meeting my masseuse I know I'm in good hands, and in the most exquisite setting. My masseuse offers me a choice of four essential oils for my aromatherapy massage (I choose the sweetest one that oozes caramel and chocolate – not literally, that would be messy. I just mean it smells of caramel), a choice of pressure for the massage and then six music options. Decisions, decisions! Luckily this is the hardest part of the experience and after a brief chat, it's time to get down to the massage. Sixty minutes later I've had exactly the right balance of slightly vigorous expert massage with long, gliding strokes to reduce tension and soothe sore muscles. Ahhh bliss. The perfect way to warm up, and relax, after the flight and the freezing temperature outside.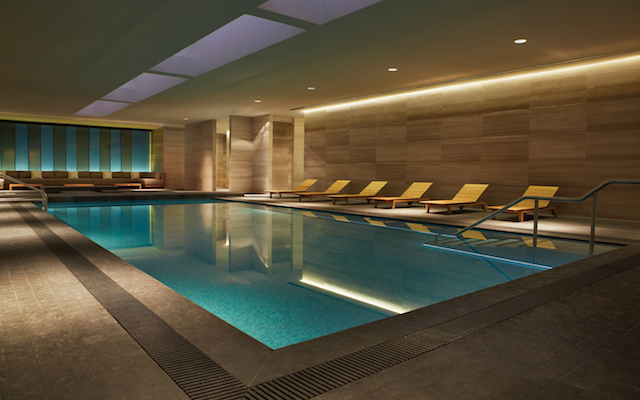 There is also an indoor pool, whirlpool and steam room, but lying down and being pummelled for an hour has left me hungry. So it's downstairs to Café Boulud for lunch. I'm dining with a newly-pregnant friend (a Brit who emigrated to Toronto 18 months ago – not another expat) and we task Michael, our handsome, bearded waiter with fetching us some brilliant drinks – a cocktail for me, a mocktail for her. He (and the barman behind the scenes) don't disappoint. We're presented with a frothy golden drink complete with flower petals, and a martini glass with a beautiful ice-cube filled with rose petals. We have no idea what's in them, but they taste good and they look just the part for our glamorous 'ladies that lunch, dah-ling' catch-up lunch.
The restaurant is a trendy, light-filled, loft-like space with funky modern art (think Kate Moss and Charlie Chaplin gracing the same graffiti paint-splattered poster). The food is light, seasonal and locally sourced from Ontario and the Niagara Peninsula. A beetroot and burrata cheese salad is beautifully presented and delicately flavoured, the lamb burger with aubergine and feta is glossy and satisfying. Desserts are like works of art and have us swooning over pistachio, pear, caramelised milk and salted caramel flavours.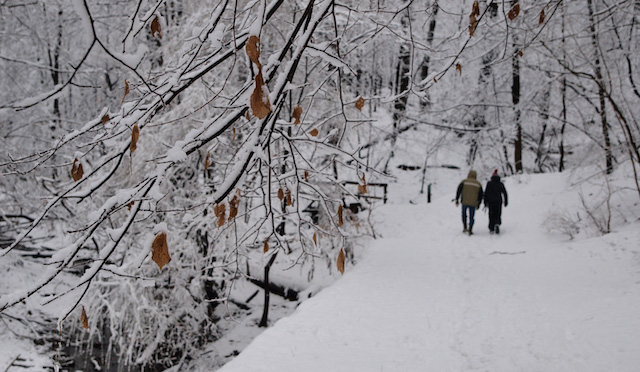 As cosy and comforting as the Four Seasons it is, it's time to wrap up warm and see some of Toronto before my short weekend trip is over. We whizz up the CN Tower (the world's tallest building until the Burj Khalifa in Dubai and Canton Tower in China were erected in 2010) and walk over the glass floor, marvelling at the city below us, at 342 metres high. St Lawrence Market is a good choice to escape the crazy realfeel weather outside too: a gourmet food market where you can sip Canadian wines or check out meats as diverse as kangaroo, venison and turtle. The snow begins to fall (the first snowfall this winter) and wrapped up like Eskimos we wander through the rather lovely Distillery district. Historic buildings house art galleries, restaurants and boutiques. We dash in and out, our noses red from the cold. Eventually it's time for Soma, an exquisite handmade chocolate shop/factory/cafe. We devour gingerbread toffee and drink rich, smooth hot chocolate. For foodies following the cronut, duffin, etc bakery craze, you can also visit Clafouti Patisserie et Cafe, which invented the crookie. We snaffle the last one in the cafe – a croissant packed with crushed Oreos and baked with one on top.
My muscles massaged, my belly filled with delicious treats from restaurants and cafes, some beautiful snowy walks and a few holiday photos snapped, it's time to go home. Toronto, it's been a pleasure, thank you for my luxurious and cosy city break.