An ex Swedish Naval officer and a charismatic Klaus Kinski lookalike are trying to bring affordable sailing to all. Confirmed landlubber Yolanda Zappaterra joined them for a few days in the Dalmatians…
S and I have very little in common, but we are on a journey of discovery together.  S, who has spent years writing about super yachts, has been on yachts that have full-sized discos with pole-dancing stations lining the bar. On yachts whose indoor swimming pools morph into dance floors. On yachts with luxurious multi-sleeping quarters for harems. And on yachts where the spa is bigger than that of many a luxury hotel. What she has never been on – or at least not for a very long time – is a 42ft yacht, and it's clear that it's come as a bit of a shock. I too have never been on a 42ft yacht, but then I've never been on any yacht. I live in the very urban London borough of Hackney, where the nearest body of water is a canal that I've also never been on.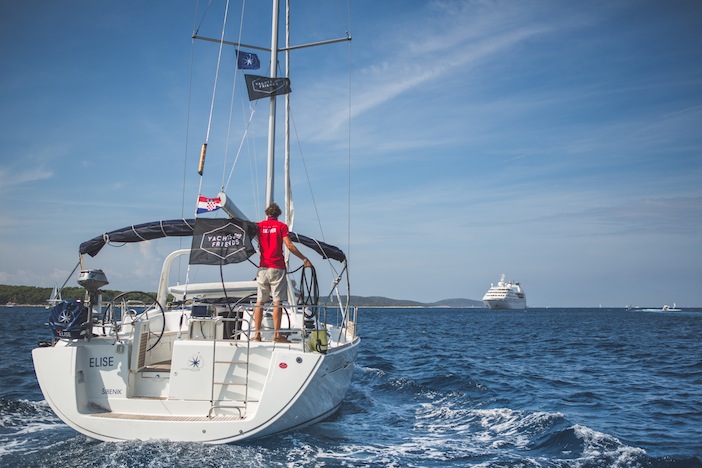 Which isn't to say I don't like boats. I love boats. The bigger the boat the better I like it. So while both S and I are wary about being on this one, the things that I, a brand new mariner, am simply nonplussed or slightly bemused by, S is horrified by: bathrooms no bigger than a half-sized IKEA wardrobe; toilets you can't put toilet paper into; constant close proximity to fellow passengers; 'cosy' cabins with no air-con; tiny berths; constant close proximity to fellow passengers; shared wi-fi we must take turns to use; and did I mention constant close proximity to fellow passengers?
If you've never done it, the best way to describe yachting is to say it's like being locked in a caravan. It's also the worst way to describe yachting. Yes, the spaces and constraints are similar, the comforts we take for granted have to be rethought, and near-automatic responses and actions have to be modified, but there is something intensely liberating about being out on the open sea, with nowhere you have to be, nothing that has to be done, and sometimes nothing to see for hours except the distant horizon. Its serene beauty is calming, and the vast space around you frees your mind and spirit in wonderful ways.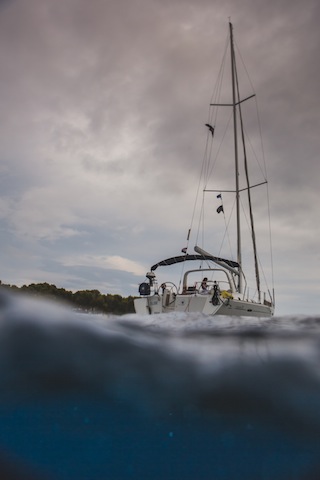 And beneath it all is a constant tiny frisson of excitement because, even in quiet, balmy waters like the Med, the Adriatic and the Aegean, being at the mercy of the sea and the elements is exhilarating. Conditions can change quickly and dramatically, and responses when they do need to be equally speedy. From just a few days on a yacht, it's easy to see that it takes knowledge, intuition, courage and an unflappable, decisive but flexible nature to be a good skipper, and luckily, with Charlie, we are in the hands of a very good skipper. They're one of the things yacht charter agency Yachts & Friends prides itself on – that, and the desire to make yachting holidays affordable and accessible to all.
Yachts & Friends's young Swedish owners William Wenkel and Erik Biörklund have form in this area; in 2006 they set up The Yacht Week, a bold scheme that involved offering young party people the chance to sail around Croatia for a week as part of a vast flotilla formed of hundreds of small (50ft and under) yachts, stopping daily at a different port to party the night away at huge, rave-like events organised for them. For just £500. It was, unsurprisingly, a huge success, and quickly led to The Yacht Weeks in Croatia, Italy, Greece, and the BVI. This year, for the first time, there will be a Yacht Week in Thailand, its market the growing Antipodean hordes who have been flying halfway across the world for a piece of the action.
But having set up The Yacht Week to respectively try to impress a girlfriend and follow in the footsteps of a long, illustrious marine family, Erik and William are hitting their thirties, and craving a quieter, calmer element to their business. Which is where Yachts & Friends comes into the picture. As part of parent company European Travel Ventures, which also includes The Ski Week and a fort (but more on that later), the broad basis of the idea is not dissimilar to Yacht Week; similar-sized boats sleeping up to 12, with the option of a skipper and hostess, which cruise the islands of Croatia, Italy, Turkey, Greece, Sweden, BVI or Thailand for a week. Guests can come with their own itinerary or devise one on arrival or as the week progresses, making use of the skipper's recommendations and local knowledge if they wish. Prices start at less than €500 per person, and that's pretty much it.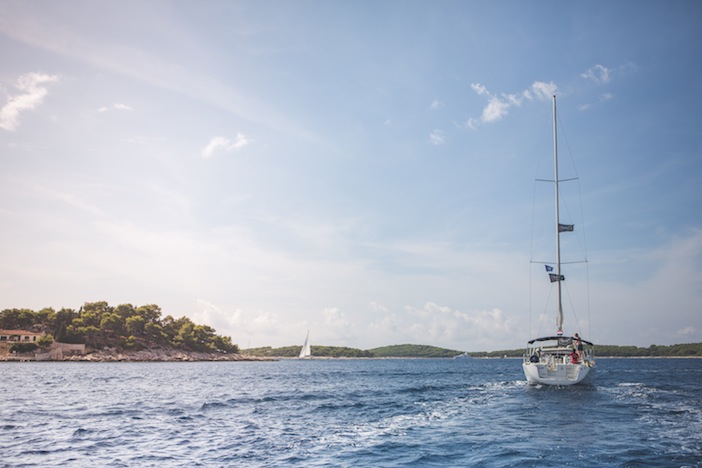 Coming at the venture from the perspective of someone who not only has never been on a yacht, but is also a nervous swimmer and a nervous socialiser,  I was, as you might expect, nervous, but also sceptical of the appeal. So I was unprepared for those aforementioned emotional responses to the sea and confinement on it, and most of all for the pleasures to be had from approaching various destinations from the waters, mooring at pretty marinas and old fishing harbours and being able to explore places for as little or as long as you want without being tied to itineraries and ferry schedules.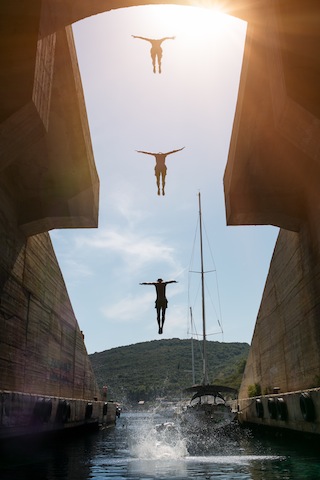 Our first port of call, Vis, was an excellent starting point, an idyllic Dalmatian island with one of those suitably pretty marinas, some lovely waterside walks, and a picturesque interior covered in vineyards and dotted with perfect swimming coves and diving sites – like Rogacic, where we drop anchor for a while so that the braver sailors among us can jump from the top of a missile tunnel into the cool clear waters some 30ft below. Vis's surface shows little of its strategic military importance, but taking a history tour in a converted jeep with Jonathan Livingston Tours immediately steeps you in the island's fascinating past – one  centred around its position as the nearest Croatian island to Italy, and its WWII role as a tiny, undetected base for Allied attacks on Nazi-dominated Yugoslavia.
Here are a supposed submarine tunnel, evocative gun towers, the caves in which wartime partisan leader Josep Broz Tito is said to have hidden, an old airstrip for the RAF (created by locals and servicemen twisting grape vines out of the ground by hand and tramping the earth down with their feet), an English cemetery, and even a rudimentary cricket ground, surrounded by fig trees and vines. Such sites act as atmospheric markers for Britain's long relationship with the only island in the Adriatic to withstand Hitler's onslaught – thanks in part to Winston Churchill sending a small detachment of Royal Marines and the RAF here to help Tito fight German forces from 1943-1945.
Up above the harbour, a site was about to reopen that marks an even older military relationship between Britain and Vis. Fort George was established in 1813 after another British victory here – this time by the Royal Navy  during the Napoleonic Wars in a sea battle that saw British frigates rout a much larger Franco-Venetian force. As visiting Brits invited to the ceremony and celebrations marking the fort's reopening 200 years after it was established, we felt suitably honoured – and immensely proud when our hosts turned out to  be none other than the ever-busy, ever engaged Erik and William.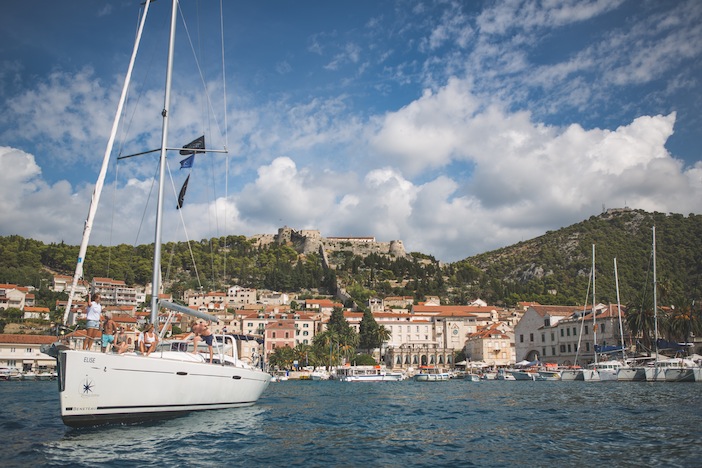 Having discovered the abandoned fort in 2010, the pair immediately saw its potential as a public space that could act as a spectacular restaurant, elegant garden bar and events venue, but they also loved the idea of restoring the sadly dilapidated fort, and creating a small museum dedicated to the rich history of the island. Fort George is now all of those things, and there are plans for artists' studios and a hotel on the site too, creating a cultural hub that supports artistic and creative practice across all disciplines. In this, there's a sense of Erik and William wanting to give back, to engage on a deeper level with the islands that have given them so much in the last few years, something that Erik confirmed the next day before leaving us to our island adventures.
On the tiny island of Solta, I felt how special it was to dock somewhere like the port of Maslinica, a modern harbour set in an old, quaint and peaceful fishing village. From here, we swam in the clear blue water – so clear that our skipper Charlie dived for starfish – and watched a stunning sunset before setting off for the gorgeous Sesula bay, where the stars shone impossibly bright on the rustic Sismis Restaurant set high above the bay and serving Croatian dishes like octopus peka. For the next couple of days this we sailed calm seas, swam, explored the Blue Caves of Bisevo island, and anchored in beautiful coves and bays for simple lunches. We spent our time picking up sailing tips if we wanted them, compiling sailing playlists that didn't include Rod Stewart, and plugging ourselves into our own playlists or sunbathing at the front of the boat when we felt the need for solitude.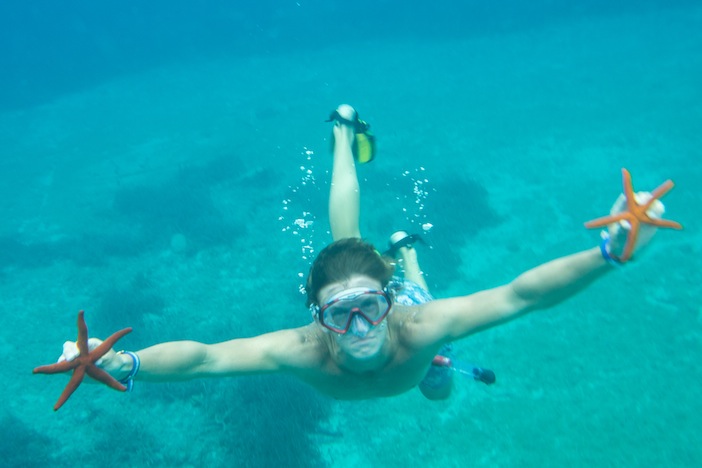 On our last stop, improbably docked on the exclusive Riva at the party island of Hvar alongside superyachts that were monster RVs to  our dinky campervan, I felt strangely at odds with such conspicuous consumption and ostentation, and thought back to the beautiful Fort George on Vis, and its quiet dignity; and I realised I'd been seduced by the sea, the solitude, and the simplicity of life on the ocean in a way that I think would be impossible on one of those superyachts. As Charlie told me, 'It's humbling – you can't do it if you're going to be precious about home comforts, and you can't do it if you're going to be prissy. You need to be patient and you need a good sense of humour, otherwise you won't enjoy it.' I thoroughly enjoyed it, but next time, I'm going to follow some simple rules.
SEVEN TOP TIPS FOR NOVICE MARINERS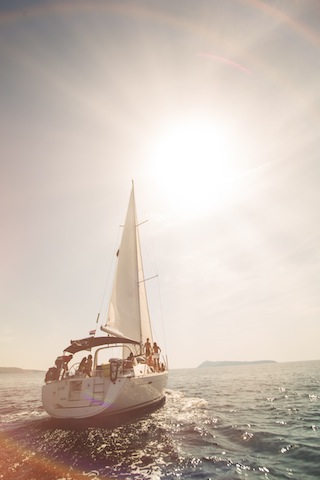 Don't drink the tap water on the boat.
Don't call it a boat. It's a yacht.
Don't leave valuable electronics on deck – even on a totally flat sea a sudden bump from a passing speedboat will almost certainly knock your large glass of beer over onto it.
Don't drink from large glasses.
Take lots of books and sunscreen. And the version of travel Scrabble where the board has small holes into which you fit the tiles.
Be prepared for lots of bumps and scrapes. Spaces are small, ladders steep, floors often wet, and movement constant, however calm the waters.
Make sure you sail with people you really like; you'll be spending a lot of time with them in a very confined space, and with very little distraction on offer.
For more information, including destinations, yachts, and prices visit www.yachtsandfriends.com for more details.