Any reason to visit Bath, one of England's most beautiful cities, and I am booking a train ticket. On this occasion, the Holburne Museum has just opened an exhibition, 'Illustrating the World: Woodcuts in the Age of Dürer', showing incredibly rare works from the privately-owned Schroder collection, and displayed publicly for the first time. It focuses on works by the Nuremberg-born Albrecht Dürer (1471-1528), the most famed artist of the German Renaissance. Among his works, it features priceless books of the period, including the Nuremberg Chronicle, published 1493, illustrated in parts by Michael Wolgemut, a leading artist in Nuremberg, and Dürer's art tutor.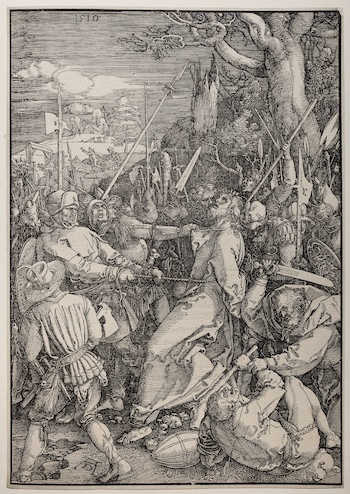 Bruno Schroder's collection, of the German banking family, was, until his death in 2019, previously limited to private groups. His daughter, Leonie, has since changed that policy to allow works of the family's remarkable collection to be shown publicly, and curator Dr Catrina Badan, working with Holburne's curators, has chosen fabulously rare pieces for this public display.
The focus is on the Great Passion, a complete series of twelve large woodcut prints, with a title page by Dürer, hitherto inaccessible in their entirety, illustrating the arrest, torture, conviction and crucifixion of Christ. The woodcuts were created around 1497-1510 with prints sold singly by Dürer, then published in book-form in 1511, along with the Apocalypse, and Life of the Virgin cycles.
Called the Great Passion, due to the large-scale of the prints, Dürer was a skilful businessman as well as an awe-inspiring graphic artist, and painter. He created 38 smaller woodcuts of the same subject, known today, somewhat imaginatively, as the Small Passion. Prints could be sold singly, then collated in book form. A facsimile copy of the book is on show in the exhibition. Another rarity is Dürer's Engraved Passion, created on sixteen plates, between 1507-1513. These are displayed with Dürer-era paintings from the Schroder home.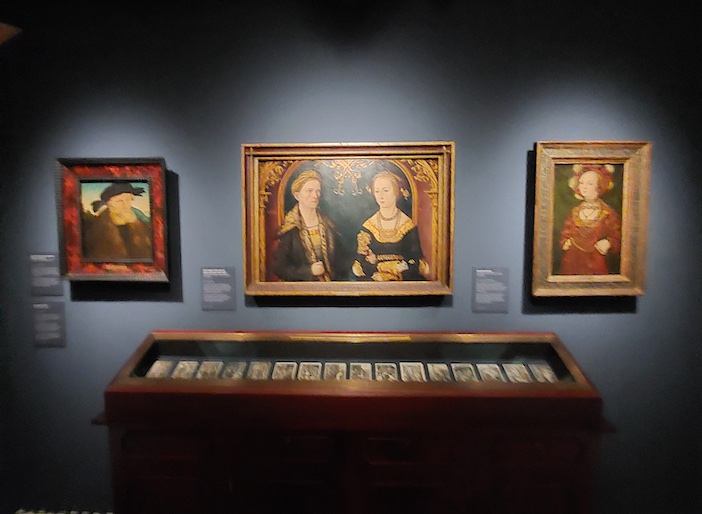 The Holburne's curators have designed a small chapel-style room painted black with lights focusing on Dürer's work. It creates an intimate experience to look closely at how he produced these drawings in woodcut. An early print from 1497, Christ in the Garden of Gethsemane, and Christ Carries His Cross (detail, main picture) reveal a gothic style, lots of detail crowding the picture. Continue to follow the succession of Christ's Passion to works dated 1510, such as Christ's Ascension, reveals a change in style. It is a clearer symmetrical composition, focusing attention on the figure of Christ. The development of Dürer's art is here in this small room. It is fascinating to see this change across just twelve works.
The practice of woodcuts is ancient in China but appeared in Europe only about 40 years before Dürer marketed it as a highly-collectible form of art. His father was a goldsmith and Dürer was apprenticed to him, later changing to an art apprenticeship under the painter and graphic artist Michael Wolgemut. In 1489-90 after apprenticeship he travelled as a journeyman and worked for a time in Basel – a centre for book publishing – painting and creating illustrations for books. One can see his graphic skills increasing in early works. Back in Nuremberg he married, by arrangement, and opened his own studio and printmaking workshop in 1495.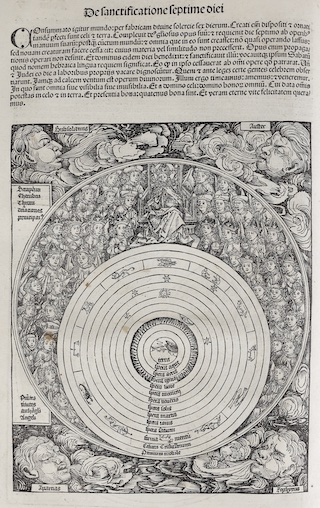 His skill as a graphic artist is undoubted, but it is how he marketed the prints that is remarkable too. He was the first artist in history to publish his own work. Dürer created a monogram AD to show genuine prints from fake copies. He took artists to court who copied his work. From woodcuts he would print hundreds, at times thousands, of monogrammed copies to sell in markets and art galleries. His mother and wife sold his prints in marketplaces, overseeing the workshop when he was travelling for work. He even employed agents to sell his prints across Europe.
When Dürer arrived in Venice late 1505, to paint a commissioned altarpiece for the German merchant community, Venetian artists like Giovanni Bellini initially knew of his reputation as a gifted graphic artist, not a painter. His fame had crossed into Renaissance Italy. The Florentine Raphael Sanzio and Dürer exchanged drawings. The Doge of Venice, awed by Dürer's talent, offered him a stipend to stay, but he returned to Nuremberg after a year when his commission was completed. He had princes, an emperor, and wealthy patricians as clients at home. Even Erasmus wanted to be drawn and painted by Dürer. This, to me, is why seeing these works together at The Holburne is so special. It is at the heart of what made Dürer famous.
And there is more to see. 14 rare books on display from the Schroder collection cover an 80-year timespan, from 1493 to 1572. They highlight the evolution of woodcuts and how some illustrations were used for political and religious propaganda. Martin Luther's satirical pamphlet, Passion of Christ and the Antichrist, illustrated by Lucas Cranach the Elder, is a mocking portrayal of the Pope as the Antichrist. Among the books is the vast encyclopaedic history of the world, known as the Nuremberg Chronicle, after the city in which it was published, first in Latin, then in German.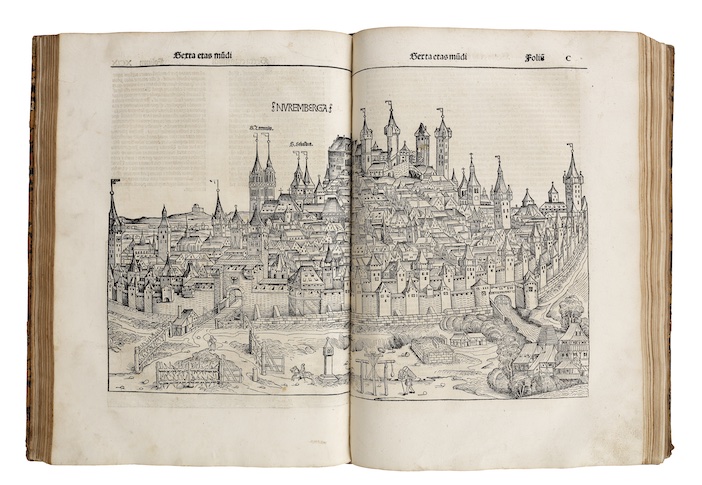 In the 1490s Nuremberg was one the largest cities in Germany. The heavy book lays open at Wolgemut's woodcut of the Imperial city, easily recognisable from the different church spires and the Holy Roman Emperor's castle dominating the far hill. Dürer's prestigious house was just below the castle walls. In the forefront, outside the city walls, to the right of the gallows, are small buildings, possibly a paper mill business, for the quantity of books, prints and publications in production.
The Holburne Museum has a permanent collection of art treasures too. A nice touch on its website is a list of good places to stay, close to the museum. My favourite is No.15 Great Pulteney St, a boutique guest house hotel on the most beautiful street in Bath, a minute's walk from the fab Holburne and 5-minute amble to Pulteney Bridge, the Roman Baths, and Bath Abbey.
Illustrating the World: Woodcuts in the Age of Dürer' runs at the Holburne Museum, Bath, until 23 April 2023. For more information, including opening times, please visit www.holburne.org.