In this turbulent year, nature has provided both a place of respite and a lifeline to normality. With so much time spent outdoors, the Hayward Gallery's exhibition, Among the Trees, feels particularly pertinent. Showing work by international artists across different medias, it offers an extensive look at the world of trees and our complex relationship with them.
This unusual subject delivers surprising depth as each room unveils another ring of our arboreal connection, drawing us into the world of trees and encouraging reflection on the diverse roles they have held for us throughout time.
As it reveals, trees have not only been muses to art; they have housed, furnished and transported us; they have been chopped and charred to warm us; turned into paper to educate us; and delivered the oxygen needed to sustain us. Unlike other relationships in the natural world, however, we know this has not been symbiotic. Whilst some of the 38 artists explore how our imaginations have celebrated trees as metaphors for time, healing and strength, others look at the ways we have relentlessly harvested and put them to work, in a tension that surfaces throughout the exhibition.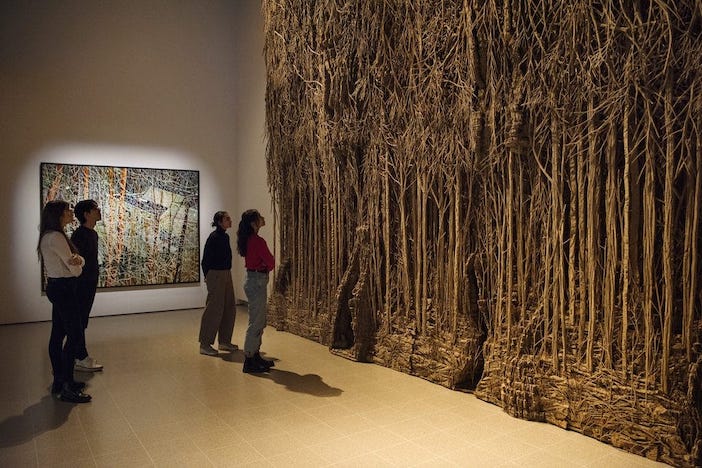 Set over two storeys, its subject offers a vast range of interpretations, and the result is both thought-provoking and revealing of how little we know about the behemoth beings whose lifespans dwarf our own. For instance, in recent years, scientists have discovered a 'wood wide web' – unearthing a network of fungi that connects plant and tree roots, enabling them to share nutrients and communicate about their environment. Foreshadowing this discovery, in 1969 Robert Smithson took a series of black and white photographs of trees he had replanted upside down. His peculiar images draw attention to the scale of tree roots and challenge our focus on trees' existence above ground.
Smithson's work went on to inspire photographer Rodney Graham. His Gary Oak, Galiano Island print is part of a series of inverted images where trees hang from land that has been flipped into sky. In turning his subjects upside down, he encourages us to look at trees differently. What's striking is how clearly the inverted oak resembles our pulmonary system. With its trunk as a trachea and its branches as bronchioles, it manifests both metaphorically and physically as a pair of lungs.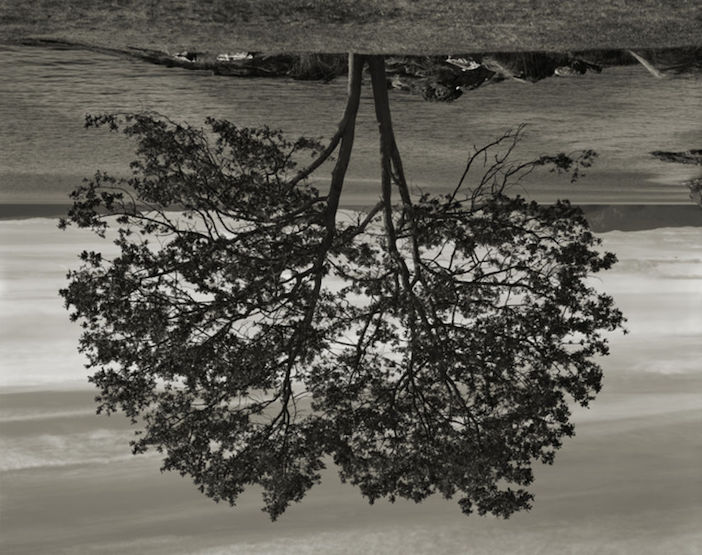 Zoe Leonard delivers another powerful set of images based on her observation of trees growing through obstacles in New York City. Her prints of trunks absorbing strings of razor wire and fencing are a jarring reflection of the impact of humans on nature. But these stark, charcoal-toned images also celebrate nature's resilience.
The most astonishing display of its adaptability is a large colour photograph by Rachel Sussman in which a short green shrub creeps out of dry, ochre earth in Pretoria. The beautiful composition and vivid colour contrast would alone be striking, were it not for the story behind it. The greenery is in fact the uppermost crown of a 13,000-year-old clonal tree that has migrated underground to avoid being damaged by wildfires, existing alongside others in a subterranean forest. Despite this remarkable feat of survival, we learn that it has since been destroyed by humans to construct a new road.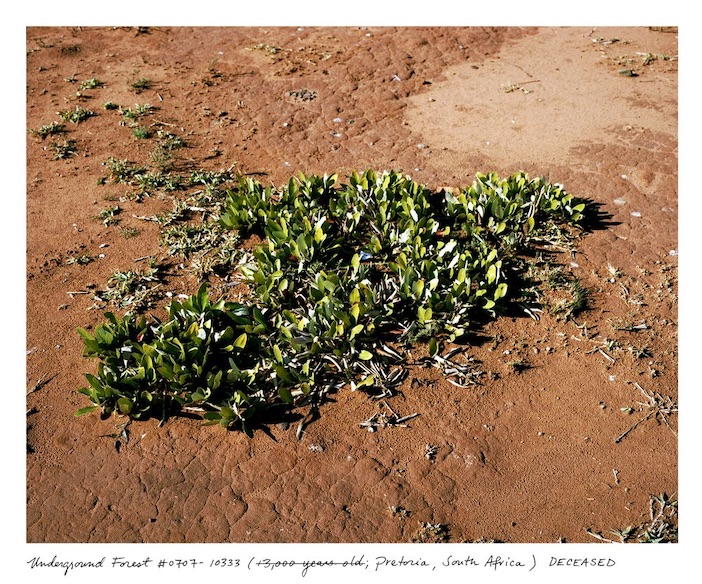 The loss of this 13,000-year-old tree that has evolved against the odds feels more acute given the exhibition's focus on trees as keepers of time. Ugo Rondinone's cold moon is a striking white sculpture, cast from a tree aged between 1,500 and 2,000 years. He describes cold moon as a 'memorial of condensed time', explaining that in trees, 'time becomes a lived abstraction'. Up close, with the details of its gnarled, twisted bark visible in bright white, its body resembles a living map upon which the elements of climate and time are etched.
Taking this a step further, trees are also conceptualised as silent bearers of history and the exhibition does not shy away from the worst of this. Two haunting images are rooted in the era of slavery. The first, by Sally Mann, is a tea-toned print of mossy oaks on a Louisiana plantation. The second is of an innocuous sprawling tree near New Orleans, photographed by Steve McQueen. Its title, Lynching Tree, changes this ordinary scene to one of tragedy. In both images, these ancient trees have borne witness to the worst of humanity.
In a nod to the future, near the show's exit there is an arresting life-sized sculpture of a tree bedecked in colourful plastic bags. Its gaudy hues and synthetic foliage are both a warning and indictment of our presence.
In contrast, the exhibition opens with a video installation of an abundant Finnish spruce so vast it must be projected horizontally across the gallery wall. As the colossal tree blows gently in the wind, sounds of tweeting birds hint at the myriad life housed within it. Yet its horizontal position haunts the installation with the suggestion of being felled. The show ends with another wall-sized animation by Jennifer Steinkamp, which depicts a birch grove moving through the seasons. Although mesmerising, this simulation of nature deliberately pales in comparison to the real thing. But as the exhibition hints, with deforestation accelerating at a record pace, simulations may be all we are left with.
This is a busy, dizzying and ambitious show, where each piece carries its own unique message about arboreal life. Who knows when such an intriguing exhibition will be staged again.
Among the Trees at the Southbank Centre's Hayward Gallery runs until 31st October 2020. For more information, visit www.southbankcentre.co.uk.