What do you know about Australian art? Not much? You're not the only one. Despite being the world's sixth largest nation, the land Down Under has been curiously absent from art history's hall of fame. Admittedly, my own experience had been limited to painstakingly printing dots onto a clay pot as part of an aboriginal art project at school. So upon entering the first solemn, darkened room of the Royal Academy's latest exhibition, simply titled 'Australia', I was not expecting to be greeted by a large film projection of a leather-clad motorcyclist racing through the Outback. His back to the viewer, the anonymous biker stretches his arms out Christ-like as he accelerates towards the dusty, bare horizon. This is Shaun Gladwell's Approach to Mundi Mundi (2007) and it serves to clearly signpost that we should leave our preconceptions at the door; Australian art isn't all dots and kangaroos.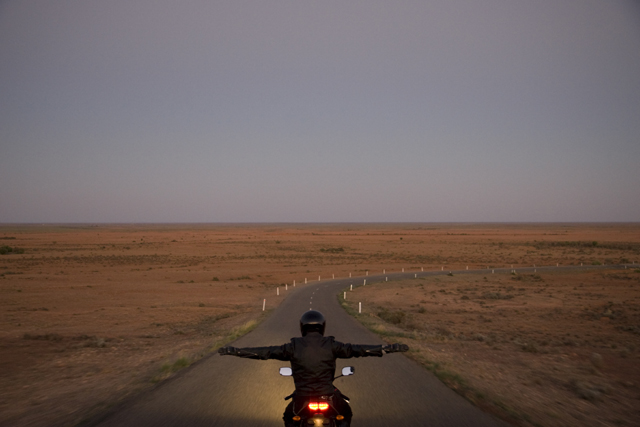 The next gallery seems to backtrack at first glance, however, filled as it is with enormous paintings of symbolic, abstract pattern in brown and ochre on canvas or tree bark. Upon closer inspection it turns out these works are by modern indigenous artists though, giving British viewers some long overdue exposure to figures such as John Mawurndjul, winner of Australia's prestigious triennial Clemenger Contemporary Art Prize, and Rover Thomas, who represented Australia at the Venice Biennale in 1990 and 1997. Their work should strictly come towards the end of this otherwise chronological exhibition, but perhaps the curators realised these totemic swirls, waves and starburst prints – a sort of earthy Pontillism meets Abstract Expressionism – makes for a more captivating introduction than the fusty colonial era paintings that follow in the next gallery.
Passing the tangled Romantic forest scenes, through which one half expects to see Rousseau's tiger stalking, the Barbizon School-style landscapes, and light-drenched Impressionist paintings, it becomes apparent that the majority of colonial Australian art is rather derivative. European settlers brought European art styles, and the artists arriving from Britain, Germany, Switzerland, France and Italy during the 19th century appear to have been content with rendering this scorching, vast new land in imported, familiar styles. Consequently, no real sense of a coherent, definitive Australian 'style' emerges here. There's also a strong ethnographic current that means the exhibition does at times feel a little like a history lesson, charting the first settlements, the gold rush of 1850, the rapid urbanisation and construction of Sydney Harbour Bridge.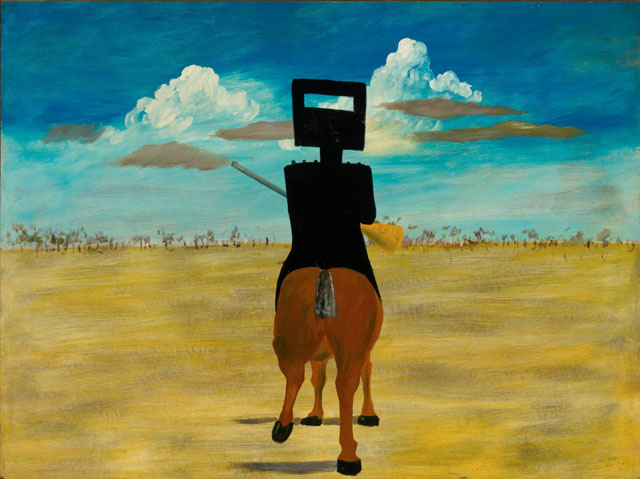 Then, after the World Wars, something interesting happens. A flowering of homegrown talents, most famous of which are Sidney Nolan and Arthur Boyd, began painting scenes more introspective, psychologically charged and provocative than what has come before, and gained international renown in doing so. They examine – even poke fun at – the now-established stereotypes and mythologies of their native land. Nolan drew on the legendary bandit Ned Kelly, depicted in several paintings on show here as an anonymous, anarchic black figure galloping through the desert – curiously reminiscent of Gladwell's biker from the exhibition's opening. Albert Tucker and Jeffrey Smart subvert a flourishing yet superficial beach culture, while Russell Drysdale's The Drover's Wife (1945) gives a bleak vision of a dumpy, white Australian woman standing dispossessed in a barren landscape. Their Australia is eerie and lawless.
The RA may as well have called this show 'Australia: Landscapes', for ultimately portraiture and still life are virtually non-existent among the countless meditations on landscape – all those yawning, formidable sun-scorched expanses of land, representing both hardship and beauty – and man's place in it. I suppose this is why my overriding impression of the exhibition was of simply of colour: regardless of whether they're from the 1800s or 1980s, the paintings harmonise in gold, ochre and orange, mirroring Australia's all-pervasive sunlight and sand.
Australia, Royal Academy of Arts,  Burlington House, Piccadilly, London W1J 0BD, until 8 December 2013. For more information and tickets visit the website.