London is currently experiencing a panoply of some great art exhibitions; the Courtauld, Royal Academy, National Gallery, Dulwich Picture Gallery, et al, are putting on their best shows in years. Consistently progressive is the Hayward Gallery on the Southbank, and never more so than with 'Extinction Beckons', a reworking of key art installations by British artist, Mike Nelson. The title is taken from his first publication in 2000. The exhibition features remastered works including The Deliverance and the Patience from 2001, Triple Bluff Canyon, (2004) and Studio Apparatus for Kunsthalle Munster (2014).
Since the 1990s, Nelson's body of work has made him, internationally, one of the most influential British artists of his generation, culminating in his nomination for the Turner Prize in 2001 for his work 'The Coral Reef', an extraordinary installation of fifteen rooms connected by corridors which, for many, provided an introduction to his surreal, immersive settings. What makes his work all the more compelling is that Nelson's installations, once exhibited, are dismantled after a show and never recreated exactly as before. It's an approach that generates a different perspective in each new location it's featured.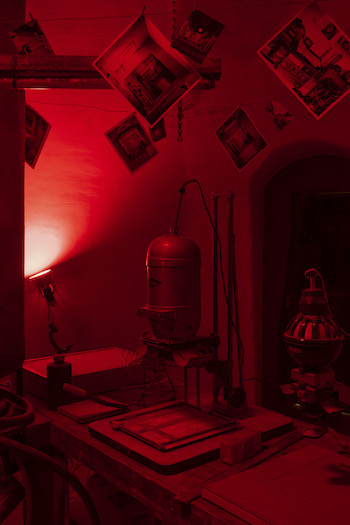 At the Hayward, the first room, like an atmospheric film set, has wide rows of floor-to-ceiling shelving with irregular pieces of wood, metal railings, doors, boxes, miscellaneous items of scrap, all bathed in a red light. These are 'found' materials from second-hand markets, discarded street junk, auctions, and salvage yards, used in previous presentations. Titled 'I, Imposter', the assemblage is the remains of his 2011 Venice Biennale installation where Nelson – representing Britain  – converted the neo-classical British pavilion into a reimagining of Büyük Valide Han, the largest historic travellers' inn in Istanbul, connecting two historic trading ports, Venice and Istanbul.
Nelson's installations draw out inherent and suggested narratives from the forgotten and the unwanted, echoing real life on the margins of society. In 1996 Nelson created 'The Amnesiacs', a fictional team of motorbikers – like Hell's Angels – made up of American ex-military veterans of the First Gulf War (1990-91) to help him work through and build the installations. Their jackets, building gear and pieces of equipment feature in some installations here, connoting the fictional team as part of a work in progress. It reveals Nelson's unexpected view of an alternative life in psychologically charged reconstructed rooms, resembling abandoned sites. Where are the builders? Where are the people? What happened here? He leaves it to the viewer to imagine.
An underground bunker, similarly, asks questions of the viewer, without an answer. To rework Triple Bluff Canyon (the woodshed), from 2004, around sixty tons of sand was deposited in the upper gallery. The large yellow mound is dotted with shredded, ripped tyres – found on the M25 – strewn across the uneven surface. In the near distance are semi-hidden bunkers. A corridor to the right is a walk-through to a door into the bunker and a photographer's darkroom within, bathed in red light. Photographic equipment covers the tables with black and white prints drying on a high-level wire. The question is, where is this place? Is it a hidden military establishment or a reconstruction of Nelson's studio in East London? The trick here is visitors using imagination to create their own fictional scenario.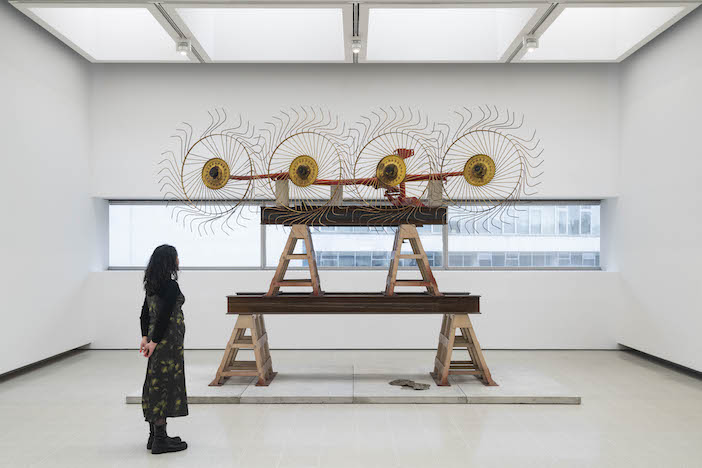 On the same floor in a further gallery space is a collection of decommissioned machines, called 'The Asset Strippers', a work from 2019 displayed at Tate Britain. These industrial pieces of now-obsolete equipment are leftovers removed from liquidated factories. The remarkable display of structurally-sound heavy duty drills, a knitting machine, an agricultural thresher, a press and the like, reveal a bygone era. Instead of destruction, stripped for scrap metal, they have been given a new life as decorative art. Studying them closely, away from their original location – and their original purpose – focuses attention on the craftsmanship, the materials, and remarkable beauty of each piece.
Mike Nelson is softly spoken. He explains that his motivation is to create works that operate on multiple levels. "They should have a narrative," he says, "a spatial aspect, but also a psychological effect on the senses. You're seeing and feeling one thing whilst your brain is trying to override this and tell you something else." His words capture the experience of the Hayward show.
My favourite is The Deliverance and the Patience, from 2001. It was first shown publicly in a decommissioned brewery on the Giudecca island in Venice. It is reworked at the Haywood as a lengthy oblong floor-to-near-ceiling 'building'. Within it is a multi-room series of semi- fictional spaces, from a pub to a prayer room, an office, a spiritual den, and on through rooms reflecting different cultures, and use of space for work or home. Some connote the presence or absence of people, their books and shoes and prayer mats and personal items laid out. There is no direction. If a door opens one can enter a room and pass through or reach a dead-end. It is an interesting view of a doomsday with people co-habiting and sharing the available spaces, whatever their cultural beliefs.
Hayward Gallery director, Ralph Rugoff, has pulled off an amazing show. How did he get mountains of sand into the upper galleries to create what looks like a hidden bunker in the desert? What is the significance of Triple Bluff Canyon (the projection room), that small room with voices but no one there? It's a spectacle worth exploring. And, if extinction beckons, why not a get a preview?
Mike Nelson: Extinction Beckons runs at The Hayward Gallery, Southbank, London SE1 until 7 May 2023. For more information, please visit www.southbankcentre.co.uk.
Photos by Matt Greenwood, unless otherwise credited.