Walking into the Rijksmuseum and upstairs to the exhibition 'Vermeer', the very first paintings, in a room of their own, are the large-scale View of Delft and smaller View of Houses in Delft ('The Little Street'). They are the only known cityscapes painted by Johannes Vermeer (1632-75) and introduce the birthplace, workplace and home of the Dutch painter to whom this exhibition is dedicated. His reputation alone might account for the global interest, but when you consider that this exhibition features twenty-eight of just thirty-seven known, authenticated paintings by Vermeer, it's easy to see why it's been a sell-out, and shows the stature of this artist who had been overlooked well beyond his lifetime before he was 'rediscovered' in the nineteenth-century.
The opportunity to come face-to face with these extraordinarily beautiful paintings, including Officer and Laughing Girl (from The Frick Collection), the Rijksmuseum's own The Love Letter and, of course, Girl with a Pearl Earring, all painted in Delft, were enough to make me want to visit the city and discover the source of his inspiration – and hopefully find Vermeer for myself. A little over an hour by train from Amsterdam, Delft's historic centre is impossibly picturesque; a honeycomb of pedestrian streets and traditional Dutch townhouses lining small canals – it's like an oil painting, if you will.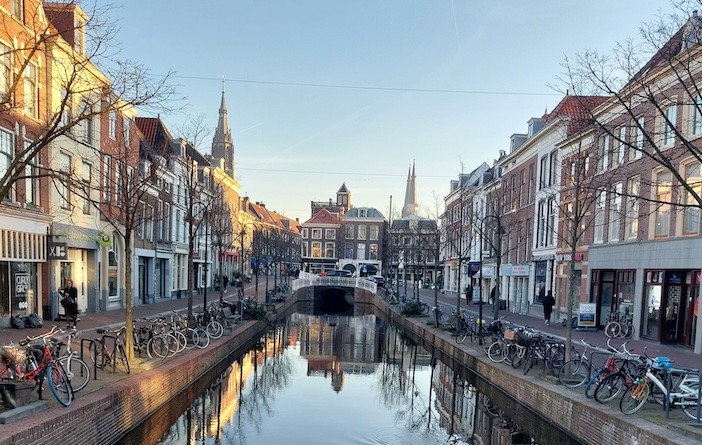 Central to Vermeer's life, and the city, was the Markt. It remains a vast market square with the impressive Stadhuis (City Hall) at one end, directly opposite the equally impressive, if ironically-named by modern standards, 14th century 'New' Church (Nieuwe Kerk), its slightly leaning spire showing signs of subsidence. Vermeer himself was baptised here, and the official baptismal register is currently on display in the Prinsenhof Museum, just off the Markt, in another, equally remarkable exhibition, Vermeer's Delft.
Born in 1632, Vermeer was the second child of silk weaver and art dealer Reynier Janszn and his wife Digna Baltens. His birthplace was an inn, owned by his father, called De Vliegende Vos (The Flying Fox) at Voldersgracht 25/26. Coincidently, there is still an inn at this address today. Little is known of how Vermeer became an artist but in 1653, the year he married Catharina Bolnes, he joined the Guild of St Luke, an official meeting place for artists, artisans and art dealers, and membership of which was essential to run a workshop.
The Guild building remains and is now the Vermeer Centrum Delft, featuring reproductions of all Vermeer paintings, and serves as the tourism visitor centre too. It offers a guided tour of twelve Vermeer locations, discovering where he lived growing up, and the house of his mother-in-law on the Oude Langendijk, where he resided with his wife and fifteen children, as well as his studio. The 'little street' between houses is no longer there but the location of View of Houses in Delft is, and that of the stunning painting View of Delft (main picture).
The artist left no official or personal letters but in Vermeer's Delft – coinciding with the Rijksmuseum Vermeer retrospective – the curators have set out to show Vermeer's life through scene-setting Delft in the seventeenth century. There are topographical maps, showing how little the centre of Delft has changed over the centuries; there are paintings of the churches, the streets, the people. Most exciting, and most tangible to discovering Vermeer himself, are original documents relating to Vermeer that do exist; his baptismal record, and the register of his marriage banns with the first record crossed through due to Maria Thins, his future mother-in law's initial non-agreement (likely due to Vermeer being a protestant and Thins a catholic).
As well as Vermeer's works, there are masterpieces by Delft painters; and paintings and documents of momentous events such as the 'Delft Thunderclap' of 12 October 1654, when a gunpowder store exploded destroying a quarter of the city and killing many people including the painter Carl Fabritius. Experiencing this fabulous display that celebrates Delft's vibrant city life – which still exists in the cafes and brewhouse bars, the small shops on busy streets and quiet squares today – the essence of life lived here by artists in the seventeenth century is still evident.
Going round the exhibition, and discovering his life, one question kept resonating; why was Vermeer forgotten? In 1672 the Dutch economy collapsed when French troops attacked the Netherlands. Businesses were crippled, including Vermeer's as art dealer and artist. Records of the auction of his works after his death show huge debts owed, including a large sum of 600 guilders to the baker's shop. He had struggled to provide for his wife and surviving eleven children. After falling ill for two days he died suddenly aged 43 in December 1675. His wife stated his death was due to stress brought on by money worries, and thirty of his paintings were sold to pay creditors. The official document by the auditor of the sale is on display in the Museum Prinsenhof Delft exhibition.
Another amazing document on display is that of the funeral arrangements. It was discovered recently by archivist Bas van der Wulp of Delft Heritage researching archives for Vermeer's Delft. A previously unknown entry on Vermeer in the Oude Kerk burial register for 16 December 1675, records that Vermeer was buried with honours and his coffin carried by fourteen pall bearers. His eleven children and wife attended. He was given one toll of the church bell, an honour, and his body laid to rest in the family crypt. In this magnificent church a flagstone marks the spot today. With his widow left in deep debt, his paintings were sold and Vermeer slipped from view, until the nineteenth century when a French painter and art critic Étiene-Joseph-Théophile Thoré rediscovered him in 1866, publishing descriptions of the painter's works.
To see what is commonly regarded as Vermeer's most famous work, Girl with a Pearl Earring, you have to go to The Hague and the Mauritshuis, where that and two other of his paintings (View of Delft and Diana and Her Companions) are part of the permanent collection, but, for me, its's picturesque Delft, with as much to discover as the artist himself, which is the true gateway into understanding who Vermeer was and what inspired him.
The Vermeer exhibition at the Rijksmuseum, Amsterdam, and Vermeer's Delft at Museum Prinsenhof, in Delft, run until 4th June 2023.
Header image: Detail from View of Delft (1660-61) (Mauritshuis, The Hague)