When it comes to art exhibitions, it's typically the capital's galleries that capture the headlines. But venture a little further afield, and there are some equally notable shows on offer. Watts Gallery, in the village of Compton, near Guildford in Surrey, is one such venue, and is currently showing a special collection of work by Halima Cassell MBE, one of Britain's leading sculptors.
The show's title 'Halima Cassell: From the Earth' explains exactly what her work centres on – natural materials. Clay, marble, and wood are intrinsic to the handcrafted sculptures produced by Cassell, a Pakistan-born British artist. Working mostly with clay, without the use of glaze or slip, carving into the 'naked' material to reveal the inner surface, Cassell's designs are distinctive in their simple shapes with multifaceted, deeply incised surfaces, often geometric in form.
This exhibition highlights a special selection of pieces from Cassell's twenty-five years as a professional artist, and includes some new works created especially for the Watts Gallery, inspired by its founding artists George Frederic Watts (1817-1904) and his wife, Mary Watts (1849-1938). Cassell is the first contemporary artist to have a solo show here, which is significant because George and Mary Watts were, like Cassell, renowned sculptors.
Several new works relate directly to the gallery itself. The stunning carved pattern of 'Bo Orb' is inspired by GF Watts' recurring 'orb' that appears in many of his paintings, including 1886's Hope and The All-Pervading, from 1890, both currently in the Tate. Both 'Bo Orb' and 'Bodhi Heart' are inspired too by the late Mary Watts' own terracotta clay pots that she made and sold to Liberty department store in London. She had set up Compton Pottery after finding a seam of red clay near her house Limnerslease (across the road from the gallery, which one can visit).
Cassell has created works from the same terracotta clay, found in the grounds of Watts' estate by Chris Sharples, the Head Gardener. "Like Mary Watts," Cassell explains, "throughout my career I have used spherical forms and vessels reflecting my connections to the earth and the spirituality of the universe. I have also found inspiration in our shared passion for clay, a material that allows us to explore the idea that we all come from the earth, and we all return to the earth."
Halima Cassell was born in Kashmir in 1975, and moved to England as a child, growing up in Lancashire. It was there, as a young person living in Manchester, she recalls being called a foreigner; and yet, returning to Pakistan as an adult for an exhibition of her work in 2009, she was introduced as a 'foreigner from England'. This has resonated in a remarkable series of sculptures, made from clay unique to different countries. The current forty-five vessels in the series, 'Virtues of Unity' (main picture), an evolving installation representing the virtues of humanity, reveal the marked difference in colours, tones and textures of native soils, all dissimilar but united as one in this open-ended collection.
Alongside the newer works are older pieces from Cassell's studies as an undergraduate in 1997, and post-graduate in 2002. 'Blue Tapestry', a glazed ceramic dish 24ins (60.96 cm) in diameter, was part of her MA. The complex design resembles a woven tapestry. It was damaged in the kiln firing process, but Cassell kept the pieces. Years later, inspired by a visit to Japan, Cassell commissioned a kintsugi artist to repair it for her. Kintsugi, the ancient repair technique that does not hide the restoration, is created using urushi – a lacquer mixed or dusted with powdered gold – to mend broken dishes. The kintsugi can clearly be seen in 'Blue Tapestry', creating an extended history.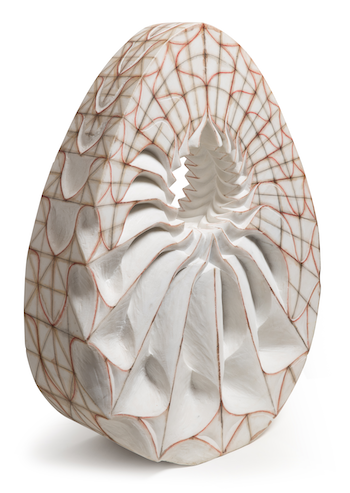 What is special about this show? It has to be the handcrafted precision with which Cassell shapes her bowls and sculptures. Just look at the complexity in the design of 2012's 'Bow Wave', a 34 x 24 in piece created from Carrara marble, the form of repeated pattern is highly complex and created with geometric accuracy. Similarly, the sharp incision of deep carving into unglazed ceramic, as in 'Bo Orb', produces an architectural, rhythmic object, both exquisite and tactile. After viewing the exhibition take a look in the gallery shop where unique pieces of Cassell's covetable pottery are available to buy. They are simply exquisite.
The Watts Gallery and Artists' Village gives visitors access to the temporary exhibition and to Limnerslease, the Watts' private home and studios, and to the permanent collection. The gardens too, plus the perfect teashop, make a visit here such a pleasurable experience. When you are here, make time to visit the Arts and Crafts mortuary chapel, better known as Watts Cemetery Chapel, a Grade 1-listed terracotta building a few hundred yards away on Down Lane. The architectural style is unique; a fusion of Celtic, Romanesque and Art Nouveau, designed by Mary Watts. Opened in 1898, over seventy people from the Compton community – encouraged and trained by Mary Watts – helped to create it, using Compton clay to make the decorative terracotta art.
Halima Cassell: From the Earth runs until 18 June 2023 at Watts Gallery and Artists' Village (Down Lane, Compton, near Guildford, Surrey GU3 1DQ). For more information, and for tickets, please visit www.wattsgallery.org.uk.
Header photo by Jon Stoke