There is one simple difference between a comfortable domestic environment and a jail cell and that is being told that you are not under any circumstances to leave it. Thus began for me a period of over three months of self-imposed exile from the world, during a time when I would have been doing exactly the same thing without the need for governmental coercion. For that's what an artist does most of the time, remains alone, confronting their inner thoughts and outward fumblings, only too aware in the age of instant internet access of their hopelessly inadequate abilities in the face of previous greats, whose shoulders are too tall even to attempt clambering upon.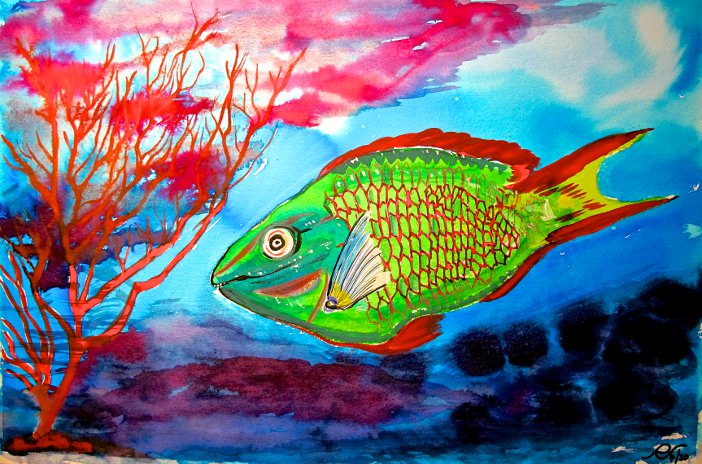 So the empty studio, the blank canvas, the waiting easel, the clean brushes, cushions on the seat arranged, coffee freshly prepared and singularly sugared. Now what? As Tom Stoppard so eloquently put it, you can't start anything with a pause. Mercifully a distraction from this dreaded nothingness arrives: the phone rings! An old friend from Sri Lanka with a proposition, a dozen large canvasses needed for executive suites in a hotel on the beach outside Columbo, the Calamander Unawatuna Beach Resort. Would I be interested? Would I f***! Suddenly three months of self-doubt and loneliness were hoovered up in the course of a minute's conversation. Twelve beautiful linen canvasses from – in my opinion at least – the best frame makers in London, Bird and Davis of Friern Barnet, are swiftly ordered. And the brief? "Just make them tropical fishes, colourful and bullet-proof".
"Bullet proof? Is there another war on out there?"
"I mean in terms of colourfastness, the sun is strong and the air humid and salty."
Right, I get the picture, so to speak.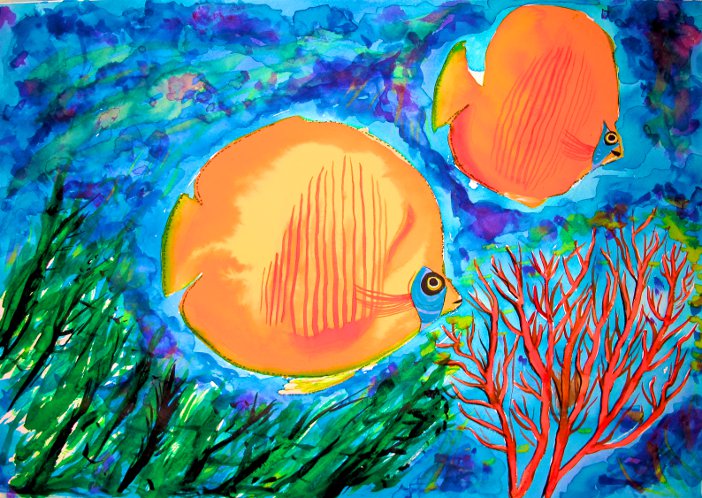 Now I know about as much about tropical waters, fishes, snorkelling or scuba diving as I do about the inner workings of the lower colon, so hoping not to spend as much time in research as a putative bowel surgeon, I plunged into the muddy waters of the internet. Lo, what a wondrous world opened up before me! I had no idea of the multiplicity of types and shapes: Bannerfish; Parrot Fish; Arrowanda Fish; Emperor Fish and then at last one I recognised, the beautiful partly-striped Angel Fish. Makes and models abounded in Technicolour confusion. It was now I regretted that the nearest I had come to tropical waters was that oasis beloved of last century's rock stars and minor celebs, the Magic Hotel's pool in West Hollywood. So where and how to begin?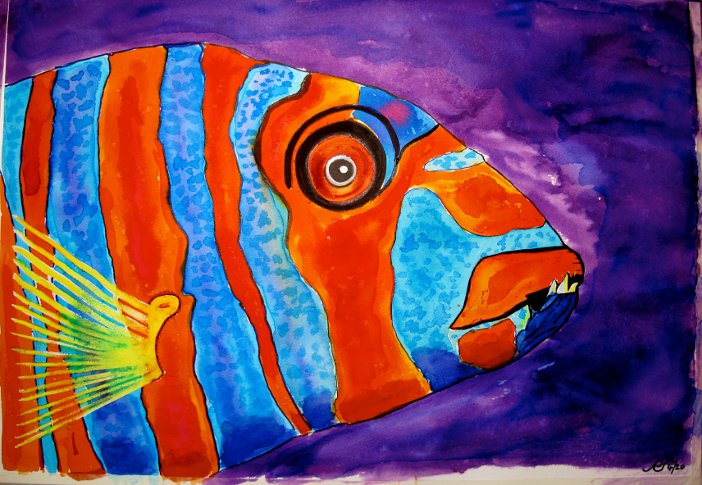 Well, the first technical demand for a painter in these circumstances is how to represent a transparent substance. David Hockney rose to that very challenge and did pretty well with creating ripples from the surface which resonated throughout the volume of water he was depicting. To me it seemed that there were a number of elements giving clues to the illusion of water: fishes of course, swimming ideally, colourful corals only present under water, and that most important element of all: light. When underwater, light first hits the surface, and then refracts in all directions, often penetrating as far as the seabed itself. Here the network effect of interconnecting lighter lines replicates the disturbance on the water's surface above, and once "frozen" by camera lens or paint brush, creates either an illusion or a remembrance of the play of light through that very transparent aqua. And let's face it, Michelangelo probably had as much notion of Heaven and Hell as I did of Zitronenfalter fish and their surroundings when he began his famous Chapel.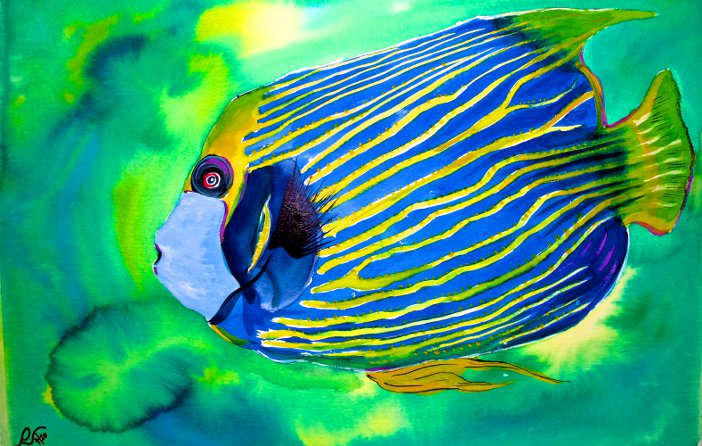 So far so good, but how to avoid Hockney territory, bypass photo-realism, ignore Impressionism and yet create an entirely recognisable yet personal response to an absolutely alien world? Frankly, my initial thoughts were that I would do better trying to replicate the surface of the Moon. However it is sometimes interesting for the painter to take an objective view of his own style as an image emerges from the canvas, very often as if by another hand. Squinting with one eye the results did seem reasonably personal, even if there were hints of dear old Vincent and his friend Gauguin lingering somewhere in the wings. No matter, remember to steal only from the best! ("Good artists copy, great artists steal" Picasso).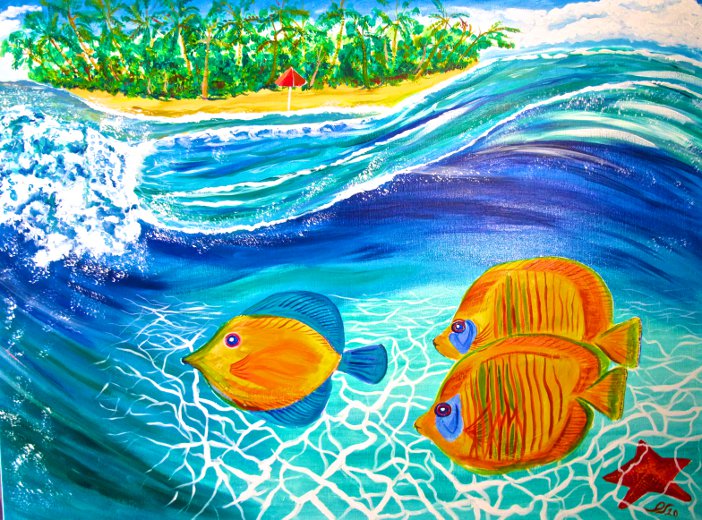 Back to the commission and how to get a number of large canvasses (actually each about 130 centimetres wide) to a distant country whose custom regulators, and indeed regulations, left much to be desired? So we can up with a plan to let the paintings dry, then deconstruct the frames, roll up the linen or canvas, bundle the whole kaboosh into a smaller package and lie like troupers about what they actually were (samples, presents, worthless poster designs, old linen tablecloths, etc.) And it worked!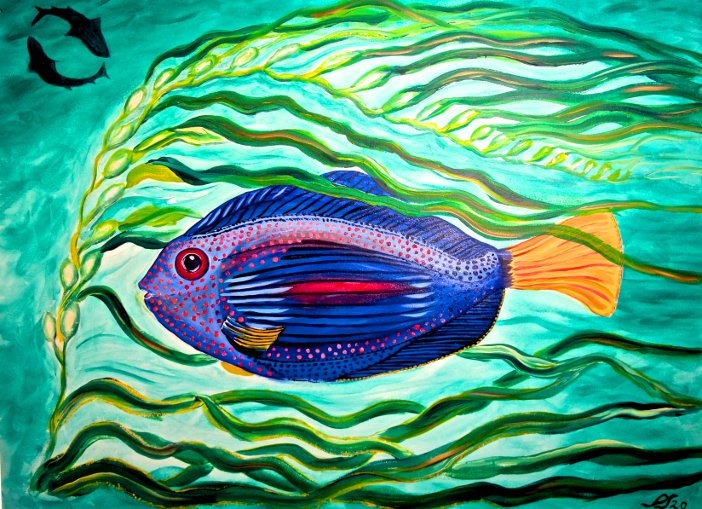 Now it occurred to me that if twelve pictures were to be hung individually in twelve separate suites, guests would only get to see one of the series. I realise we are not dealing with the Sistine Chapel here, but I do consider the separate images constitute some kind of whole at the end of the day. So I came up with the idea of framing all twelve of the preliminary watercolour studies and suggesting they be hung together in the hotel lobby, giving guests who were in any respect interested, a chance to see the whole Joyce created tropicana-panorama.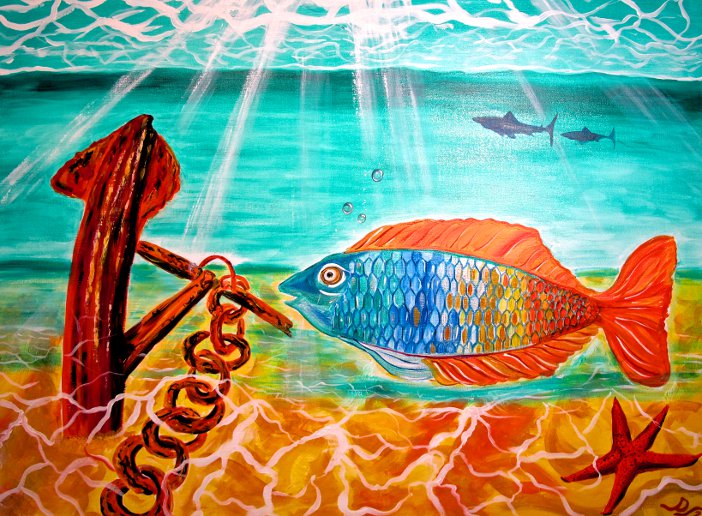 Sri Lanka is one of the most beautiful countries on earth, being known both as "The Pearl of the Indian Ocean" and "The Teardrop of India." It is one of the most biodiverse regions in Asia with an astonishing range of wild life, ancient ruins and temples and vast areas of outstanding natural beauty. The population are welcoming of visitors and have a national literacy of over 92%, very high indeed for that part of the world, supported by twenty universities of international standard. It also has some of the greatest beaches in the world, one indeed being in the very footprint of the Unawatuna Beach Hotel, so I was more than delighted to be asked to help in opening up what was once a larger complex into a smaller one, following the current pandemic, as a bijou Executive retreat.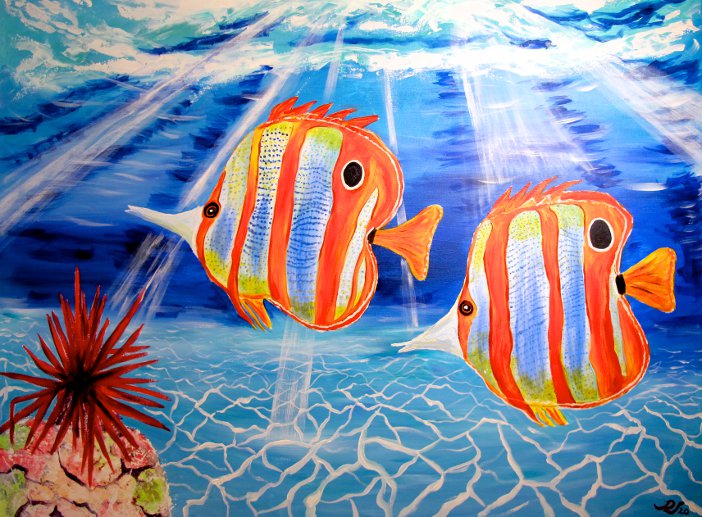 Each of my canvasses will be placed over the majestic and newly-installed beds, in a commanding position to be either enjoyed or ignored, a fate which awaits all of us idolaters of the image.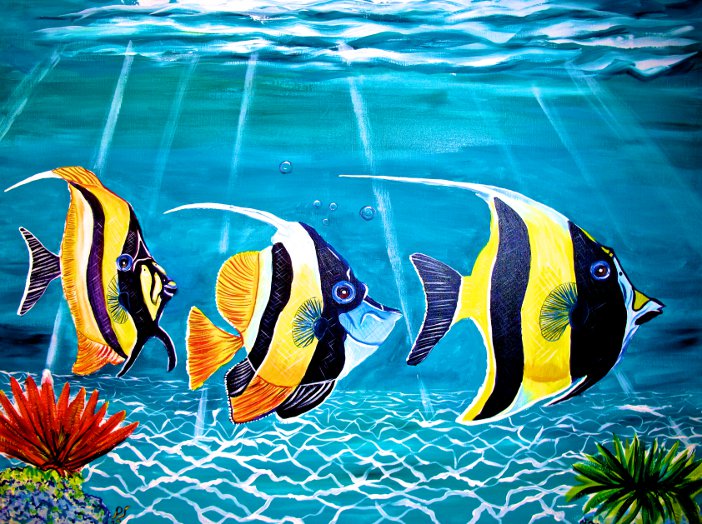 So back six months later to the blank canvas and rapidly cooling coffee. Please let that be the phone ringing!
For more information about Paul Joyce and his forthcoming exhibitions, visit his website.