Any exhibition at the Hayward Gallery in London is always an unexpected experience. Ralph Rugoff OBE, its director since 2006, constantly challenges the perception of what art is in each presentation he undertakes. The latest 'Strange Clay: Ceramics in Contemporary Art' (until 8 January 2023), near four years in the planning, is no exception. Art reviewers have described it as 'bonkers' (The Times); 'gleeful globs' (The Guardian); 'weird and wonderful' (Evening Standard). These words encapsulate the pleasure and surprise to be found in the tactile works of 23 ceramicists of international fame, coming together to reveal the malleable texture and infinite possibilities of the most ancient of art materials, clay.
The curator of this exhibition, Dr Cliff Lauson, has produced a diverse show of remarkable pieces that stretch the imagination. Anyone who has visited the Hayward's 'brutalist' architectural interior knows the challenge of the ground floor gallery, as spacious as a small aircraft hangar. Choosing art works that can command the space tests the curator. Lauson succeeds. The vast, far wall installation draws the eye for attention. It is the colourful 'House of the South', 1996, of glazed earthenware, by American pioneer ceramicist, the late Betty Woodman (1930-2018), evoking ancient Roman pottery.
This is complemented by Jonathan Baldock's 'Facecrime' 2019, a large floor installation of glazed and unglazed ceramic with its random grouping of totem poles of bin-shape pots and wicker waste-paper baskets. As if, stumbling across the remnants of a civilization, closer scrutiny reveals fingers reaching out, ears appearing, hands everywhere, a face emerging, emojis spilling out of a mouth, and all trying to communicate with each other. Baldock was inspired by ancient cuneiform tablets in the Mesopotamian galleries in the British Museum.
On the mezzanine level Lubna Chowdhary hangs a stunning series of brightly coloured, highly glazed abstract ceramic 'paintings' that explore contours and pattern. They complement the Chinese ceramicist Liu Jianhua's installation of 981 pieces of white porcelain objects, 'Regular/Fragile', 2002-03. It is Jianhua's response to a tragic loss of life in a series of civil aviation crashes in China in 2001, represented through random personal belongings. One sees a child's toy, a shoe, a bag, a mobile phone, a pair of boots falling, as if from the sky, to lie in broken pieces.
A commission for this exhibition is Lindsey Mendick's 'Till Death Do Us Part', 2022. Areas of an open-plan house with kitchen, dining table, a comfy sofa, stairs and a bathroom, take on new meaning when vermin are discovered eating the food and furnishings. Insects and rodents have taken over. A massive octopus emerges from the bathroom lavatory. Scattered post-it notes reveal a toxic relationship between the human residents of this home. It is amusing and horrifying in equal measure. Merrick explores the home as a microcosm of 'hell, bliss or loneliness' she says. In the midst of spotting mice eating the back of the sofa, one forgets that the works are ceramic.
There are so many extraordinary installations in this show that the superb ceramic displays by Grayson Perry and Edmund de Waal and Ron Nagle seem mainstream in comparison. The Hayward gallery space, full of light on the upper floors, gives large works room to spread out. David Zink Yi's giant squid 'Untitled (Architeuthis)' 2010, more than 5-metres long, was created over a three-month period from burnt and glazed clay in a mix of oxides, earth and minerals. It lies alone in its own pool of seeping ink. Peruvian-born, Berlin-based Yi states that he was intrigued by this sea-creature that can grow to 14-metres in length, living so deep in the ocean that usually it is only seen when dead. It is a tactile, exquisite work.
Nearby, Sicilian artist Salvatore Arancio's ceramic installations fuse natural and unnatural elements. In 'It Was Only a Matter of Time Before We Found the Pyramid and Forced it Open', 2017, large boulders of volcanic rock hold glazed, iridescent emerging protuberances, as if fusing ancient and modern materials. Arancio finds that the medium of clay allows him to 'freeze, layer and collage time'. Further on, in a vast, walk-through space, the Swedish sculptor Klara Kristalova creates the type of wild, woodland forest read about in fairy tales, and here inhabited by other-worldly creatures. It is surreal.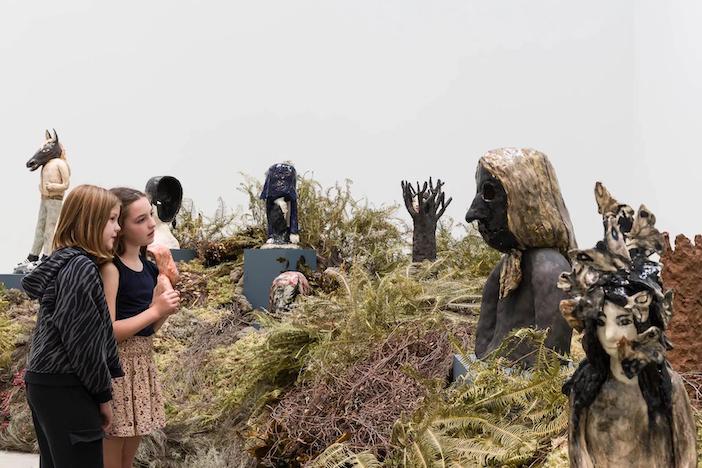 These are a few examples in this remarkable show. Each and every one of the 23 artists' works are worthy of exploration, from the reinterpreted Japanese tea ceremony vessels, some at two-metres high with fractured textures and jewel-like decoration, created by Takuro Kuwata, to the strange organic beauty of Magdalene Odundo's highly burnished vases. Each sculptors' skilled manipulation of clay defines contemporary art.
'Strange Clay' features works by Aaron Angell, Salvatore Arancio, Leilah Babirye, Jonathan Baldock, Lubna Chowdhary, Edmund de Waal, Emma Hart, Liu Jianhua, Rachel Kneebone, Serena Korda, Klara Kristalova, Beate Kuhn, Takuro Kuwata, Lindsey Mendick, Ron Nagle, Magdalene Odundo, Woody De Othello, Grayson Perry, Shahpour Pouyan, Ken Price, Brie Ruais, Betty Woodman and David Zink Yi.
Strange Clay: Ceramics in Contemporary Art at the Hayward Gallery, Southbank Centre, London until 8 January 2023. Ticket: £15.00 + concessions. For more information, please visit www.southbankcentre.com. There is a catalogue Strange Clay: Ceramics in Contemporary Art, 176 pages, hardback, £30.
Rosalind Ormiston is an art critic and features writer. For details of her work, please visit her website at www.rosalindormiston.com.
Photos by Mark Blower