The Royal Crescent Hotel in my home city of Bath is an appealing afternoon tea venue at the best of times, but for a fashion lover the prospect of getting to meet Christan Dior's artist-in-residence, Bil Donovan, in a one-off event was the icing on the cake. 'Bil Donovan Live Demonstration & Talk with Afternoon Tea' was hosted by Connie and Ashley Gray of Gray M.C.A, the Bath-based gallery representing Donovan and specialising in original fashion illustrations and textiles by 20th century artists. Gray M.C.A's Bath gallery, where they are currently hosting Donovan's first UK solo show (until 29 October 2022), happens to be located just around the corner from The Royal Crescent Hotel on Margaret's Buildings, prompting the start of a beautiful partnership.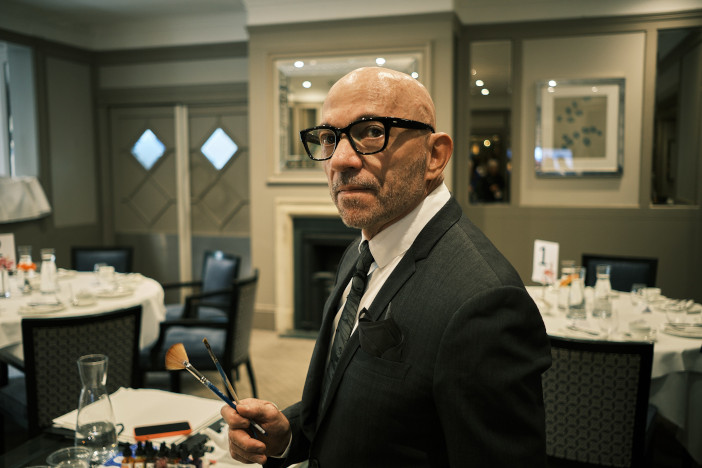 Unsurprisingly, places for this glamorous afternoon were much in demand, with one lady I chatted to having travelled over four hours to attend, for it's not every day you get to meet an artist of such renown. Gallery owner and interviewer Connie Gray's obvious regard for Bil Donovan the man, not just the artist, certainly added a relaxed and intimate tone to proceedings in the Royal Crescent Hotel's Dower House fine dining restaurant.
Guests settled down to the famous afternoon tea with Bath Buns and handcrafted patisserie as Bil reminisced on his remarkable career that has taken him around the world working with the likes of Ralph Lauren and Carolina Herrera. Having started out with a bachelor's degree in fine arts from the School of Visual Arts and fashion illustration degree from FIT, he worked in Milan for six years with clients such as Marie Claire Italia and Italian Vogue, before later being appointed the artist-in-residence of Christian Dior in 2009.
It goes without saying that Donovan's work has appeared in all the international fashion glossies and yet, in his impeccably tailored Dior suit and sixties-style dark rimmed glasses, he's wonderfully modest about his struggles on the path to success. Born in Philadelphia, Audrey Hepburn's dazzling appearance in Billy Wilder's 1954 romantic comedy Sabrina, wearing a ball gown designed by a young Hubert de Givenchy (although it was Edith Head who was credited and won the Academy Award), first sparked in the young Bil Donovan what became a lifelong obsession with the fashion figure and a desire to use his artistic talent to depict the beauty of couture on the female form – a role which has taken him to all major fashion capitals including New York where he now lives, for enviable projects with leading designers.
Donovan, who clearly has as much enthusiasm for his art as he ever did and, just as he had a eureka moment watching Audrey glide, swan-like onto the silver screen in a couture gown, wants to pass on the magic that can be captured through fashion illustration. Donovan's works are undoubtedly some of the most soulful and creative documentations of fashion I've ever looked upon, proving with the simple tools of his craft but immense talent that couture is for all time rather than just a season, and that dressing is and will always be the way a woman most effortlessly expresses herself.
Besides teaching at the Fashion Institute of Technology and School of Visual Arts in New York City, Donovan has authored Advanced Fashion Drawing/Lifestyle Illustration, whilst illustrating many other titles including a forthcoming edition of Jane Austen's most beloved novel Pride and Prejudice – apt indeed given Bath's own ties to the English author. Following the interview and a video screening, Donovan delighted us with a live demonstration, with everyone invited to crowd around as he captured, in his own inimitable way, his elegant muse for the day, Grace Margarita, wearing a black satin off-the-shoulder Dior-style gown by Love Story Bride.
Donovan's alluring fashion illustrations have a life of their own: combining his perception of elegance and grace with a fluidity which the medium of watercolour and his deft technique allows him to create. The result is an evocative sense of movement and in less than five minutes Donovan can document, not just a fabulous dress, but how the glory of any fashion creation only fully comes to life when it is being worn. Seeing Donovan painting is a privilege for anyone interested in art and/or fashion, as with every brushstroke he seems ever respectful of the muse before him and that she wears the dress rather than the other way around – a key philosophy behind his enduring partnership with Dior.
Christian Dior himself started out as a fashion illustrator before becoming a fashion designer and, whilst one might have imagined this artform would have been deemed defunct in the 21st century and a famously fickle industry, coupled with today's obsession with digital photography and computer-generated images, it is testament to Donovan's unique talent and his ability to convey the sophistication of a fashion house's original vision through line and colour that he has sparked a new interested in this art genre. If only all afternoons could be this fascinating.
The Art of Elegance – Fashion Illustration by Bil Donovan at Gray M.C.A, 5 Margaret's Buildings, Bath, BA1 2LP until 29 October 2022. The exhibition is also available online. For more information, visit the website. Model: Grace Margarita. Gown by Love Story Bride, loaned by Perfect Day Bride, Bath.
For more information on forthcoming events or afternoon tea at The Royal Crescent Hotel, Bath, England, please visit the website.

Photography (c) Soho Photographic