If you didn't already know, it's Indian & Islamic Art Week in London currently. Leading the charge, Christie's first Arts of India auction in South Kensington spans exquisite Mughal portraits to late 19th century Hindu icons of Tamil Nadu, as well as art from Tanjore and the Punjab hills. At King Street, the Arts of the Islamic and Indian World auction offers an opportunity to acquire a wide variety of rare and important works of art and works on paper dating from the 8th to the 19th centuries and span a geographical area from Spain to Southeast Asia.
Of the individual exhibitions on offer, one in particular leaps out in the contemporary sphere; perhaps the leading private gallery specialising in Asian art, Gallery 8 in St James's, introduces Iranian artist Sadegh Tabrizi with his debut London show.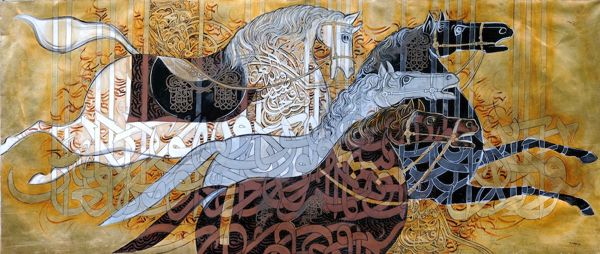 Well-known in his native Tehran, Tabrizi's signature is his calligraphy, employing the already visually aesthetic Arabic script to beautiful effect. The exhibition covers his early work, painted on manuscript with its aged appearance – some of the pieces look as though they could be two to three hundred years old – and comes right up to date with his big colourful canvases.
"In 1959-60 there was a movement in Iran," says curator Celine Gauld, "to start looking westward and to Western contemporary art and to make a juxtaposition between the very traditional jewel-like Persian miniature painting and Western art and the avant garde, and Tabrizi is at the crossroads of these. It has a lightness that we as a western audience can understand."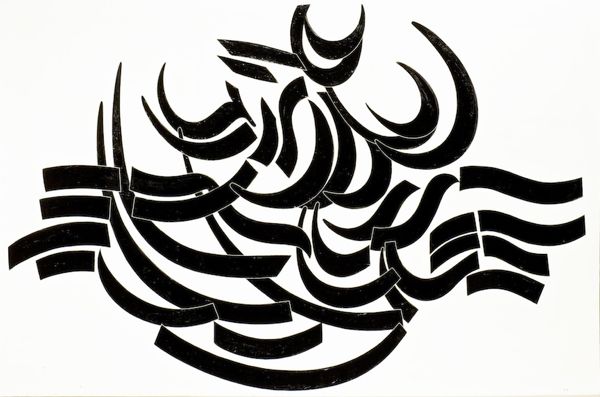 But it is his calligraphy that is at the heart of Tabrizi's work; it's where his art began – working originally in ceramics and stained glass – and has evolved beyond the purely decorative to become the subject of many of his paintings. "In becoming the subject themselves," Gauld says, "the literal text itself has often been taken out of the work; so much so that the script in some of his paintings do not make up words, but have become lyrical. It could be saying something but it's not, it's used visually…" Which, coincidentally, lends itself to the title of the exhibition, 'Lyrical Painting'.
Lyrical Painting by Sadegh Tabrizi, showing until Thursday 11th October at Gallery 8, Duke Street St James, London. For more information about the exhibition and future shows, visit the website.