The Van Gogh Museum in Amsterdam is celebrating its 50th anniversary this year with a series of major exhibitions focusing on the life of Dutch artist Vincent van Gogh (1853-90). On 12th May 'Van Gogh in Auvers: His Final Months' opens. The show of 50 paintings and around 20 drawings recreates the 70 days, from May- July 1890, that the painter lived and worked in the commune of Auvers-sur-Oise near Paris, before fatally shooting himself. During this period van Gogh produced over fifty drawings and remarkably seventy-four paintings – more than one per day – comprising forty-nine landscapes and village scenes; thirteen portraits; eleven still-lifes; and an animal painting – many of these works are considered to be van Gogh's greatest masterpieces.
Auvers-sur-Oise is located some 20 miles north of Paris. Van Gogh called it 'real countryside'. The French painter Camile Pissarro, living nearby, recommended it to Vincent as a place to stay, and to paint. When he stayed it had an artists' commune, and for Vincent, too, provided a place to reconnect with normal life. Since November 1889 he had lived voluntarily in a sanitorium, an asylum in Saint Remy, near Arles in the south of France.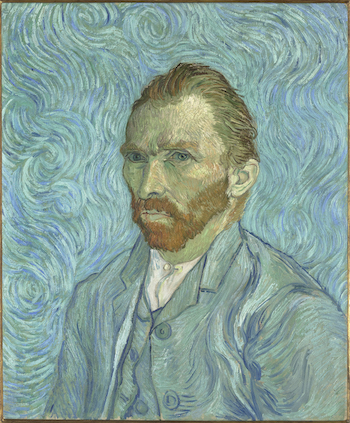 The restrictive life he led added to his fragile mental state and after several months he told his younger brother Theo that he wanted to leave. Eventually, it was arranged. Vincent would spend three days in Paris, in mid-May 1890, visiting Theo, sister-in-law Jo, and his new nephew, Vincent Willem, a few months old, before travelling to Auvers-sur-Oise. And to aid his return to non-institutional life, he attended weekly meetings with his physician, Dr Paul Gachet, to help with anxiety issues. Gachet, an amateur artist himself, was friend to many painters in the Impressionist circle in Paris. After van Gogh's initial reaction that the doctor was of a nervous disposition, and the one more in need of treatment, they got on. Art was a shared interest.
Arriving in Auvers, after a short stay in a hotel, which proved expensive, Vincent moved, staying in cheaper board and lodgings, Café de la Mairie – now Auberge Ravoux – opposite the town hall. Van Gogh rented a small top floor room, intending it to be a temporary arrangement before renting a house in the village when his furniture, in storage, arrived from Arles.
In Auvers, van Gogh painted scenes he encountered on his walks, setting up a portable easel and paintbox: the church, the houses, the local mansion, the Hotel de Ville, the country lanes, the wheatfields, and portraits of the people he met. This exhibition is a chance to see this very special group of works together for the first time.
The final months of van Gogh's life are often overlooked, and yet it is perhaps the culmination of his productivity. Artwork loans have been agreed worldwide adding to the Van Gogh Museum's own collection of nine paintings and forty drawings originating from van Gogh's family through his brother Theo. Another major contribution to this show are eight works from the Musée d'Orsay in Paris that were bequeathed to it by the family of Dr Paul Gachet. The superb Portrait of Dr Gachet (there are two versions), and others of the doctor and his family, his house and garden are in this exhibition, bringing to life Auvers as van Gogh experienced it, in expressive, extraordinary interpretations.
The show is exhibiting ten panoramic van Gogh views of the area, such as Landscape at Twilight, to set the scene, beginning at the moment van Gogh arrived in Auvers-sur-Oise, full of enthusiasm and optimism for this fresh start after months of voluntary confinement. Through wonderful paintings it charts his visually responsive interpretation of the streets and buildings, as in Farmhouses, and the stunning Church at Auvers sur Oise, a church he never entered. Through his work we encounter the people he got to meet, like Adeline Ravoux, his landlord's young daughter, in Portrait of Adeline Ravoux. He created so many works that he had to lay some flat under his bed, the paint still wet.
Van Gogh's creativity carries through to his final days, becoming increasingly despondent with a sense of loneliness and failure, evident in Wheatfield with Crows, one of his last works. His last painting, Tree Roots, was painted on the afternoon of 27 July before he shot himself with a revolver the same evening. His letters reveal a change in mental attitude, from looking forward to what could be achieved, to writing about his latest paintings reflecting melancholy and isolation. The relationship between Theo and Vincent had always been close but Theo's new responsibilities with a young baby may have changed his family priorities, leading to Vincent's uncertainty of his own future. The exhibition, and its catalogue, reveal these poignant final days.
Dr Gachet and Theo, along with a local doctor, were with Vincent when he died at 1.30am on 29 July 1890, after suffering from the internal injuries caused by the bullet wound to his abdomen. The two doctors agreed that nothing could be done due to the odd angle of the bullet entry believing a move to hospital would kill him. Van Gogh survived two days, lying on his bed, smoking his pipe before the bullet eventually killed him. His coffin was placed in the dining room of Café de la Mairie, a temporary Chapel of Rest, surrounded by yellow flowers and some of his canvases – several of which feature in this exhibition.
Today, one can still dine in Auberge Ravoux, and walk the same pathways from there up to the church, and on to the wheat fields before visiting the cemetery where Vincent and Theo are buried side-by-side, and then looping round to walk the quiet road to Dr Gachet's house, following in Vincent's footsteps. Viewing the exceptional paintings in this show brings Vincent's seventy days in Auvers vividly to life once again.
'Van Gogh in Auvers: His Final Months' runs from 12th May- 3rd September 2023 at the Van Gogh Museum, Museumplein 6, 1071, Amsterdam, and at Musée d'Orsay, Paris, from 3rd October 2023 – 4th February 2024. For more information, please visit www.vangoghmuseum.nl.
Header image: Landscape at Twilight, June 1890 (Van Gogh Museum, Amsterdam)