Some of you may know that Ronnie Wood – the Ronnie Wood, bassist for The Rolling Stones – is an artist. In fact, if you Google him you get more references to his art than you do his music. That his name is up there for more than the heights of rock superstardom is in no small part down to his son, Jamie. For Jamie Wood is an art dealer, an aficionado and a nurturer of new talent and new media…and with three spaces, the cannily-named Whisper, Scream and Shout, he is forging his own illustrious career and those of the artists he represents.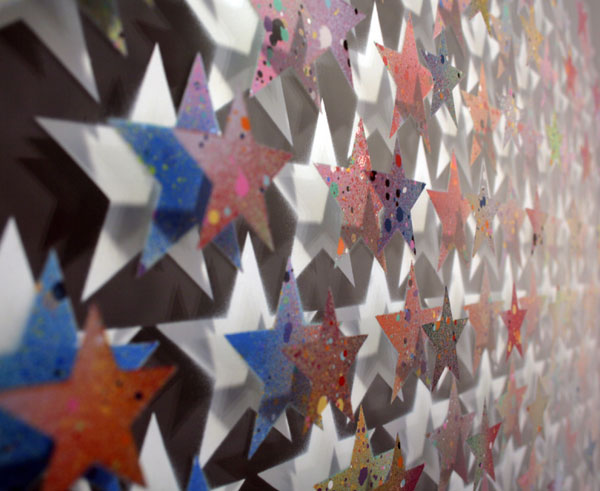 Larry went along to Whisper, in London's Fitzrovia, as he was prepping the debut exhibition of STATIC, a duo revolutionising the medium of screen-printing, to quiz him about what he does, what he likes, what's coming up and who to look out for, and his plans to make contemporary art accessible to more people…oh, and there's the odd anecdote about his old man…listen in [here] to their conversation.
Currently showing at Whisper, STATIC's Moments of Clarity is an artistic extravaganza. The East London duo, working as one since 2006, have merged their backgrounds in Fine Arts and Graphics to create a unique fusion of the classic and the urban. What makes for moments of clarity are their layered works by printing and stencilling onto glass, which toys with light, reflection and transparency to create 'floating', multi-layered portraits and patterns, in effect a visual escapism. As well as the exhibited works, the chaps are 'artists in residence', offering the public a chance to see them at work, something usually confined to their Hackney studio. For a taster, watch them below creating one of their signature pieces.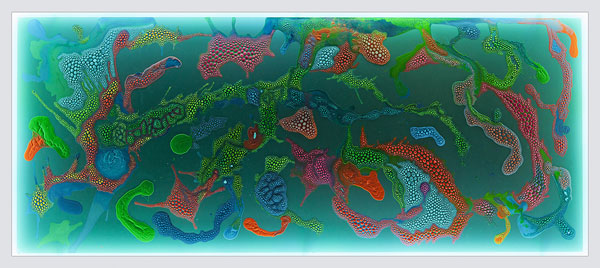 Meanwhile, at Scream, Jamie's studio promoting international emerging artists, is another first. Malgosia Stepnik debuts with her solo show, States of Mind, a dynamic, abstract and evocative journey through the mind. Drawing on her studies of Sociology and Psychology at university in her native Poland, Malgosia's approach to painting is as cathartic as it is creative, literally transferring her emotional states into abstract forms onto canvas. The resulting works are like explosions of energy captured on canvas. Stepnik further pushes the boundaries of painting with her illuminated works, where painstakingly executed paintings on aluminium panels are surrounded by a LED lighting system incorporated into the frame. As the lights change, it changes the elements of the work and the paintings seem to take on a life of their own.
'Moments of Clarity' by STATIC runs until Saturday 26th May at Whisper, 27/28 East Castle Street, London W1. For more information, visit www.whisperfineart.co.uk
States of Mind, by Malgosia Stepnik, runs until Saturday 2nd June at Scream, 34 Bruton Street London W1. For more information visit www.screamlondon.com
httpv://www.youtube.com/watch?v=oXBm7fKMy6w