Hands up who knew that Cassiopeia A, the supernova-remnant in the constellation Cassiopeia, a galaxy on a northern trajectory, discovered by 2nd-century Greek astronomer Ptolemy, is directly above the courtyard of Somerset House in London? I certainly didn't, at least until I met the Mumbai-based artist Jitish Kallat, whose double spiral outdoor installation Whorled (Here After Here After Here) was opened to the public in the courtyard in February. It is his first major public commission in the UK, curated by Dr Cliff Lauson, Director of Exhibitions at Somerset House.
At ground level, two interconnecting spirals, over 30 metres in diameter, and each 168 metres in length, draw upon sacred geometry to map earthly and cosmic sight lines. Engaging with your imagination it takes you through space and time via circular pathways with road signs, place names, cities, countries, motorway routes and cosmic galaxies flagged up for attention. Flood warning signs are illustrated next to places like Venice, Hong Kong and Bruges, New York, Mumbai, London, in addition to locations that have already succumbed to rising sea levels. The spirals connote a seismic ripple, a galactic whorl physically pleasurable to walk through, and around, and equally fascinating when you discover what it represents.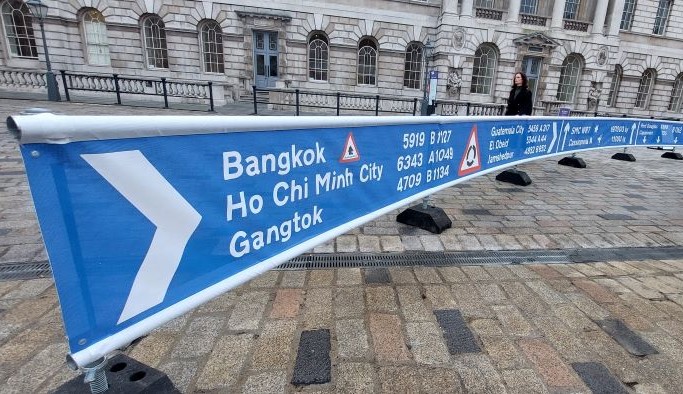 I asked Kallat what inspired this work. He has used the open courtyard to plot terrestrial and celestial destinations and he explained that you either exit or enter the interconnecting spirals from the cardinal magnetic north of planet Earth on a North-South, East-West axis, which is the centre of the courtyard. The installation aligns itself to the energetic geometry of Earth and "once you are let in," he explained, "walking through and around this energetic field – you are experiencing a peaceful extended highway signage, which goes on and on and on." It's intended to make us reconsider our relationship with Earth, its cosmic past and unknown future.
The physical blue and white material signage, taken from the Highway Code, will be familiar. Within the spirals are connections to past and present destinations above and around this space. Exact distances to other locations from Somerset House are displayed, too. London Zoo is three miles away. The signage then drops into strategic locations as Manilla and Mumbai, Melbourne, the Moon and Mars. Galaxies of stars are included in this walk, through time and space.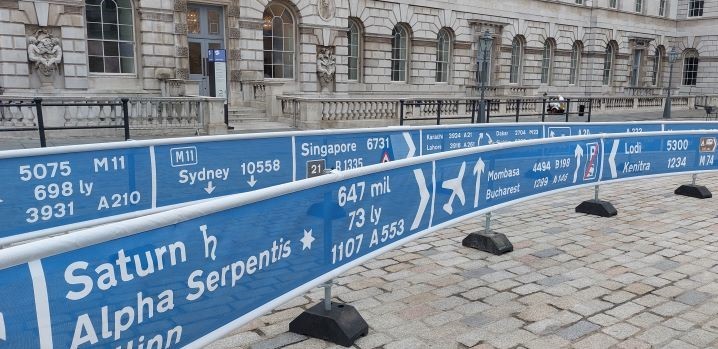 Kallat is recognized for his critical engagement with concepts of time and distance and Earth's place in the cosmic universe. He creates imaginary maps that plot cosmic and earthly locations. In addition to his installation – free for everyone to visit – Somerset House is hosting a series of evening performances with music, talks and poetry readings in this courtyard. There will be a chance to see a live activation of the installation, too, on 19 April.
Jitish Kallat's careful planning of this work means that every part of the installation is recyclable. All the metal supports are from recycled road infrastructures and will be returned for that use; the non-PVC biodegradable material from which the spirals' material is made will be recycled to make rubber for road bumpers, such a fitting re-use of the installation, which will leave no trace of its temporary existence when it closes – as ethereal a feature as the entity it represents.
Whorled runs until 23 April 2023 at Somerset House, Strand, London, WC2R 1LA.For more information, including details of the evening events and the live activation on 19th April, please visit www.somersethouse.co.uk.
Header photo courtesy of Somerset House