As ever, this year sees a bumper crop of picture books for reading aloud to young children. Here is a selection of some that will appeal not just for the stories but the sumptuous illustrations that go with them.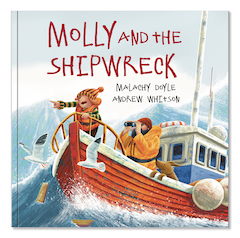 Award-winning Northern Irish writer Malachy Doyle has a fifth book out in his Molly series. This time, Molly and the Shipwreck, beautifully illustrated by Andrew Whitson, tells a story very much of our time. When Molly and her Dad are out in his fishing boat they come across a rickety boat and, in it, some people clearly in peril. This, though, is a heart-warming story and thankfully has a happy ending.
Last year, Zeb Soanes (recently voted the favourite male voice on UK radio) brought out his first book about Gaspard, an urban fox. His second features Gaspard's peregrinations across London and there's a map so you can follow in his footsteps from Hyde Park through Chinatown and the West End taking in the capital's landmarks such as Sadler's Wells and the British Museum.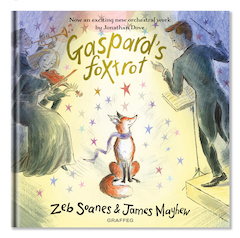 Soanes presents the BBC Proms and there is soon to be a new work based on this book, Gaspard's Foxtrot, a collaboration with composer Jonathan Dove.
For a Christmassy book, try Lo and Behold! Mouse and Mole by Joyce Dunbar and illustrator James Mayhew. Mouse and Mole are great characters and this is their eighth book – this time they are trying to speed up the wait for Christmas. Advent calendars, Christmas stockings, mince pies, snow, sleighs and Christmas pudding – it has everything to get you in the mood for Christmas.
Stars, too, are pretty Christmassy but in Shine, Star, Shine, Dom Conlon and Anastasia Izlesou present a range of star (and especially our own Sun) facts for budding scientists. From nebulas to rainbows, algae to ice caps, solar power to the planets, this is a magical, thought-provoking book.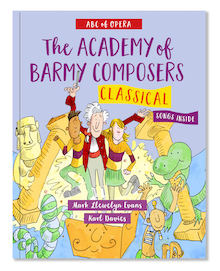 And so to creativity. I am an Artist by Kertu Sillaste is all about encouraging children to try out art in all its forms – full of surprises and ingenuity. For slightly older children interested in music, there's The Academy of Barmy Composers by Mark Llewelyn Evans and Karl Davies. It's an operatic adventure, whisking you through Paris, Vienna and Salzburg and introducing you to Windy Wolfie (Mozart renowned for his bottom burps), Tortellini Rossini (king of the dining table) and the moody Bilious Beethoven. Children, Jack and Megan, find themselves mixed up in several (very mixed up) opera plots and save the works of the great classical composers to be heard another day. Full of fun and facts.