This week, crime writer Anne Coates discovers two intriguing titles making you question everything you're reading, told in first person narratives that immediately draw you in and entangle you in the plot…
Tell Me Your Lies by Kate Ruby
A prologue gives an inkling of the dramatic dénouement but you won't guess what transpires – although there is a trail of clues to lead you there…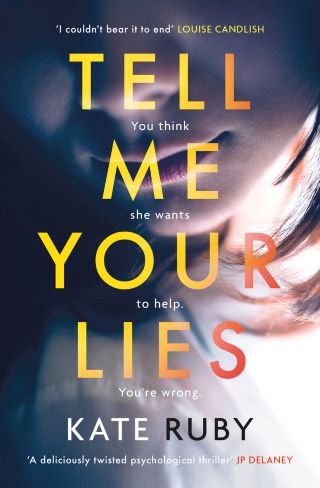 Rachel Appleby is the middle daughter of career high-flyers Lily and Nick. Their son is a conventional and successful – and smug – married lawyer. Their youngest, Sophie is the artistic sweetheart of the family. But, oh dear, Rachel, now thirty, is a problem. For all her academic achievements she finds herself stuck in a civil service job, which she stands to lose because of her erratic behaviour, culminating, as the story begins, with her taken to hospital having been found face down in a gutter intoxicated by drink and drugs. This is where Lily steps in and employs the services of Amber, an expensive therapist with an unconventional approach.
The narrative alternates between Lily and Rachel – both in the first person that evokes an intimacy in a pact with the reader. We are constantly being shown both sides of a sad and heart-breaking story. Amber, the third in this noxious triangle, is only revealed through the eyes of mother and daughter – until the very end. I was fascinated by the interplay between the three women that Kate Ruby created so seamlessly.
What shone out from this fractured and, at times, toxic family was the love mother and daughter each recognised and acknowledged in the other. But there are other dynamics at play. The past returns to haunt them all and the self-righteousness of some is a delicious prelude to their individual downfalls. Anyone who's sat through family occasions as the only one without a partner (or allowed a drink) will groan with empathy for Rachel as her mother endeavours to maintain the image of her picture-perfect family with a ruthlessness few are aware of.
Other characters are well drawn and there are some tense and surprising interactions, through which Ruby offers revealing perspectives and comments.
Ultimately, Rachel is torn between Amber and Lily who both claim to have her best interests at heart. But someone is lying – and Rachel lies by omission. Everyone is flawed but who will pick up the pieces? I was delighted by the ending. A perfectly plotted, well-written book full of subtleties, suspense and rounded characters.
Kate Ruby is a producer and screenwriter, with a highflying career in television. Tell Me Your Lies, her debut novel, is currently in development for a major TV show. As an executive producer for drama, she spent a decade at the BBC, working on shows including Spooks and Being Human. Currently Head of Television for a global production company, she has worked on major Netflix shows including Watership Down, Traitors and The English Game. She has recently worked on the BBC/HBO adaptation of JP Delaney's bestselling thriller The Girl Before, starring Gugu Mbatha Raw and David Oyelowo. Tell Me Your Lies is published by Simon & Schuster.
Insomnia by Sarah Pinborough
In Insomnia, Sarah Pinborough also explores a fractured family seen through the eyes of Emma, a successful lawyer, wife and mother, who suddenly starts experiencing a sleeplessness as her fortieth birthday approaches, driving her almost to the edge of reason. What is the significance of the time she wakes every night? The numbers scrawled in the kitchen? What is she doing creeping around the house and checking on her children? Pinborough creates a tension which builds and escalates in such a way that no one is trusted by Emma – or the reader.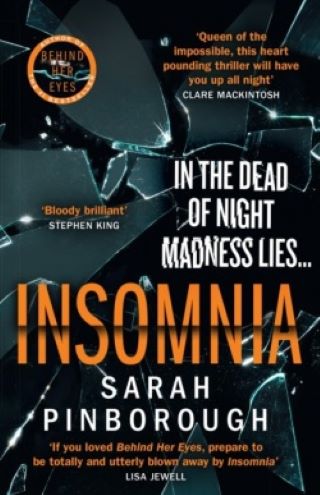 Emma and her sister were put into care when their mother, on approaching her fortieth, had a breakdown she wouldn't recover from. Emma had been constantly told by her mother that she had "bad blood" that was passed down the familial line to second children. Intellectually, she may have known this was poppycock, but the vulnerability brought about by her insomnia has a power of its own.
As Emma's history gradually emerges with the reappearance of her sister and the death of the mother she'd told her husband had died years ago, everyone in her life doubts her. Emma's paranoia becomes almost incapacitating, as she doubts herself and everyone around her. The plausible becomes a threatening backdrop to a family driven to extreme measures.
This is an amazingly compelling and twisting narrative, with a touch of the supernatural that fans of Behind Her Eyes (both the book and the Netflix series) will adore.
Sarah Pinborough is a New York Times bestselling and Sunday Times Number one and Internationally bestselling author who is published in over 30 territories worldwide. Having published more than 25 novels across various genres, her recent books include Behind Her Eyes, now a smash hit Netflix limited series, Dead To Her, now in development with Amazon Studios, and 13 Minutes and The Death House in development with Compelling Pictures.
Sarah was the 2009 winner of the British Fantasy Award for Best Short Story and also the 2010 and 2014 winner of the British Fantasy Award for Best Novella, and she has four times been short-listed for Best Novel and was shortlisted for the British Book Award for best Thriller. Sarah lives in the historic town of Stony Stratford, the home of the Cock and Bull story, with her dog Ted.
Anne Coates is a journalist and author of the Hannah Weybridge series of crime thrillers set in 1990s London the most recent of which is Stage Call published by Red Dog Press.