Much has been written in the last couple of years about authors' appropriating the stories of different cultures. Frankly, no writer would produce many books if they were only allowed to write from their own experiences. I have never been a prostitute or killed anyone but research comes into it own for my Hannah Weybridge series.
Two authors I've recently read have shown enormous skill in creating truthful narratives and authentic characters that are a far cry from their own situations. Interestingly both authors write from a first person perspective.
Bad Apples by Will Dean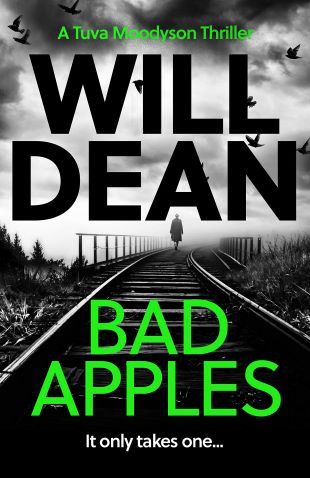 Will Dean grew up in the East Midlands and now live sin a forest in Seden with his Swedish wife and son. In Bad Apples, the fifth book in his award winning Tuva Moodyson series, his protagonist is a Swedish, deaf, lesbian.
He comments, "I knew I had to work hard to do Tuva justice. I felt that I needed to do lots of research (for every book in the series) reading deaf bloggers, watching deaf YouTubers etc. And I knew I had to write with maximum empathy. For years I've been making efforts to read diverse voices. I'm also lucky that I have a brilliant accuracy reader who reads each book before publication. My wife is my first reader and she helps with all things Swedish. Each book is very much a team effort."
In Bad Apples Tuva is back in Gavrik – now deputy editor on the local newspaper. A murder takes her to the neighbouring small town pf Visberg but her investigations are hindered by the people closing ranks. Powerful people are determined that no one will dare to speak out. However Tuva will not be thwarted in what could be the story of her career, unaware she may end up as part of the story…
This is the first I have read in the Tuva series and it can definitely be read as a stand-alone. I was immediately drawn to Tuva and was intrigued by how deafness impinged on her investigations and her life. Her partner Noora is a police officer who is also involved in the investigation. Both women have to tread carefully. Bad Apples, set at Halloween, is a gripping thriller. The last few chapters had me on the edge of my seat, terrified to read what would transpire. Not for the faint of heart but like The Last Thing To Burn reviewed previously, totally absorbing.
Bad Apples is out now in paperback published by Point Blank (an imprint of One World Publications). RRP £8.99. For more information, visit oneworld-publications.com.
What I Hid From You by Heleen Kist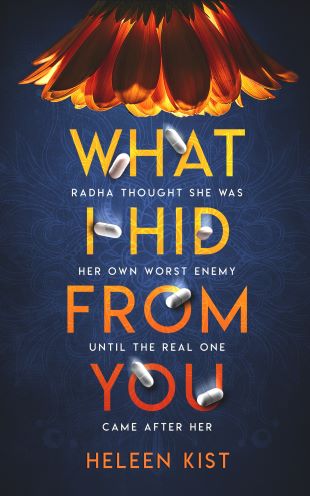 Heleen Kist is a formerly globetrotting career woman who now lives with her Scottish husband and family in Glasgow. In her third, standalone novel What I Hid From You, her Asian protagonist is a dentist, traumatised by the death of a patient and crippled by anxieties becomes addicted to Valium, for which she uses prescriptions from her surgery. When increased scrutiny of her work forces her to seek a different supply source she finds herself in the clutches of unscrupulous drug dealers…
So how and why did Heleen chose to have Asian lead characters?
"The short answer is that she came to me this way, as all characters do. She came feeling real and with a fully formed family that I immediately loved. I suspect she came this way partly because I live in a very multi-cultural area of Glasgow, with kindly older gentlemen like Gunbir (Radha's father) walking past my house regularly, and partly because my teens have a very diverse set of friends, many from medical families. I felt Radha was realistic and common and that's the kind of person I needed for this story of a woman facing intense pressure. An Asian friend suggested that I showed the 'Aunties' who are always watching and that fit the pressure narrative even better.
"I believe we should all strive for diversity in our characters but it didn't feel right that my diverse characters would only ever have a secondary position. So when Radha came as she did, I was pleased this gave an opportunity to contribute in a very small way to normalising diverse main characters. It also allowed me to reflect the casual everyday racism I've observed first hand in my middle class neighbourhood. Of course I was mindful of a body of people who feel white authors should not write characters of colour. I did a lot of research and engaged with multiple sensitivity readers and Asian (author) friends to ensure I did my characters and their heritage justice."
I was fascinated by What I Hid From You. There are moments when I wanted to shout out to Radha "Don't do it!" and I love the way Kist has woven her characters lives into the narrative. Family life, loss and grief increase the intensity of Radha's situation as she tries to be the perfect wife and daughter while experiencing the distancing of her teenage son. The absolute shock of what she has fallen into is balanced by the pettiness of everyday life create an ebb and flow of emotions which the author controls brilliantly leading up to a satisfying conclusion.
What I Hid From You is available at Waterstone's and all good stockists, published by Pollok Glen Publishing. RRP £9.99.
Anne Coates is a journalist and author of the Hannah Weybridge series of crime thrillers set in 1990s London the most recent of which is Stage Call published by Red Dog Press.
Header photo by Bundo Kim, courtesy of Unsplash