Since the publication of Someone Else's Skin, which won the Theakston Crime Novel of the Year, The Observer's Book of the Month and was a Richard & Judy Book Club pick, I have been an avid fan of Sarah Hilary's DI Marnie Rome police procedural series. Fragile, her latest novel, a standalone published this month, is a completely new departure in which Hilary takes her literary skills to new heights.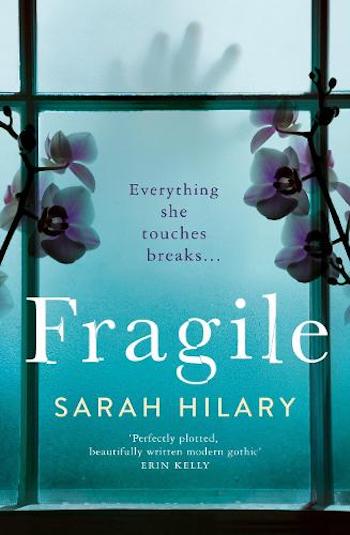 Teenage Nell Ballard has run away from the foster home in Wales with her beloved Joe Peach. They share a terrible secret and a past that binds them. But living by their wits and blagging places to stay has taken its toll and they are now homeless. Joe on his never-ending quest for drugs is missing. After sitting in a café, watching Starling Villas, a narrow house in a London street, where she is convinced Joe had disappeared into with a woman, Nell manipulates an introduction to the enigmatic male owner, Dr Robin Wilder, whom she convinces to take her on as a housekeeper…
Hilary inverts some of the plot of Rebecca – in Fragile the first wife, Caroline is alive and frequents Starling Villas with her evil, sporadic presence but Joe is nowhere to be found. Nell scrubs and cleans and makes herself indispensable to her employer as she follows his regulations and timetables to the letter, determined to get to the bottom of Joe's disappearance. This thread of the story is told in the first person making it immediate and haunting – Nell is astute.
Back in Wales, Meagan, the erstwhile foster mother who lost everything after a child called Rosie went missing and is presumed dead, plots her revenge on Nell whom she blames for much of the bad publicity she attracted. Nell had been with her since the age of eight, taking on the role of carer for the other children, while Meagan – a modern day Fagin with little to commend her – manipulated situations to her own advantage. Her hold over Nell is Joe.
The gradual build-up of tension in splendid gothic tradition is totally engrossing. Starling Villas, with its atmospheric and claustrophobic rooms hinting at danger and despair, is a central character. The chilling revelations accumulate but who is telling the truth? The dénouement may leave you reeling.
Sarah Hilary's writing is sublime – every perfectly crafted sentence a joy to devour. Her skill at plotting such a complex, unsettling and dark narrative is brilliant. Can't wait to see in what literary direction she takes off in next. Fragile is a triumph. 
Fragile by Sarah Hilary is published by Pan MacMillian and is available from all good stockists. For more information, please visit www.panmacmillan.com. The sixth in Sarah Hilary's award-winning DI Marnie Rome series, Never Be Broken was published by Headline in 2019.
Anne Coates is a journalist and author of the Hannah Weybridge crime thriller series: Dancers in the Wind, Death's Silent Judgement, Songs of Innocence and Perdition's Child.
Photo by Karina Tes on Unsplash